Offering tens of billions in crucial debt-for-equity swaps, announcing the official death of the Pontiac division and winding-up a one-hour news conference today by calling for new management to reflect his company's evolving corporate structure, General Motors CEO Frederick "Fritz" Henderson, 51, also said that there is a "greater chance" for a GM bankruptcy than just a few weeks ago.
"We need to win, not merely survive," said Henderson, "doing it (restructuring) once and doing it now."
Hummer, Saab and Saturn will all build their last models this year, Henderson said.
But the biggest product news, though coming as no surprise, was still something of a shock to hear as it was made official after weeks of rumor: Pontiac, next to Chevrolet the most successful entry-level, racing and high-performance division in GM, which created the GTO and the Firebird Trans-Am (and some unfortunates, including the Aztek SUV), will be phased-out entirely by the end of 2010.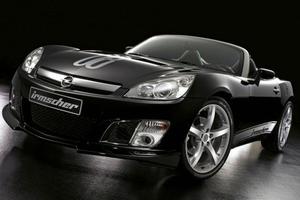 A high-performance aftermarket version of the Opel GT, Euro cousin to the Pontiac Solstice and Saturn Sky. The Opel will probably continue in production; Sky and Solstice were officially laid to rest today in Detroit
In addition, Henderson said the number of GM dealers in the US will be slashed from its current total of near 6,246 to 3,605 by 2010's end.
Chevrolet, Cadillac, GMC and Buick are now the company's "four core brands" worldwide and the total number of GM-made nameplates (separate models) sold in the US will be at 34 by the end of 2010, 13 fewer still than called for in GM's February 17, 2009, viability statement.
But ultimately, GM's success, whether in or out of bankruptcy court, will come down to the proposed, hard-to-understand and certainly boring debt-for-equity bond exchange. Bondholders would get about 10% of the company for the $27 billion in debt they hold.
Without those agreements in place, Henderson said, bankruptcy would be the only possible answer to the company's problems. And that bankruptcy filing could come before the June 1st deadline which Washington has set for accepting or rejecting this latest "viability report."

"We have to pull forward on many of those February (report) proposals," Henderson told reporters several times in Detroit's Renaissance Center, GM's headquarters, and those attending and asking questions by phone and via the Web.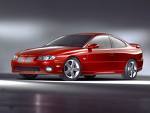 Pontiac's "new" GTO, circa 2004, came from Australia's Holden and used a Corvette V8 drivetrain; the car, like its G8 Oz cousin, was a sales disaster in the US, never capturing the public's imagination - especially with its gas guzzler-like mileage
"We want to do this only once," Henderson, formerly GM's Chief Financial Officer, said of the restructuring. He replaced Rick Wagoner in the CEO position when Wagoner's resignation was forced on March 31 by the White House.
Henderson, born in Detroit with a classic GM finance section bean-counter background with some solid international experience and a near-Canadian, strong Upper Midwest accent, did get somewhat emotional (or as emotional as an ex-CFO can get) when taking about Pontiac, a division with an almost 90-year history in the company.
"We needed to basically discontinue the work we were doing (to try and save Pontiac) and announce today we are going to discontinue the Pontiac brand by no later than 2010. This is a brand which has a considerable heritage in our company, an this is an intensely personal decision in many ways," he told reporters.
In something of a small surprise, and not a good one for enthusiasts, Henderson said the Pontiac G8, a powerful Corvette-engined sedan built by GM's Holden division in Australia and sold at US Pontiac dealers since last year, would be discontinued entirely, both in the US and Australia. There had been some talk of G8 possibly being sold as stand-alone Pontiac performance model at other GM dealerships to keep the division's name alive, if not much else; but no car-maker can afford even that small amount of vanity or nostalgia these days, even the mighty GM.
Also, Henderson said the Pontiac Solstice coupe is being killed along with its twin, the Saturn Sky (though an Opel version will still be built in Europe), and that the company is in talks with Toyota about the factory they share, New United Motors Manufacturing Incorporated (NUMMI), in Fremont, CA, where the Pontiac Vibe and Toyota Matrix share parts and an assembly line.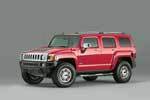 This 2006 Hummer H3 was the "smallest" civilian version yet of the originally made-for-the-military truck
In "pulling forward" more plans from that February 17th report, the company announced today it will, by the end of 2010, have closed 47 North American powertrain, assembly and stamping plants (up from the 34 called for in February), and hourly manpower figures, about 62,000 at the end of 2008, will be dropped to 40,000 by end of 2010.
Henderson said labor costs will drop from the $7.6 billion they were at the end of 2008 to $5 billion by the end of next year. He also praised the UAW and its president, Ron Gettelfinger, for their cooperation (though Henderson didn't detail any white collar job or salary cuts at the press event).
He also announced a new corporate "break-even point" of just 10 million units sold annually; that number had been 15 to 17 million until just recently. That's a good opportunity for profit when (and if) the market comes back as strongly as GM might like.
Henderson also had no qualms about explicitly warning Pontiac dealers - and all of the 2,641 dealers GM says it needs to start cutting immediately - that the "nuclear option," bankruptcy court, would be used by GM to "fire" dealers if they don't accept the company's buy-out offers, which will arrive in their mail between now and June 1.
Strong franchise laws in the US keep car-makers from selling vehicles directly to the public, but they also protect dealers by making it next-to-impossible, outrageously expensive, or a combination of the two, for the factory to drop dealers and their showrooms - unless the car-producer makes a bankruptcy filing.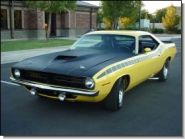 This All American Racers-built "Lemon Twist" custom 1970 Plymouth Barracuda out of Dan Gurney's legendary race shop in Santa Ana, CA, came out during the height of the musclecar wars between Pontiac and Plymouth; now both divisions are gone
It's cost GM more than $1 billion so far to "pay-off" the approximately 2,800 Oldsmobile dealers who were in business in December, 2000, when the shuttering of that GM division was announced. Several of those dealer negotiations and court cases are still ongoing almost a decade later.
A bankruptcy judge could easily allow GM to cut-off their dealers with no compensation; dealers could then, if they wish, join other creditors and "get in line" for their chance to sue the company but would receive no special consideration from the courts.
But the stigma of bankruptcy has proven more negative for the car-makers than paying-off the dealers (Chrysler with Plymouth, GM with Olds and now Pontiac). However, with Henderson using the "b" word as easily as ordering a cup of coffee, few believe he'd try an avoid-at-all-costs bankruptcy strategy, especially with the White House discouraging that kind of attitude on the part of GM and Chrysler.
As of this month, there are 2,600 Pontiac dealers in the US, according to industry journal Automotive News. Many are "dualed" with GMC and/or Buick stores, though a high-number are still stand-alone franchises.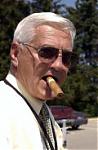 Ex-BMW, ex-GM, ex-Chrysler executive Bob Lutz left The General a few months ago after blowing millions by bringing two Australian V8 gas-guzzlers to the US and trying to sell them as Pontiacs
In response to the presser's final question, asking Henderson if getting rid of ex-CEO Rick Wagoner and his second-in-command, Robert Lutz, over the past few months, but no other top executives, sent a strong enough message about GM's determination to change, Henderson said that he's a great believer in the company's restructuring, and feels that the corporation's leadership should eventually reflect those changes.
Even if it's the current management making those changes? Isn't that too much like, say, a government agency investigating itself?
"We have to invest in our future," Henderson said today. "GM has to part of a winning auto industry going forward; not only winning today, but also with our future product and future technology, allowing us to be reinventing our auto industry."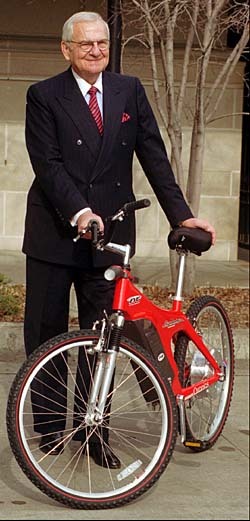 One of Lee Iacocca's more recent passions (apart from golf in Southern California's Coachella Valley and Italian food - anywhere) has been EVs of all kinds. He's even invested in some EV companies; his 1984 autobiography, written with William Novak, gives an insider's look at today's industry problems. By the way, Iacocca was trained as an engineer in college, not a bean-counter, though he went on to become one of the top sales and marketing people in the industry's history while leading Ford and Chrysler. Some people think he should be working at GM today
For a shadow historical perspective on all of this, read (or re-read) Lee Iacocca's autobiography, published in 1984. The auto industry's problems then and its challenges, attitudes and the overall world situation which led to free-marketers Chrysler and Iacocca trooping to Congress for loan guarantees in 1979 offer fascinating insights into at least some of what's no doubt going on now behind-the-scenes in Detroit and Washington.
Calling all HuffPost superfans!
Sign up for membership to become a founding member and help shape HuffPost's next chapter