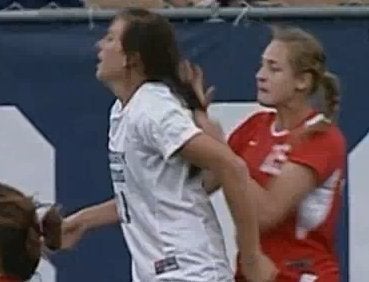 All the outrage over New Mexico soccer player Elizabeth Lambert's dirty play - including her pony-tail-yanking an opponent to the ground - was justified given this egregious act of poor sportsmanship.
But as the conversation and video have gone viral - from SportsCenter to NFL pre-game shows to David Letterman (who hasn't seen it?) - what lingers is a subtext that is less about comportment and more about the gendered expectations of female athletes.
Guys fighting in sports - whether ice hockey or baseball - is considered a "natural" by-product of intense play and, well, testosterone. They can't help it. When women get heated in competition (ask any high school female athletes about trash talking and you'll get an earful) there is a perception that they're supposed to act ... differently.
In a season of throw-backs, you can add this to the list: Just as our grandmothers insisted that girls don't sweat, they "perspire," there remains a narrow range of acceptable behavior for female athletes. Such rigidity is not new (in previous eras women basketball players were required to wear makeup in competition and submit to half-time beauty contests), but until Lambert we had thought the rules had evolved - at least a little.
The increasing skill level and intensity of women's sports even at high school and college levels should not be a surprise to anyone who has been paying attention. Problem is, of course, many have not been paying attention. Women's sports remain poorly covered by the mainstream male sports media. News outlets hardly feel obligated to report on even major events (it took digging to get the result of the WNBA final).
And chatter about Lambert on sports talk radio on the Boston station I listen to was preceded by the admission that "we have never talked about women's college soccer on this program and we will probably never talk about women's college soccer again, but ..."
The fact remains that while female athletes have developed skills, hard-charging attitudes and leave-it-all-on-the-field seriousness about their play, we still view them as grown-up girls (in ponytails) who might be doing cartwheels in the backfield if they thought they wouldn't get caught.
Some little girl-female athlete affinity is purposeful marketing. That's the justification for Saturday afternoon college basketball games and cheap tickets. And, certainly, why shouldn't women's teams, from college basketball to professional soccer, build a fan base from those who can relate to them as role models? Isn't that the NFL's goal fulfilled when millions of boys paste Ladanian Tomlinson Fatheads on bedroom walls and wear Peyton Manning jerseys to school?
Promoting athletes as role models, of course, is always tricky. But where men get a pass for bad behavior, women draw fire. We forgive Michael Vick, and gasp when Serena Williams screams at a line judge's late call at the U.S. Open.
We must get past the notion that female athletes are "nice" first and good second, and women's games should be peddled as "family fare." It is tiring to hear enlightened men describe themselves as "supporters" of women's sports as if they are charitable donors. No one likes dirty play. But if Elizabeth Lambert just made people see that women's sports are highly intense, competitive, and exciting, well, good for her.
Related
Popular in the Community