Some visionaries recently filled a 1,500-gallon pool filled with Coca-Cola, 200 pounds of ice and a bucket of Mentos, creating a larger-than-life cocktail that will haunt your dentist's dreams.
As if the sugary mixture's ripples weren't enough of a sight, they pour in the ice and Mentos candy -- achieving a mild fizz -- followed by a brave human test dummy named Ryan.
With a dramatic leap, Ryan splashes into the murky water and pops open a 24-ounce bottle of Coke like it's Champagne. He only hesitates when he's asked to go completely under. (We don't wonder why.)
Though his style of entry was impressive, it's worth noting how long he soaked for.
"Ryan stayed in the pool for roughly 20 minutes and didn't notice any significant changes to his skin or hair other than feeling really sticky," Maksimuk told The Huffington Post via email Sunday. "But he said his skin felt very smooth in the pool."
The backyard where the scene was filmed suffered a different fate, however.
"The cola was all dumped out in the grass and then thoroughly washed with water, however, a horrible smell still reeks in the backyard a week after disposal," Maksimuk said.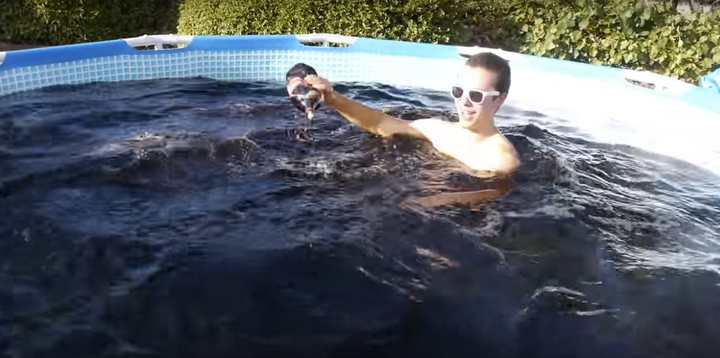 Of course, its seems no video by TechRax is complete without the destruction of some kind of technology.
So, as if to spark a nuclear war in the video's comment section, TechRax's crew intentionally crashes a DJI Phantom 4 drone into the pool. The camera watches as the four-figure toy sputters in the liquid and dies.
"That is what my youtube channel revolves around; technology destruction," Maksimuk defended. "It is something that is a part of every one of my videos."
And the sensationalism appears to work (just check out his iPhone destruction videos). This one has been seen more than 8 million times in two days.
Calling all HuffPost superfans!
Sign up for membership to become a founding member and help shape HuffPost's next chapter
BEFORE YOU GO
PHOTO GALLERY
7 Over-The-Top Swimming Pools