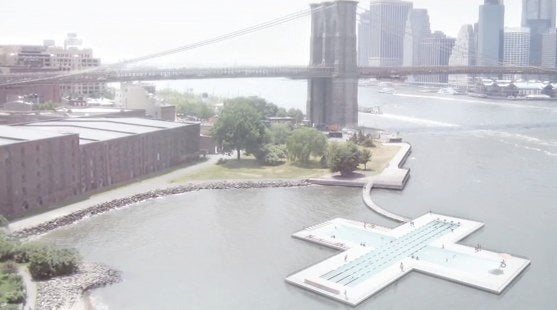 + Pool is gearing up to make a big splash in the New York swimming scene.
Curbed caught onto buzz for the project--four pools in one plus-sign shape floating in the East River--a while ago, but learned today that the +Pool design team has partnered with a major engineering firm, Arup, to make the idea a reality.
The pool's walls would use a state-of-the-art filtration system so that New Yorkers would actually be swimming in- the East River water-- which supporters hope would create momentum for the city to actually make the river itself cleaner.
The + Pool team spent the winter "studying water quality, structural configurations, energy use, site potentials and of course the filtration system" according to their website and then received a final feasability report from Arup that essentially said "Yes, this can happen".
Now they just need to test out the filtration system--which is expensive--before they show city officials that +Pool could really work. They've started up a Kickstarter page to raise $25,000 in support of the project, and put together the video below, which features some endorsements from respected architects, and some very enticing renderings of the 9,000 square foot pool.
Related
Popular in the Community