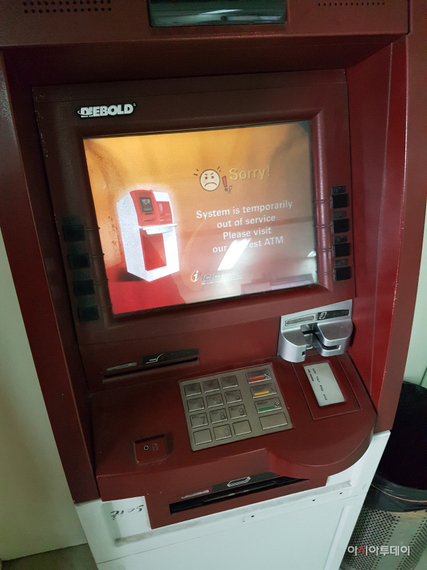 [Since the currency reform, it's been practically impossible to withdraw cash from the ATM./ Photographed by Jeong In-seo]
By Jeong In-seo, New Delhi correspondent, AsiaToday - It's been a month since Indian Prime Minister Narendra Money has carried out the currency reform by declaring that all 500- and 1,000 rupee notes (about $7.50 and $15, respectively) would need to be exchanged for new bills to eradicate unreported "black money", but the inconvenience of people is still continuing due to lack of cash, and the country's poor children have become victims of the currency crisis.
Frequently used coins of Rs 1, Rs 2, Rs 5, and Rs 10 are receiving generous treatment along with currency note of Rs 100.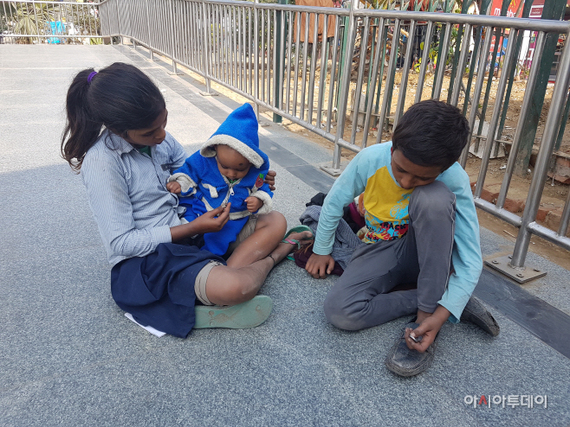 [Jyoti and Pradip, beg near the INA metro station in New Delhi, used to earn about Rs 800 on a single day before the currency reform. But now, it is hard for them to get 200 rupees./ Photographed by Jeong In-seo]
Two street children were attracting passers-by at the entrance to the INA metro station on Dec. 11. Jyoti, 10, and Pradip, 9, are "little beggars" who beg on the street in India. Jyoti had a 4-months-old baby in her arms. When I asked her where she came from, she answered, "Bangladesh," and asked for 10 rupees. After giving her 10 rupees, I asked if she was living alone, she replied that she came to India with her aunt when she was little.
Jyoti and Pradip said they were begging to people coming to the subway and market. Before the currency reform, they used to earn 800 rupees on a single day. But now, it's hard for them to get 200 rupees a day. Less people would give money to them due to lack of cash. Jyoti said, "People wouldn't even give me some coins. If I don't earn money, my aunt will hit me."
One woman intervened during the interview with Jyoti. The woman who introduced herself as Jyoti's aunt said, "Pay more money for an interview." I was forced to leave because she began to get mad and shout out loud when I did not accept her offer.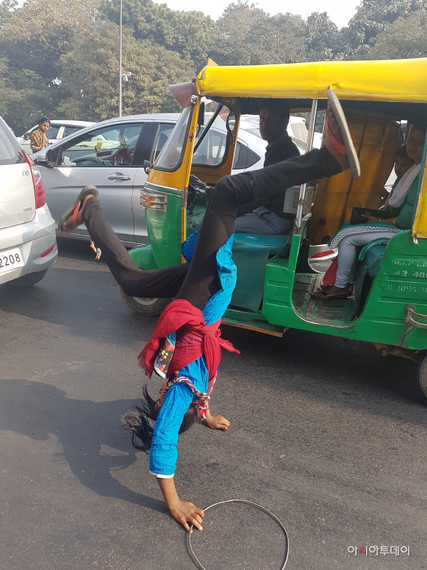 [Rani is begging for money with an iron ring. She also claimed that she now earns half of what she used to earn after the currency reform./ Photographed by Jeong In-seo]
I was able to meet little beggars near Siri Fort, about 7 kilometers away from the INA. Some of them were showing off their talents with a small iron ring to beg for money.
Rani, 14, said she didn't know her parents and hometown. She said she had been begging by learning tricks like iron ring since she was young. She said, "I made more than 1,000 rupees before the currency reform, but now it is hard to earn 400 rupees." She added, "I have to earn more money than other kids do because I can perform with an iron ring. Some children earn less than a penny a day."
The interview with Rani did not take so long because she went back to the street saying she had to make money. I watched her performance for 20 minutes, but nobody gave money to the little beggar.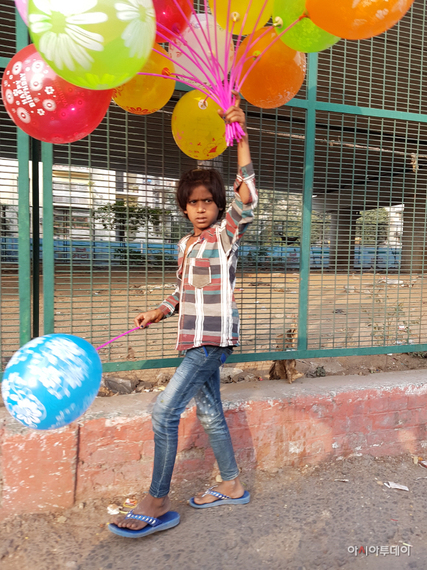 [Vonat lives on the street selling balloons. In the past, there were a lot of people who would give him money, but now he is worried about his next meal./ Photographed by Jeong In-seo]
Another little beggar was selling balloons on the roads of Nehru Place, nearly 4 kilometers away from Siri Fort. The price of the balloon was 20 rupees, but no one was willing to buy.
Vonat, 13, said, "I started selling balloons in the morning, but I couldn't sell a single balloon." He said, "I have to sell balloons to buy potatoes, but I have to starve if I fail to do so." He said, "In the past, there were many people who showed mercy to me and gave me money without buying a balloon, but nowadays, nobody does it."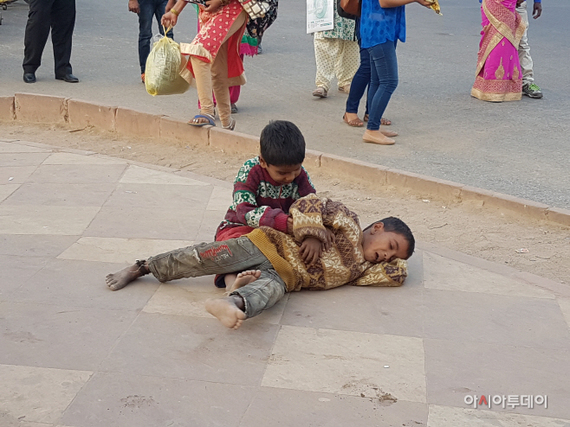 [Most of little beggars are hit by the currency reforms due to lack of coins and cash./ Photographed by Jeong In-seo]
People seeking cash were seen standing in a 300-meter ATM queue as banks and ATMs all over India were closed.
With the rising number of poor people and working classes who are suffering from the currency reform, the Modi government is facing opposition from the Indian politics. Former prime minister Manmohan Singh, a fierce political opponent of his successor Narendra Modi, said Modi's reform was a "mammoth tragedy" and "impetuous decision."
Moreover, there is concern that the long-term cash crisis will have a negative impact on India's economic growth. The Reserve Bank of India (RBI) on Dec. 7 has cut growth estimates for 2016-17 economy to 7.1% from 7.6% earlier. Goldman Sachs has forecast a deceleration in India's GDP growth to 6.8% this fiscal, down from 7.6% last financial year.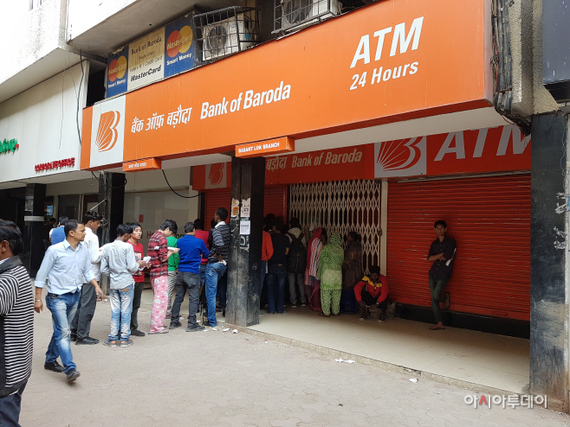 [People are gathering to the bank even though it is a holiday./ Photographed by Jeong In-seo]
Calling all HuffPost superfans!
Sign up for membership to become a founding member and help shape HuffPost's next chapter