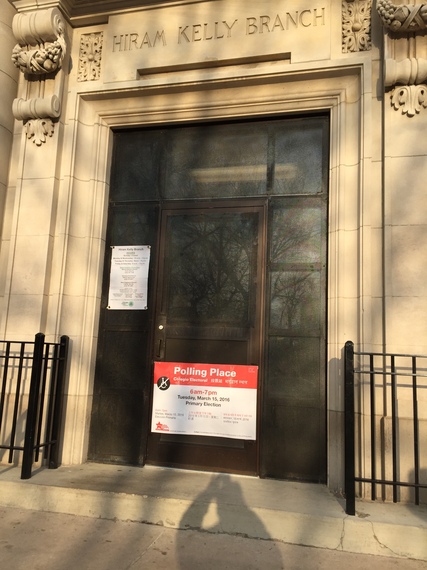 The Hiram Kelly Branch, the second oldest branch of the Chicago Public Library, in Englewood neighborhood on Chicago's South Side.

OBJECTIVE: This study tests the association between adverse childhood experiences (ACEs) and multidimensional well-being in early adulthood for a low-income, urban cohort, and whether a preschool preventive intervention moderates this association.
METHODS: Follow-up data were analyzed for 1202 low-income, minority participants in the Chicago Longitudinal Study, a prospective investigation of the impact of early experiences on life-course well-being. Born between 1979 and 1980 in high-poverty neighborhoods, individuals retrospectively reported ACEs from birth to adolescence, except in cases of child abuse and neglect.
Results: Those with ≥4 ACEs had significantly reduced likelihood of high school graduation (odds ratio [OR] = 0.37; P < .001), increased risk for depression (OR = 3.9; P < .001), health compromising behaviors (OR = 4.5; P < .001), juvenile arrest (OR = 3.1; P < .001), and felony charges (OR = 2.8; P < .001). They were also less likely to hold skilled jobs (OR = 0.50; P = .001) and to go further in school even for adversity measured by age 5.
While I was at a meeting in DUMBO Brooklyn on Monday, to pitch WWO's Toy Library for high risk young children, I received an article in my email, published in Pediatrics April 2016. I stepped out into the gloomy rainy day, and felt refreshed from amazingly exciting back to back meetings with educators and passionate people from the community who work in education in Brooklyn. They believe in changing the lives of very young children so that they will in fact, have a great life as they grow up and become adults. One of the people in the meeting captured the essence of why we at WWO want to fight so hard to advocate for poor children and their communities around the world. Kate who is a parent of two young children ,helped us stop and think about the depression that she observes when she is with kids who are poor. That is just not acceptable anywhere in the world under any circumstances.
The article on my iphone was a message from powers greater than I. I read the abstract and spoke out loud to my chief of program at WWO, Melissa, as we walked to the parking garage on Adams Street in DUMBO. The article was an exclamation point on the day. With deep resolve, we drove home and talked about the inspiring people we had met that day....and felt certain that our fleet of 34 toy libraries abroad in Bulgaria, Haiti, and Vietnam would teach us the lessons we needed to learn to bring excellence to the domestic toy libraries in the US. We were eager to place a toy library in Farragut, Brooklyn!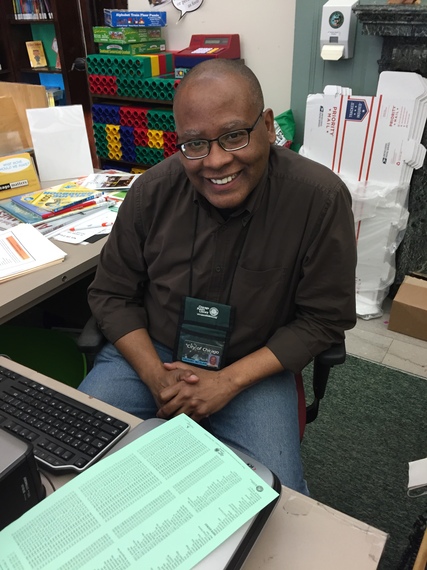 Greg, the librarian at the Hiram Kelly Branch in Englewood neighborhood on Chicago's South Side.

I am up late as usual writing and thinking about how to make the lives of poor children better. Tonight I am in Chicago. I arrived late yesterday afternoon and was picked up at the airport by a friend and colleague, Liz, from our consulting team helping us formalize our training manual for Element of Play. She and her co-workers, Melissa and Laura, took me out for dinner and we ate heartily and spoke about how kids and adults need to play and read and escape the trauma of their lives. They shared their experiences in the libraries of poor communities. Liz had given me a tour of Chicago as we left Midway Airport and then we stopped at the Hiram Kelly Library Branch. Liz introduced me to a man named Greg who runs the children's library there. What a warm and loving place! The late afternoon light was streaming into the room and the books were beautifully organized on their shelves lining all the walls. The library was built 105 years ago and Greg was proud of the building and his job. He became a librarian by accident when he was getting a graduate degree and ended up getting a job at a library. He committed himself to library work thereafter. He was a special fellow....relaxed and at home with the children in that one room...helping them read and learn. I felt his excitement when I explained how Worldwide Orphans wanted to bring Element of Play and all its functions ie. toy library, storytelling, music in motion, sport, recreation, theater, dance, writing, camp and improvisation to help heal the trauma of poverty; Greg sighed and wanted it all.
The library was a polling site and there were a number of volunteers waiting for people to vote. I introduced myself as an out of state person who would not be voting in their primary, but we started joking and they said that I should be on the ballot. You had to be there!
The curriculum powerhouses in Chicago - Liz, Laura, Melissa, and me

The night ended with the curriculum team i.e. Liz, Melissa, and Laura joining me at Palmer House, to view our new Element of Play deck fresh from the creative minds of Chad Hancock and his team at Marvel Citizen in Minneapolis. We were admiring the elegance and passion of the deck...the whimsical and powerful nature of the colors in the slides and the intense declarations of what WWO does to help kids escape trauma and disaster were mesmerizing.
Tomorrow we meet with administrators from the Chicago Library System in hopes that we can bring our innovative programs of Element of Play to heal trauma and change the data from the article about Adverse Children's Experiences, that started this blog post above.
The trauma that poor children suffer has reached epidemic proportions in the US and around the world. 1 in 4 American children live with food insecurity and 40% of American children are poor or near poor. These data are tragic and an outrage....we have known for 60 years that pre-school would help all children be ready for school and success in life and still we do not have universal pre-school in the US. Families with means have access and poor families do not.
The lack of equity is hard for me to accept. I think we live in an Emergency state when it comes to the needs of the 2.2 billion children living in the world.
Dr. Jane Aronson, CEO and President, Worldwide Orphans
Support HuffPost
The Stakes Have Never Been Higher
Related
Popular in the Community