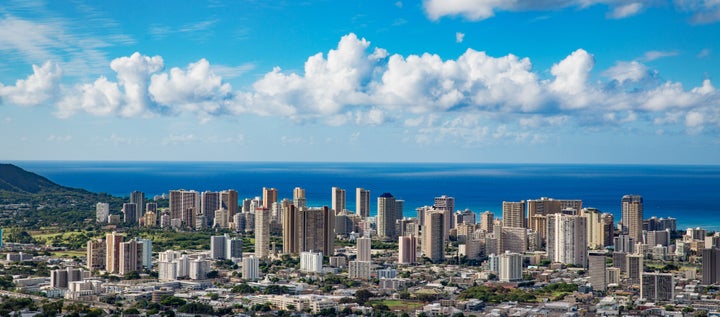 HONOLULU ― A real estate developer in Hawaii is under scrutiny for its plans to build a residential high-rise that has two separate entrances: one for high-income residents and another for low-income earners.
ProsPac Holdings Group is developing the 41-story residential building in the Ala Moana neighborhood of Honolulu.
The high-rise will include 78 affordable rental units for people earning 80 percent or less of the area median income, as required by Honolulu's affordable housing strategy. The other 351 units will be market-priced condominiums. If things go as ProsPac plans, the units will be separated with two entrances.
This separate door has become known as the "poor door," and it drew criticism in 2014 when developers in New York, London and West Hollywood proposed similar ideas.

Daniel Simonich, an assistant project manager for ProsPac, told Honolulu Civil Beat the segregated entrances are necessary because the affordable housing renters and the condo owners will be managed by different companies and will have separate housing associations.
But the entrances and associations aren't the only things segregating the groups.
Simonich told Civil Beat this separation will make the costs bearable for renters.
Social justice advocates don't see it that way.
"Ultimately this will be the first time we will have approved a mixed-use residential project with separate entrances," Victor Geminiani, co-director of the Hawaii Appleseed Center for Law and Economic Justice, told Hawaii News Now.
"That sends messages to all of us."
"Affordable units and market units should be identical from the outside, including the entrance way."
New York Mayor Bill de Blasio and Gov. Andrew Cuomo did away with poor doors in 2015 after the New York Post, The New York Times and West Side Rag published stories on a luxury building that had proposed a separate entrance for its lower-income renters years earlier, inciting local outrage.
"It's such a visual separation," state Assemblywoman Linda B. Rosenthal told The New York Times in 2014. "It gets at people when they see two separate doors. It's no longer theoretical. It looks and smells like discrimination."
New York blocked the entrances by taking tax breaks away from affordable housing developers who separate residents by income in their projects. Buildings under construction at the time ― like the Lincoln Square tower ― were grandfathered in.
Tenants in Lincoln Square's affordable housing felt the effects of the segregated entrances, as Rosenthal had predicted.
Eric Olm, a low-income renter in the same building, told the Post his windows overlook a courtyard that is restricted to only the wealthier condo owners. "It would be nice to actually get to enjoy it," he told the newspaper.
State officials have struggled to solve Hawaii's affordable housing crisis brought on by the island state's high cost of living and a shortage of housing options. In May, Honolulu Mayor Kirk Caldwell unveiled a strategy to address the crisis, offering developers a $1 year lease and help with infrastructure if they build affordable housing options.
William Chen, assistant director for ProsPac in Honolulu, said their upcoming Ala Moana building actually brings together low-income and high-income earners rather than separating them.
"While most developers create a market rate tower in one location and an affordable tower in another location, our solution allows both projects to exist on the same block in the heart of Honolulu's Ala Moana neighborhood," Chen said in a statement to Hawaii News Now.
"This approach is a response to international best practices in space management and forward thinking about the kind of urban density that will work best for transit-oriented community planning."
Popular in the Community