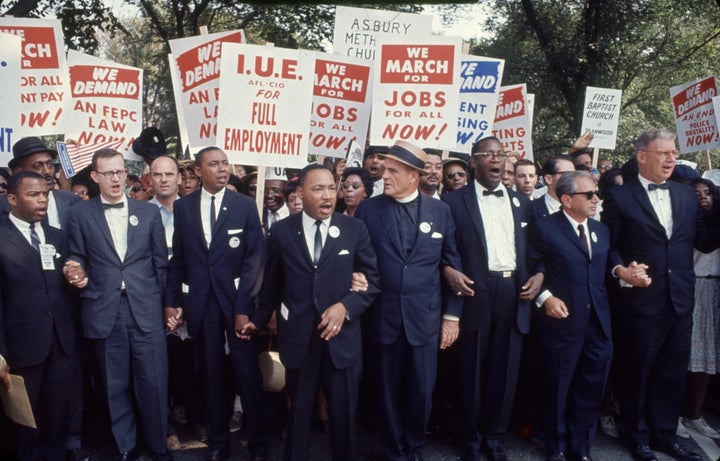 He couldn't stop thinking about them, their wide eyes and the silent hunger that lay behind them.
Staring up at the ceiling from his motel bed, Dr. Martin Luther King Jr. told his closest confidant, Rev. Ralph Abernathy, that the impoverished children they visited earlier that day were cemented in his mind.
Quitman had everything King fought against: A lack of job and home security, particularly for the black sharecropping families who often lived in shacks on the plantations where they worked unpredictable harvests. Abysmal schools, where black students were taught in poorly ventilated classrooms with out-of-date textbooks and school lunches they couldn't afford.
But it was what King saw in that Head Start facility, a program developed to prepare young children for school, that would push him to launch the 1968 Poor People's Campaign, an effort to demand economic security and an improvement in the quality of life for impoverished Americans. After watching a teacher cut an apple into quarters in order to feed four children, he broke down in tears — an unusual display of public emotion from King. Ultimately, he made the small town of Marks the launching pad for his campaign's march on Washington, planned for the spring of 1968.
"I can't get those children out of my mind," he told Abernathy. "We can't let that kind of poverty exist in this country. I don't think people really know that little schoolchildren are slowly starving in the United States of America. I didn't know it."
The campaign's dream was deferred when King was assassinated on April 4, 1968. But Coretta Scott King, an activist and the reverend's widow, along with Abernathy and others, decided to pick up and move onward with the march, which took place on May 12 with thousands of attendees. A list of five core demands compiled by the Committee of 100 — an intersectional group of faith leaders, activists and poor people from all racial backgrounds — in the days following King's death asserted the need for a living wage, a secure income for those who cannot find jobs, opportunity to acquire land and capital, and the right of people who will be affected to play a role in designing government programs.
"We come with an appeal to open the doors of America to the almost 50 million Americans who have not been given a fair share of America's wealth and opportunity, and we will stay until we get it," Abernathy told the crowd during the march.
Afterward, thousands of people set up a collection of tents, dubbed Resurrection City, in ongoing protest on the National Mall. The occupation lasted several weeks, ending after harsh weather and reports of racial friction led to less-than-ideal living conditions for those on site. Not long after the assassination of Robert F. Kennedy, a gut punch to Resurrection City residents, the group was evicted by D.C. police.
The campaign dream was, again, deferred.
Now, 50 years later, a new push to eradicate poverty has developed. The Poor People's Campaign: A National Call for Moral Revival, led by Rev. William Barber II and Rev. Liz Theoharis, is working to reignite Martin Luther King's vision. A preliminary report released by the group in December found that poverty has increased by 60 percent since 1968 ― a dire statistic that speaks to the heart of the campaign's revival.
HuffPost sat down with the reverends to talk about how the campaign plans to honor King, convince millennials to align themselves with a religious movement and persuade America that racism and poverty hurt everyone.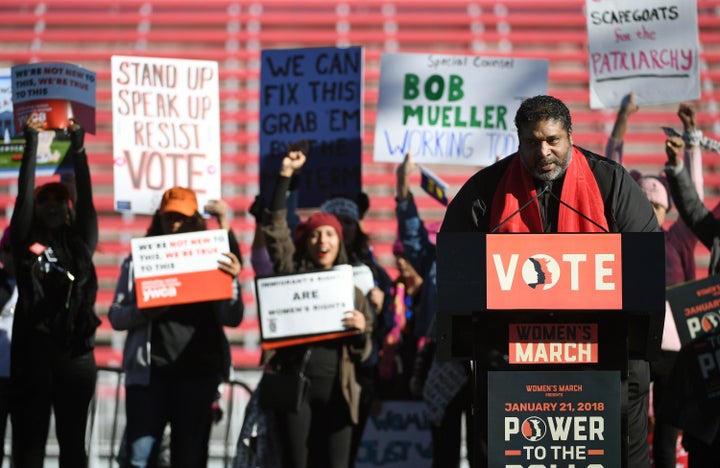 Tell me a little bit about yourselves and the campaign.
Theoharis: I got involved in grassroots anti-poverty organizing about 25 years ago with the National Union of the Homeless and the National Welfare Rights Union. In that work, I was introduced to the 1968 Poor People's Campaign, because current efforts of poor people organizing ourselves were inspired by that campaign.
I realized that the call to organize and live amongst poor people was a religious call, and so I enrolled at Union Theological Seminary, got a master of divinity and got ordained in the Presbyterian Church USA. I was ordained to help build the Freedom Church of the Poor that Dr. King was talking about in the last years of his life, which harkened back to the Freedom Church of the Poor of the abolitionist movement. I helped found the Kairos Center about 14 years ago at Union Theological Seminary. A lot of the focus there was to build a Poor People's Campaign for today.
At the launch event for the Kairos Center in November of 2013, Reverend Barber was the keynote speaker and there we were able to connect. Over the past four or five years, we've been working alongside each other and thinking about this Poor People's Campaign.
I've been going around to congregations and to people over the last 20 years, and there hasn't been a week where people don't quote the Bible passage where Jesus says the poor will be with you always. I've heard people say that to justify inaction in the face of poverty; to say that if God wanted to end poverty, God would do so. I've found that one of the biggest biblical roadblocks and one of the biggest obstacles in anti-poverty organizing work — especially among poor people — was this notion that the Bible justifies poverty and that God condoned poverty.
What I learned in the process of studying the Bible was that there are other moments in U.S. history when the Bible has been used to justify oppression.
Barber: I was born two days after the March on Washington [in 1963] to a family where my father was an activist and trained clergy. He ended up leading our family back to eastern North Carolina where he was born after he received a call to come help with desegregation ― because the county did not really begin desegregation until about 14 to 15 years after the Brown [v. Board of Education] decision.
My father was one of the first science teachers to integrate a high school. My mother was the first black person to integrate the secretarial pool at the high school. So, in some ways, I was introduced to activism at an early age. My father also chose to be a part of the Christian Church (Disciples of Christ), which is a predominantly white party of Christians in this country with a deep social justice theology — and he chose to work among the poor.
After finishing Duke University Divinity School, I went to Martinsville, Virginia, which is a poor community in the southern part of the state, and helped people there fight against businesses that were putting toxic waste in the black communities. In 2006, I ran for president of the North Carolina NAACP and was elected.
In 2007, we began the Forward Together [Moral Movement]. It was a mass coalition of over 60 organizations that began to challenge the then-Democratic-led [North Carolina] General Assembly and government on issues related to poverty, education, voting rights, fundamental human and civil rights for all regardless of race, their creed, their color or their sexuality. That coalition helped to win a raise in the minimum wage in North Carolina. We were responsible for winning same-day registration and early voting as well as the North Carolina Racial Justice Act that gave people the option to have cases reviewed if race was found to be used in assigning the death penalty. And we pushed one of our U.S. senators to vote for the Affordable Care Act.
I became the architect of the Moral Monday protests in 2013. This is after a tea party-led group — because of voter suppression and racial gerrymandering — took over the North Carolina General Assembly, won the governor's office and began to roll back the state's progressive policies.
Many Americans are still dealing with a number of the issues that King fought against ― voter suppression and poverty, especially. With this in mind, how is the campaign relevant today?
Theoharis: Our campaign commissioned the Souls of Poor Folk audit ― which was put together by the Institute for Policy Studies, the Urban Institute and a team of economists, policymakers and impacted people — and a preliminary report came out on Dec. 4. And we do indeed see that there are 60 percent more people living below the poverty line today than 50 years ago. There are fewer voting rights than 50 years ago. Ecological devastation has really sped up with poisoned water, fracking and mountaintop removal. The extreme effects of climate change are impacting so many poor and marginalized communities across the globe. We have 60 cents of each discretionary dollar going to the war economy.
And none of the current political discourse actually revolves around the issues that affect the majority of people. Reverend Barber and I have said many times before that in the 2016 presidential election not one of the debates took up voter suppression or the Voting Rights Act and how we need to re-establish that. None of those debates spent any time on poverty and poor people. When poverty and poor people are mentioned in our political discourse, it's to blame poor people for everyone else's problems. Our elected officials talk about the middle class but not how close to half of the population is low-income.
The time is now — more than ever — for us to have a Poor People's Campaign.
Barber: Dr. King connected three issues: racism, poverty and militarism. He saw those issues as interrelated, bound together, that you couldn't address one without the other. He was very clear that in order to address these interlocking injustices, you had to have an intersectional response. He said that the only hope for the nation moving forward was for all working-class and poor people to come together and form a powerful movement for moral justice — not just resistance — and that would hold these issues together and not separate them into silos. He was very cognizant of the danger that America was in.
Fifty years later and America has still not fully addressed these issues. Dr. King said in his speech following the Selma to Montgomery March that whenever there was the possibility of the black and white masses — especially the poor and working-class black and white masses — to come together, that they should.
This is why white aristocracy and others always sowed division and racism to prevent that from happening, because of how it could change the nation. If you didn't have voter suppression and racialized gerrymandering, white and black and brown people could come together and hold the power to flip many states. That would fundamentally change electoral politics in this country and thereby change our policies.
Why does this campaign have to appeal to everyone? Why is it not something that can just focus on black people and other people of color?
Barber: Dr. King never focused on just black people. That's the misnomer of the corporate and political reinterpretation of him. As early as 1958, he was talking about how the 1 percent was ruling over the 99 percent. The Poor People's Campaign had great diversity.
If you look down through history, change really only took place in this country when there were fusion movements. The abolitionist movement was black and white. The Reconstruction movement was black and white people. The only real hope for America is to have this kind of fusion coalition.
That's why we're visiting different communities from California to the Carolinas. We are going to visit homeless people, who are predominately white millennials, in Grays Harbor [County, Washington]. We will be on the Apache reservation [in Arizona] where multinational companies are trying to drill on sacred lands, which will poison aquifers, but the water won't stay on that reservation. It'll actually flow into the adjacent counties and towns, many of which are predominately white. When you look at all the states that denied Medicaid expansion, the majority of those people who got hurt were white — mostly in the South and in the Rust Belt. And yet some politicians used code words like "Obamacare" and fooled people into a racist resistance to the Affordable Care Act.
We have to unmask this stuff. We have to show the intersections between race and poverty. We have to show that voter suppression hurts all people and allows the people who get elected to use their power to pass policies that hurt all people.

[Editor's note: Rev. Barber had to leave the conversation at this point. We continued on with Rev. Theoharis.]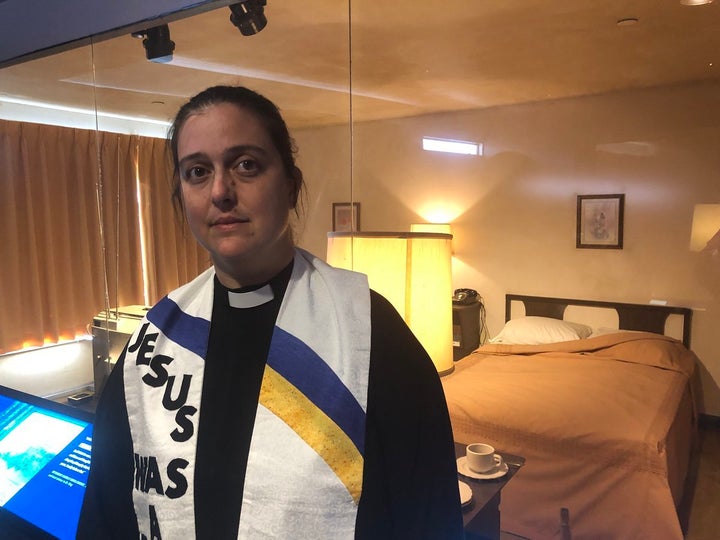 You were talking about the ways in which the Bible justifies oppression. So how does the campaign plan to reach people who can't move past that fact?
Theoharis: We're finding how much talking about our deepest constitutional values, our deepest moral values resonates with people. We're seeing that it resonates with everybody. You know, when we were in Albuquerque in a church that held 500, there were 4,700 people squeezed into that church.
Some young people came up to Reverend Barber and said they never would have been caught in a church because of how religion has been used — Christianity in particular — to hurt queer people. But being part of that mass meeting and connecting with folks from indigenous spiritual traditions, with Muslims, with Jewish folk, with Sikh and Hindu people, and with Christians of all stripes and talking about the real issues that impact people ― that has been really empowering and really important and necessary.
We're talking about what's at the center of our faith traditions, but also what's at the center for people who don't have faith. People who also believe that the arc of the universe is long and it bends towards justice.
King's thought behind the campaign was that while black liberation was vital, black folks and other people of color wouldn't truly be free until they had economic security. Why is economic security so important for people of color and everybody? Why will this resonate today considering the racial wealth gap and other socioeconomic disadvantages we're dealing with?
I live in New York City, and when you walk around, you see menus posted outside of restaurants. And if you can't afford the prices, you might as well not go in. This is the kind of economic insecurity that so many people face, according to our audit: 140 million people are poor or low-income; 80 percent of people at some point in our lives will experience poverty and hardship; 50 percent of kids are in food-insecure homes. Among people of color, it is way worse and those numbers are not getting better and, in fact, they're getting worse.
We were in Lowndes County, Alabama, a couple of weeks ago for the 53rd anniversary of the Selma to Montgomery March and Bloody Sunday. This is where the SNCC house [Student Nonviolent Coordinating Committee's Freedom House] was and it's where the Black Panther Party was born. Today, many families — both white and black — are living with raw sewage in their yard. There is no sanitation service. There is a failing septic system. Thirty-five percent of the population has parasites or hookworm mostly because of poverty and failing infrastructure.
We connected with leaders there. And they said that when you talk about civil rights or racial justice, you also have to talk about raw sewage, dilapidated housing and how we can make it possible for everybody to have a thriving, abundant life. We live in this rich country. We live in a world that produces more than we need. And yet there is such poverty, such want, such deprivation.
We have to conquer racism and economic injustice together because you can't do it separately.
The campaign tried to live after King was assassinated but Ralph Abernathy later said that he felt as though what it did achieve — marches, establishing Resurrection City, getting federal agencies to promise to hire poor people, etc. — wasn't enough. Under you and Reverend Barber, how will the campaign be enough?
That's the reason we're launching this campaign with a two-month national tour, to learn what it would look like for the campaign to be successful. We want to see if state-based movements can be pulled into something bigger. We want strong, on-the-ground campaigns with deep community roots, with impacted people leading the way and involving clergy, other moral leaders, activists, advocates — everybody.
What we see this campaign being able to do in this period is to help shift the narrative. We see it helping our society talk about the issues that affect everybody and shift what can be achieved politically.