Hundreds of people took to the streets in cities across the country on Monday, as part of a new movement seeking to challenge racism and poverty in America.
The Rev. William Barber II and the Rev. Liz Theoharis ― the two religious leaders spearheading The Poor People's Campaign: A National Call for Moral Revival ― led dozens of demonstrators at a rally and march in front of the Capitol in Washington, D.C., on Monday afternoon.
Participants in D.C. sang out familiar chants from protests against racism and police brutality in recent years: "What do we want? Justice. When do we want it? Now."
Rev. Barber also led a variation on the chant: "What do we want? A living wage. When do we want it? Now."
Hundreds were arrested at the nonviolent rallies nationwide on Monday, according to organizers. In D.C., Barber, Women's March leader Linda Sarsour, and dozens of others were arrested, with police leading them out of the street they were blocking in front of the Capitol to a cordoned-off area nearby.
The actions kicked off 40 days of planned demonstrations across the country by the campaign, which is meant to continue in the footsteps of Martin Luther King Jr.'s Poor People's Campaign, cut short when King was assassinated 50 years ago.
The movement's broad demands to lawmakers include "a massive overhaul of the nation's voting rights laws," an end to systemic racism and support for a "living" wage, according to a release. At Monday's D.C. rally, the reverends called for government to support "accessible" housing, healthcare and public transportation, as well as relief from "crushing student debt."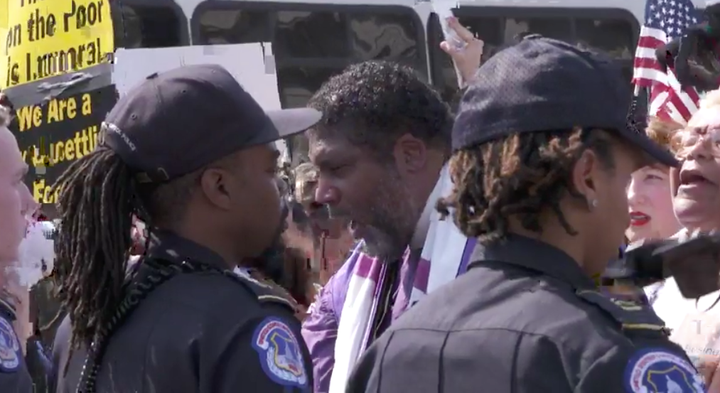 More rallies are planned each Monday for the next six weeks, with a final gathering in D.C. on June 23 ― after which organizers hope participants will continue taking action in their own states to call for legislative changes.
While the campaign is expressly not partisan and does not make endorsements, it does seek to mobilize voters to the polls in the 2018 elections, a spokesperson told HuffPost last month.
"We come not with a left agenda or a right agenda. We come with a moral agenda that cares for all people," Barber said at the D.C. rally on Tuesday.
A domestic worker at the rally gave an emotional speech about her struggles living in poverty, speaking in Spanish as someone translated in English.
"I work cooking and cleaning and make 11 dollars an hour. I have suffered depression and sometimes suicidal thoughts at the thought of my children living on the streets because we can't afford rent," the woman said, wiping away tears. "Systematic poverty that has been created, not because we're lazy or don't want to work, but because of politicians who block a living wage."
See what the demonstrations across the country looked like:
Massachusetts
Missouri
California
Tennessee
North Carolina
New York
Kansas
Michigan
Ohio
Florida
Before You Go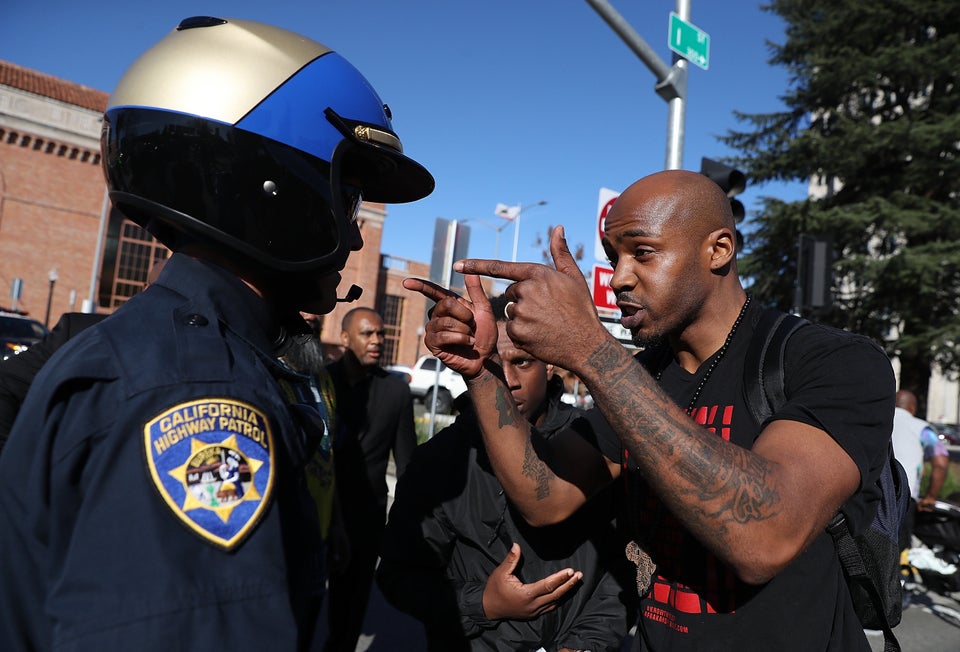 Black Lives Matter Protests After Stephon Clark's Death
Popular in the Community