When Taiwan's first-ever female president took the podium for her victory speech after Saturday's election, she made a surprising callout: a teenage pop star who is at the center of a fierce political controversy. 
Last November, Chou Tzuyu, the only Taiwanese singer and dancer in the popular Korean girl group TWICE, appeared on a TV show holding the Taiwanese flag. A Chinese celebrity of Taiwanese origin, Huang An, interpreted the scene as a political statement and accused Chou of being a pro-Taiwanese independence activist on his microblog. The accusations quickly led to Chou's agency, JYP Entertainment, canceling her appearances in China.
On the eve of Taiwan's election, JYPE posted a YouTube video of Chou apologizing. Reading softly from notes with her head bowed, the 16-year-old expressed remorse and said she would suspend her activities in China.
"There is only one China. The mainland of China and Taiwan are one body. I am always proud to be Chinese," she said. "Being Chinese, I realize the previous behaviors that I had overseas have posed damage to my company and hurt the feelings of the people on both sides of the Strait. I am deeply sorry and ashamed about this."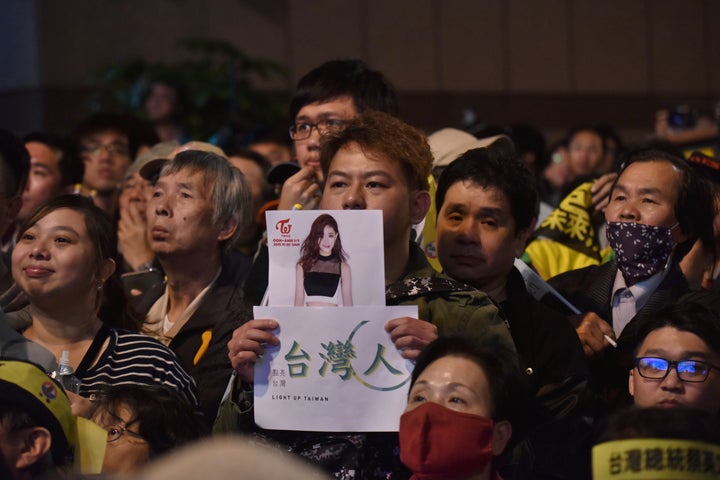 By Monday morning the video had amassed more than 5.8 million views and more than 100,000 comments. Some commenters suggested Chou was coerced into apologizing by JYPE and said the video was an embarrassment to Taiwan. Others argued Chou has become the victim of Taiwan and Beijing's political conflict.
China claims Taiwan as a province, though the island has had an independent government for more than 50 years and many Taiwanese people consider it to be a sovereign country.
Democratic Progressive Party leader and new President Tsai Ing-wen vowed to defend Taiwan's autonomy while maintaining good relations with Beijing.
Following her victory, Tsai said the backlash Chou faced had "shaken Taiwanese society," and added it will "serve as a constant reminder... about the importance of our country's strength and unity to those outside our borders."
Tsai later accused China of bullying Chou. "This has hurt the feelings of all Taiwan's people," she said. "A show of patriotism should never be opposed."
REAL LIFE. REAL NEWS. REAL VOICES.
Help us tell more of the stories that matter from voices that too often remain unheard.