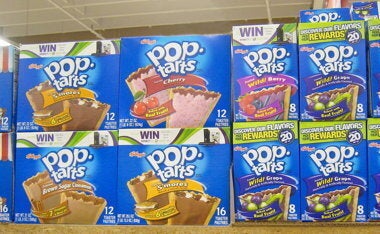 Pop tarts are in the pastry case at a new Northern California restaurant.
They're called "pop tarts," lower-case and in quotation marks, for copyright reasons. But they're baked in-house daily, using organic local seasonal fruit and other fillings, and pastry chef Valerie Rivas was inspired by the Kellogg's classics that she grew up loving.
When she was creating a dessert menu for
, "someone said, 'Pop Tarts would be perfect for this location,' and it's true. Walnut Creek is very suburban. Families live here. What would be perfect for children? Pop Tarts. What would be perfect for parents who are children at heart? Pop Tarts."
But what would be perfect for the exacting, environmentally correct eaters who would choose an ethical restaurant that uses only range-raised chicken, hormone/antibiotic-free beef, and mostly organic produce from small local farms? Lower-case "pop tarts," crafted with care.
"I started with a flaky pie dough and played with it to make it the right consistency for filling and sealing," Rivas told me. Using fruit from Frog Hollow Farm and other local growers, she's working with blackberries, raspberries, and strawberries right now and will start making blueberry tarts in early June.
"Then it's on to the stone fruit," she said eagerly -- and chocolate-filled tarts span the year.
"We put egg wash in the corners, as you would with a turnover or an empanada," Rivas said. "That's what Pop Tarts are, anyway: American empanadas."
A Tender Greens pop tart is -- well, tender. Unlike the Kellogg's kind, it's made with butter. ("Butter always makes things better," Rivas said.) Crumblier than the Kellogg's kind, suited more to fork than fingers, a Tender Greens tart is also breathtakingly less sweet inside and out. While Kellogg's Pop Tarts sport gluey fillings, Tender Greens tart fillings are bright and fresh: quality chocolate and almost-whole berries: skin, seeds, and all. Icing drizzled on top gives these infinitely mild, subtle tarts their only seriously sweet jolt.
Crimped and pricked, they look like punked-out versions of the Kellogg's kind.
But that's the point. Artisanal "pop tarts" are a postmodernization of a postmodernization.
Creating Pop Tarts in 1963, Kellogg's rehabbed a rustic classic. Filled flat pastries are an ancient, universal comfort food. Think piroshki, pasties, knishes, Filipino macapuno tarts, Chinese pineapple and egg-custard tarts. The word tart evokes country cooking: hand-hewn asymmetry and a sweet or savory surprise inside. Tarts can be elegant. Yet they're primordial in principle, made to be their own packaging, made to be eaten hand-to-mouth.
In the era that yielded Space Food Sticks, Kellogg's mused: How to make an archaic food futuristic? How to turn those rustic home-baked bundles with their mama-loves-you fillings into factory-made, mass-produced, innately marketable junk food with an unnaturally long lifespan? Start with pie crust. Add preservatives. Add synthetic supplements such as pyridoxine hydrochloride and thiamin hydrochloride. Add high-fructose corn syrup and palm oil. Take fruit. Add high-fructose corn syrup. Add gelatin. Add niacinimide. Add fruit, but not much: The ingredient list for Kellogg's Frosted Apple Strudel Pop Tarts tells us that it "contains two percent or less" of apples.
For maximum effect, make these tarts hyperidentical. Seal them in foil. Let toasters provide the counterfeit aura of being freshly baked. Call them Pop Tarts, which has multiple meanings: Pop as in avant-garde, like pop art. Pop meaning popular. Pop as a verb: They pop from toasters. Pop open to reveal fillings. Seeing this, your eyes pop.
By making old tarts new, Kellogg's transformed them into comfort food in ways our ancestors could never have envisioned. Like tarts of yore, Pop Tarts are made to transport. But their predictability, ubiquity and brandedness also provide comfort for some. Kellogg's yanked a concept from culinary history and made it corporate. Tender Greens -- and whoever else bakes ersatz Pop Tarts -- is yanking it back, but keeping some Kelloggishness intact.
Kellogg's itself is going postpostpostpostmodern. A far cry from its original unfrosted fruit flavors are such current Pop Tart incarnations as "Ice Creme Sandwich," "Hot Fudge Sundae," "Chocolate Chip Cookie Dough," "Cookies & Creme," "Rainbow Cookie Sandwich," "Vanilla Milkshake," "Blueberry Muffin" and "S'Mores." They're toaster-tarts, but they're also hybrids invoking other types of desserts, just as certain sci-ci monsters take on the characteristics of every person, car and machine they consume.
Taking this hybridification one step further, Kellogg's offers instructions for yet other desserts that can be made using Pop Tarts. Kellogg's recipe for
includes cream cheese, sugar, eggs, oil, chocolate cake mix and six crushed Ice Creme Sandwich Pop Tarts, baked in a muffin tin. For Melty Milkshake Bars, festoon Vanilla Milkshake Pop Tarts with marshmallows, caramel sauce, and M&Ms.
Who loves this stuff? Well, millions.
University of California engineering student Henry Walton is not your typical Pop Tart fan. His parents are Berkeley chefs who work in the artisanal-food industry. Walton grew up unexposed to most American junk food.
"Pop Tarts were long among this list of unknowns," he told me, "until I discovered the sugary wonder at a friend's house in elementary school."
Overnight, it became his favorite comfort food.
"I couldn't honestly tell you why Pop Tarts latched on to me quite so strongly. ... I think it has to do with the fact that they're not quite straight sugar. I've never been as fond of straight sugar candies -- i.e. Jolly Ranchers, lollipops, etc. -- so I think the somewhat more complex pastry nature of Pop Tarts appealed to me. In particular, I think it was the the fruit flavors which felt more legitimate. ...
"In high school, I would buy a packet of Pop Tarts every so often from the vending machine, but Pop Tarts were actually removed from our vending machine my senior year," although they are still standard elements of public-school breakfasts nationwide.
At Amazon.com recently, he found a deal on Pop Tarts that came out to about 6 cents per tart. Ordering these, "I did stop and ponder for a moment whether this was a good idea," but he figured he could share them with friends.
"I quickly found myself eating as many as four a day ... and my suitemates and I also became increasingly creative in our consumption. The first breakthrough was the frosting sandwich, quickly followed by the peanut-butter, marshmallow and jam sandwich. Next came microwaving them and freezing them," because toasters are forbidden in the UC Davis dorms.
"Freezing them was particularly interesting, as it changed their texture so much and helped ensure we didn't grow tired of them. ...
"One of the more interesting repercussion of the Pop Tarts was the varying reactions I received to them. Many of my peers whooped with glee and helped themselves, but many looked on them with horror or disdain. One of the most common reactions was to ask how I could eat such disgusting food, to which I respond: How can you possibly call these disgusting? At a higher level, it is easy to appreciate the 'disgusting' nature of such food, loaded with sugar and fat, but to call it disgusting in terms of taste is simply ignorant. Such food doesn't simply happen to be good; it has been engineered," says the future engineer, "with scientific care.
"Every glob of fat and grain of sugar and salt in junk food is there to ensure that there is no way your body will let you NOT enjoy eating that food at a basic level. When we learn to appreciate nutrition and health, we might get better at telling ourselves that we don't enjoy such foods" -- but, as all comfort-freaks know, that's just talk.
"Many teens come to college and rebel ... Some might party, drink, slack off on their work, or develop relationships with the boys or girls their parents would never approve of. My rebellion didn't take any of these forms."
Pop Tarts are his rebellion.
When she was growing up, pastry chef Valerie Rivas adored the Kellogg's kind as well -- but her mother wouldn't let her eat the frosted ones.
So now she makes her own.
The plated tart photo is by Anneli Rufus. The boxed Pop Parts photo and Comfort Food Freak logo were both created by Kristan Lawson (Anneli Rufus's husband), who gives his permission for their use.
Popular in the Community