Before every wedding there is a marriage proposal. Some are elaborately planned while others are more spontaneous. Whether it is a well-choreographed event or an impromptu request, there are no do-overs. The moment will be memorable... for better or for worse!
Getting engaged becomes a part of each couples' love story. Statistics show that the most popular months to get engaged are October through January; and marriage proposals, as well as weddings, are a regular beach occurrence. We unknowingly contributed to that statistic when my husband proposed to me on a local Southern California beach in November almost 21 years ago.
Living in a seaside community, I often see small planes flying along the coast trailing long banners with personalized requests of "Will you marry me?" I immediately picture the couple: a nervous guy (supposedly 99 percent of grooms pop the question) and a speechless but exuberant girl responding with a passionate kiss and a hug.
On a recent trip to New York City I walked across the iconic Brooklyn Bridge, and I was drawn to the scattered groupings of love locks attached. I had heard of this controversial, international trend, and stopped to read some of the names, dates and occasions inscribed or engraved on the locks. Two personalized, shiny red locks caught my eye. The lock on the left was a wedding proposal and right next to it a matching lock with their names and the dates of their memorable stay in NYC!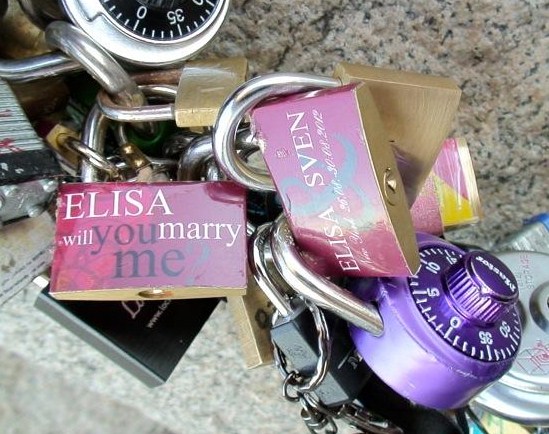 There are many ways to propose, from a candlelight dinner for two to a singing and dancing flash mob. No matter what your budget allows, or how creative you are, each of these romantic bed and breakfast inns can offer customized assistance to plan and execute the perfect wedding proposal for your soon-to-be fiancee.
Ask your loved one the pressing question while surrounded by vineyards in the middle of three distinct California wine-growing regions in Gold Rush country between Auburn, Placerville and Coloma. Enchanted April Inn, a country estate conveniently located in Pilot Hill, will provide a romantic picnic basket for local outings to Amador, El Dorado and Placer County wineries. The couples sauna and hot tub in the inn's secluded garden can also set the stage for a successful proposal with panoramic views.
Innkeepers David and Justine are professional chefs, so good food is a given at Barclay Heights Bed & Breakfast at Smythe House in Saugerties, New York. The luxury accommodations are in the heart of the scenic Hudson River Valley, near Rhinebeck, Hunter Mountain and Woodstock. Propose to your sweetie by lush greenery at Saugerties Public Beach on Esopus Creek or in a canoe or kayak amid serene surroundings. Kaaterskill Falls is a wonderful place to get engaged, and the five-mile return hike will feel like walking on air. If stress-free activity suits you, then pop the question while soaking together in the Jacuzzi.
For a more historic ambiance, the restored, 18th century Nehemiah Brainerd House B&B in Middlesex, Connecticut sits on five acres on a bluff above the Connecticut River. The musically inclined can play a proposal piece on the baby grand piano by the fireplace. Step hand in hand from the porch onto the terraced stone patio amid flower-filled urns and greenery as the trickling fountain quietly serenades you. Then celebrate your engagement with tickets to a theatrical production at the Goodspeed Opera House.
Nature lovers will enjoy the romantic setting of Sandy's Little River House Bed & Breakfast in Allegany, Oregon on the West Fork of the Millicoma River. So romantic, in fact, that a tree next to the house grows heart-shaped leaves. Innkeepers Sandy and John encourage couples to clip one as a keepsake. Fishing is great all year, and there is a swimming hole too. Salmon begin their mating dance in October, which is a memorable sight. The private deck overlooking the river is a perfect place to propose.
Innkeepers Jayne and Doug were on their honeymoon when they fell in love with the West. They have lovingly renovated Wapiti Lodge, surrounded by mountains and located midway between the east entrance of Yellowstone National Park and the town of Cody, Wyoming. They know this is a spectacular place to ask for your intended's hand in marriage and they suggest a sweet spot at the short walkway to the Shoshone River. Contact them about your proposal plan and they will make it an even more memorable experience. Afterward, take your fiancée to a local rodeo, museum or concert where she can proudly wear her engagement ring.
Step into the Victorian age and be greeted by the butler when you enter historic Ryan Mansion Bed and Breakfast just two miles from downtown Galena, Illinois. Entertaining tours of the country estate start every 15 minutes. Lavish period furnishings and reproductions accent air-conditioned rooms with elegance and grace. Your proposal will be unforgettable and unique as the innkeeper takes heirloom stereo photos of you and your betrothed that will look like they were from the Civil War era.
So before you both say, "I do," pop the question and pucker up, because your partner is waiting to say, "Yes" and lock lips to seal the deal!
-- Shirley Anitra Swagerty