I'm the author of Man Candy and Cupcakes and am sharing my recipe for a Carrot Cupcake that has proven proposal-inducing properties.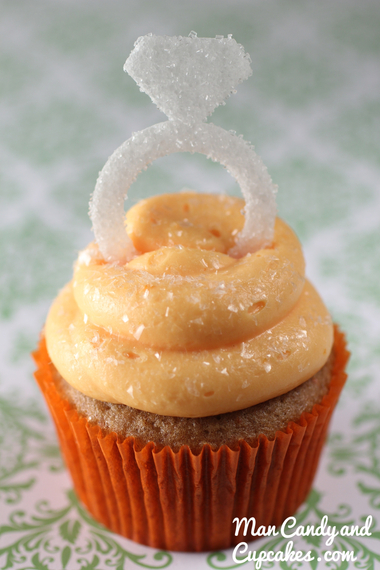 Are you ready for your significant other to pop the question? Looking for a dessert that will put him or her in the mood to marry? Well look no further. This 6-Carat Cupcake has proven proposal-inducing properties. My aunt Beryl handed down this recipe many years ago and it's become something of a culinary heirloom. Bev was an amazing cook and a consummate baker. She'd tried everything to entice her beau's sweet tooth from crème brulee to chocolate mousse but it was this humble carrot cupcake recipe that finally brought my uncle to his bended knee.
Bev nicknamed it her "6 carat cupcake" after she became the recipient of a rock so big that one arm ended up being longer than the other. This connubial-inspiring cake since became something of a tradition on the female side of my family. I baked it for my ex-husband and he proposed several days later. On that note, I can't claim this carrot cupcake will keep you together (although I can give you some delicious rebound recipes). It's also worked a treat for any number of my girlfriends.
Why does this demure dessert have such mystical marriage-inducing properties? I've considered this many a time I've munched on this simple yet scrumptious confection. I think the secret is in its homespun appeal. It's like the cupcake version of a roast dinner. It's delicious and nurturing and has a certain sentimental appeal. Like Proust's Madeline, it evokes tender memories. This simple cupcake spells "marriage material." Here is my Aunt Beryl's original irresistible 6 carat cupcake recipe. Let me know how it performs for you.
6 Carat Cupcakes
2 cups all-purpose flour
1 teaspoon baking soda
1 teaspoon baking powder
¾ teaspoon salt
2 teaspoons ground cinnamon
1½ cup sugar
1 cup olive oil
3 eggs, room temperature
1 teaspoon vanilla extract
½ cup orange juice
3 cups grated carrots
1 cup orange-soaked raisins (recipe follows)
1 cup chopped walnuts
Preheat oven to 350 degrees F and line 24 muffin cups with paper liners. In a medium bowl, whisk together flour, baking soda, baking powder, salt and cinnamon and set aside.
In a large bowl, beat sugar and oil with a mixer until combined. Add the eggs, one at a time, beating well after each addition. Add vanilla and mix again.
Reduce mixer speed to low. Add the dry ingredients to the sugar mixture in two parts, alternating with the orange juice, and mix until all is combined. Fold in grated carrots, raisins and walnuts.
Evenly fill muffin cups with batter and bake for 20 minutes or until a toothpick inserted into the center comes out clean. Let cool completely before frosting.
Orange-Soaked Raisins
1 cup raisins
1 cup orange juice
Place raisins in a bowl and pour orange juice over the top. Cover with plastic wrap and refrigerate overnight or for up to 24 hours.
Orange Cream Cheese Frosting
8 ounces cream cheese
½ cup (1 stick) unsalted butter, room temperature
3 cups confectioners' sugar
3 tablespoons orange juice
Zest of 1 medium orange
In a medium bowl, beat cream cheese and butter with a mixer until creamy.
Add sugar, one cup at a time, beating after each addition. Add orange juice and beat again. Fold in orange zest.
Allow to chill in the fridge for at least 30 minutes.
Pipe on top of cooled cupcakes with a pastry bag and tip or plastic bag with the tip snipped off.
If you like hot guys and hot baked goods, then visit babescott.com.
Related