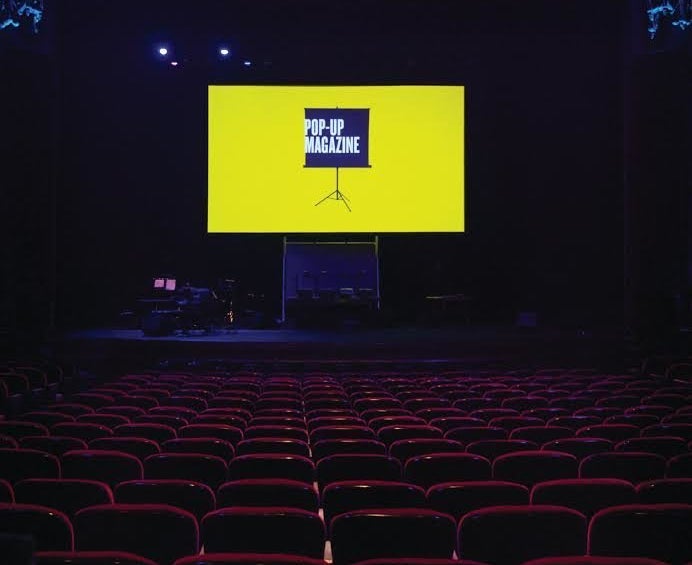 For just four glorious nights -- in Brooklyn, Los Angeles, San Francisco and Oakland -- a new issue of the most exclusive magazine in the world will materialize.
But if you miss the four-night window of opportunity, that issue of Pop-Up Magazine, a so-called "live magazine" in which reported stories are performed on stage, will become infinitely more elusive and unobtainable than a fresh copy of Rhapsody to a lowly coach ticket-holder. "It's not recorded, it's not filmed, so you really have to be there," Douglas McGray, co-creator and editor-in-chief of Pop-Up, told me. "It's a memorable experience."
McGray was reluctant to even tell me what was on tap for the upcoming tour, which kicks off in Brooklyn on April 5. "We keep most of what's going to happen in the show a secret, just because we think surprises are fun," he said. "There will be some magical sort of 'you had to be there' moments."
For a show that only appears four times in public, that's a particularly tantalizing statement, especially when you look at the lineup, featuring stars of stage and page including Wyatt Cenac, Daniel Alarcon, Lindy West, Kumail Nanjiani and Doreen St. Félix. Pop-Up Magazine first appeared in 2009, at a small theater in the Mission district of San Francisco. McGray says at the time, it was nothing more than a hobby born out of his desire to bring together the disparate worlds of different professional storytellers. At the time he was a writer but had begun to dabble in radio work.
"It struck me that I didn't know any radio producers, and I knew tons of writers," he told me. "I thought that was kind of weird, as we're all in the story business, that the worlds would be so professionally separate." The show didn't just unite writers and radio producers on stage, though; it also drew in photographers, illustrators, documentarians, animators and musicians, among others.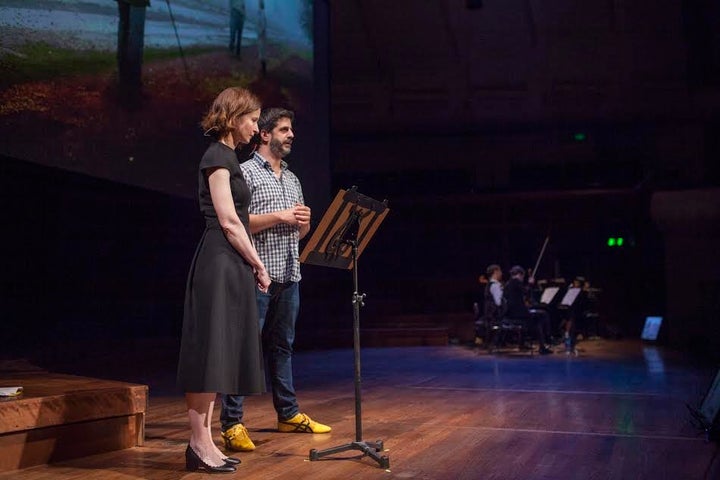 At first, each contributor would take the stage and perform their piece of work; a journalist reading a reported article, a documentarian showing a film. But soon, McGray remembers, as these creative people found themselves in the same space, collaborations flourished, some proposed by the Pop-Up team and others forged by the contributors. Reported pieces were given live soundtracks performed by a band or animated illustration. "We started art directing stories like a magazine does and sound designing a little bit like a radio show," he told me. "It became this very multimedia thing that just felt very different from everything else."
In the few hints McGray was willing to drop about this issue, the unconventional combinations of art and reporting are attention-grabbing, in large part because it's impossible to envision what, for example, this might look like: "[Writer Claire Hoffman] is doing this really interesting collaboration with Miwa Matreyek, who's a dancer and multimedia artist, and so her story -- it's a story about religion and it's a story about growing up, but it unfolds onstage in just a really surprising way," he explained, cryptically.
There's something deeply appealing about this, an experimentation with investing more deeply, rather than less deeply, in reporting stories. There's also a whiff of exclusivity that may be inescapable for the fine arts, especially those that demand personal viewings rather than clicking on viral links. Pop-Up Magazine reinforces this by not broadcasting or even filming its shows. If you don't go to a theater and see it live, you simply don't see it.
I asked McGray whether he worried that by restricting the audience of Pop-Up so greatly, to in-the-know urban dwellers with spare cash for a theater ticket, he was steering today's in-depth, high-quality journalism toward the fate of once popular arts that now exist largely for the elite, like opera.
"I wouldn't want everything to be the same, I guess," he responded. "Part of what makes people want to go to Pop-Up Magazine is that it feels different, that it's not like everything else." With so much of new media almost overly available -- constantly at our smartphone-holding fingertips -- Pop-Up's experiment with melding theater and journalism only adds diversity to the landscape.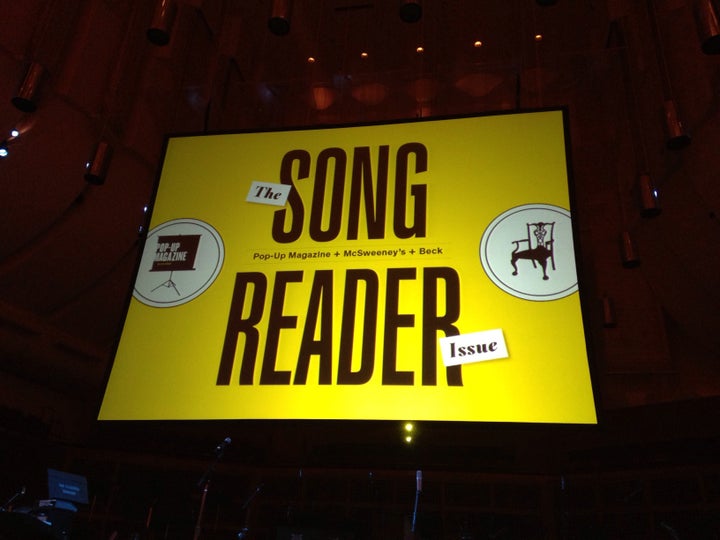 Even Pop-Up itself isn't done trying different things. In 2014, the magazine branched out into print, launching California Sunday Magazine as a Sunday supplement in major California papers, as well as online. "We started a media company," McGray said. "We approached it like a story production company. Some of the things we'd make would be live experiences, live stories, and some of the things we'd make would be stories for you to read at home." 
Where Pop-Up, as McGray puts it, got viewers to pay attention to journalism by capitalizing on people's willingness to put down their phones for an evening out at the theater, California Sunday aimed at the weekend. "It was an idea of classic, leisurely reading, the idea of having more than 60 seconds to look at something and actually having time to get lost in a story that's beautifully written and beautifully art-directed and designed," he said.
Of course, Pop-Up Magazine and its print counterpart have company in the quest to put story and artistry at the center of journalism, whether its fellow West Coast mag Pacific Standard, more traditional East Coast bulwarks like The Atlantic, and up-and-comers like The Atavist and Medium, but it has its own special flavor. The print magazine was formed, to some degree, by the live show from which it sprang. "A word we used a lot when we started [California Sunday] was cinematic. We wanted the stories to read in that way, to have characters and plots that draw you in," McGray told me. "We wanted it to have big, beautiful photography that creates a sense of story."
The wild success of Pop-Up Mag -- its shows routinely sell out within minutes -- and the engaging work of California Sunday may well have lessons for an industry still struggling, post-Internet apocalypse, to regain its balance enough to sustain serious reporting as well as viral clipping. For one, artistic experimentation: the mixing and mingling of different storytelling forms in new and unpredictable ways. At Pop-Up and California Sunday, each element exists not just for the sake of adding a video or a photo, but in service of the story -- and McGray's interest in getting storytellers from different mediums in the same room is clearly paying off.
But, he pointed out, not every startup needs an opulent office or daily bagel platters: "Our approach has really been obsessive focus on creating great stories and great experiences and getting the money to pay for it a few different ways. And not spending any money we don't have." 
It's the things we can't have that suddenly seem the most desirable. Perhaps that's why the pop-up shop has become such a popular strategy for brands to build cachet and move product; if the storefront will be gone next week, a customer can't wait until payday to splurge on that perfume or pair of shoes. (Plus, everyone and her mother won't be able to swing by over the next month and nab the exact same outfit you thought was so chic.) The journalism landscape, littered with article factories churning out endless streams of content, is every bit as choked by limitless access as shopping, in the age of Costco, Target, Amazon and endless online sales, has become. And Pop-Up Magazine, like a pop-up boutique in SoHo, offers us, finally, something else -- a chance to feel like we're being offered something special, curated, limited-edition. Not once in my entire conversation with McGray about his journalistic media project did he employ the word "content."
It felt almost archaic, but comfortingly so. He favors the word "story," a cornily earnest choice in today's super-ironic media environment. Maybe calling a piece "content" implies it's a product, put out to give readers something to click on. Calling it "a story," well, that means it's something worth telling, and worth telling well. Maybe to tell it properly, you might need to get up on stage with an avant-garde paper animation company and a full band, with no one watching but a packed theater.
If you are in the New York, Los Angeles or the Bay Area, McGray wants to point out, Pop-Up Mag isn't like a night at the Metropolitan Opera or even Broadway. "You do have to be there, you have to go, but you'll see in all of our theaters there's a spread of ticket prices ... There are ways you can come for $25 or $35 or $45."
Basically, for little more than the price of a 3D-movie ticket in an expensive, big-city market, you can have an intimate, irreplaceable live experience that brings journalism off the page and tells stories in unexpectedly captivating ways. It's your choice.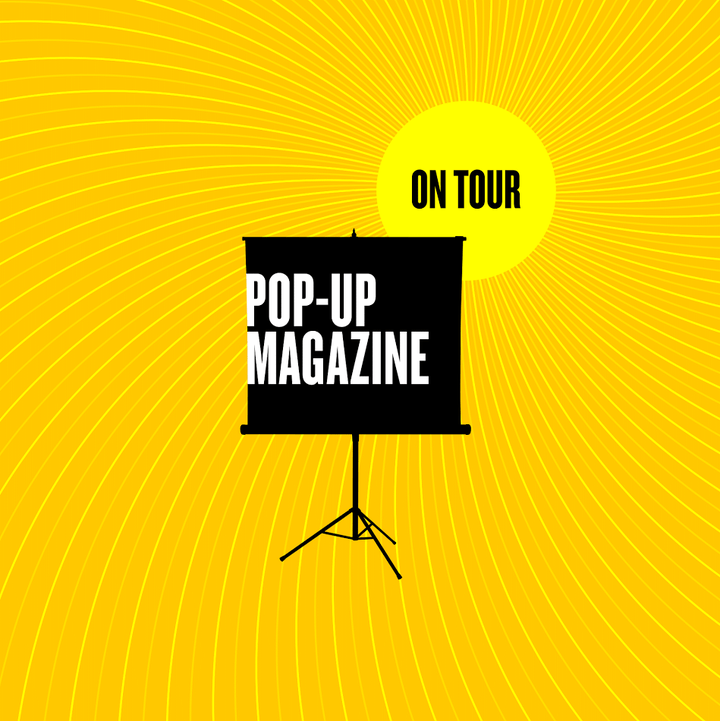 REAL LIFE. REAL NEWS. REAL VOICES.
Help us tell more of the stories that matter from voices that too often remain unheard.
BEFORE YOU GO
PHOTO GALLERY
25 Documentaries You Need To Watch On Netflix Now