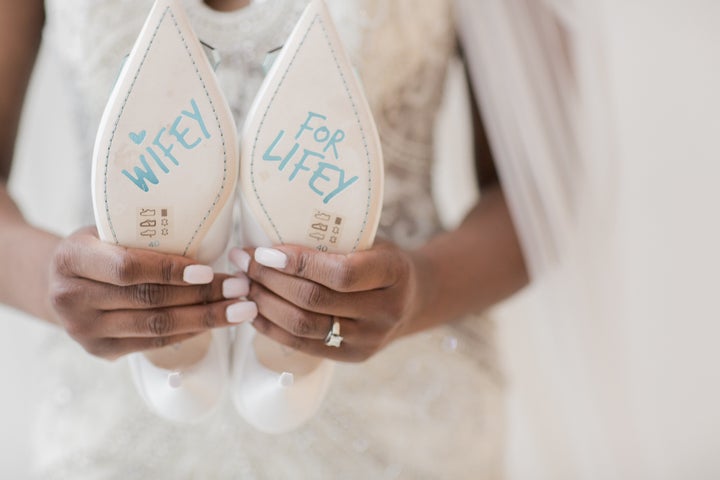 Millennials are disruptive. With emerging technologies at their core, this generation continues to change the way things are traditionally done -- from communication to car services to travel accomodations. And now, they've added marriage to the list with PopBliss, a pop-up destination wedding for unconventional couples.
According to the wedding planning website TheKnot.com, the average wedding costs more than $30K. The PopBliss wedding packages are a fraction of that cost, ranging from $5 - 10K for the entire experience.
Founded by event planner Racquel Kristi, this startup is the gamechanger that's taking the wedding industry by storm. Defined by Kristi as "a Pinterest-worthy luxury wedding without the months of planning, headaches, and arguing over seating charts," PopBliss offers a unique experience from beginning to end.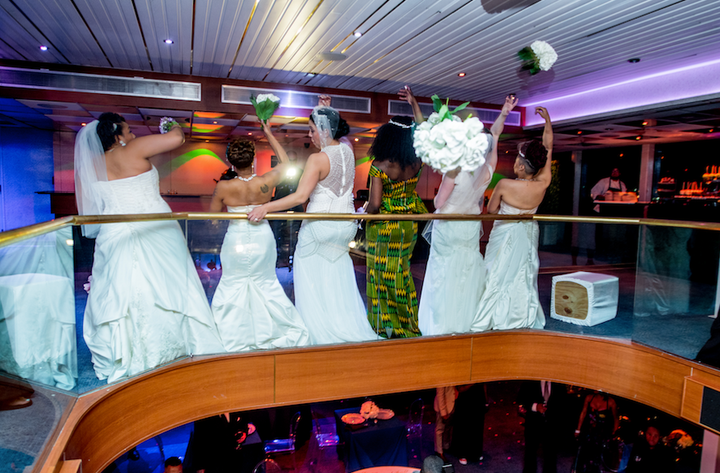 Up to 10 adventure-seeking couples are thoughtfully selected to say "I Do" during the group wedding celebration followed by a joint reception. The PopBliss team takes care of all of the wedding details -- the couples just have to book their flight, show up in their attire of choice and prepare for the royal treatment.
Although Millennials are the target audience because of their adventurous spirit, all generations are welcomed to participate in PopBliss.
It definitely takes a laid-back couple to be apart of this innovative concept. In addition to sharing their big day with other couples, the location, vendors, decor, food and other details aren't revealed until the day of the celebration.
PopBliss isn't to be confused with a mass wedding. Each couple has their special moment -- everyone takes a separate walk down the aisle, has their own cake and enjoys their solo dance.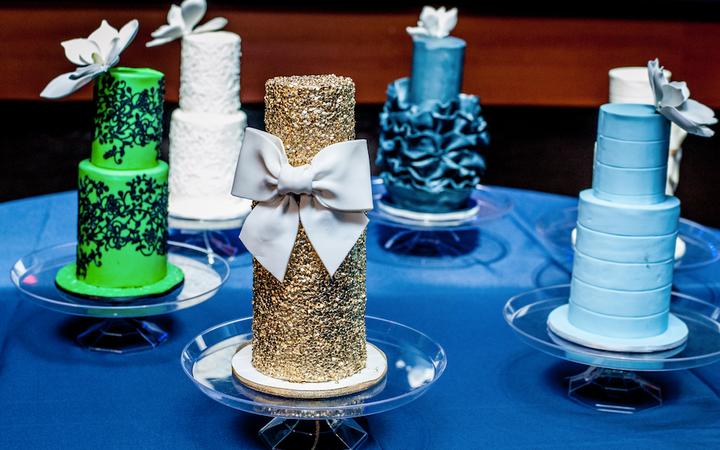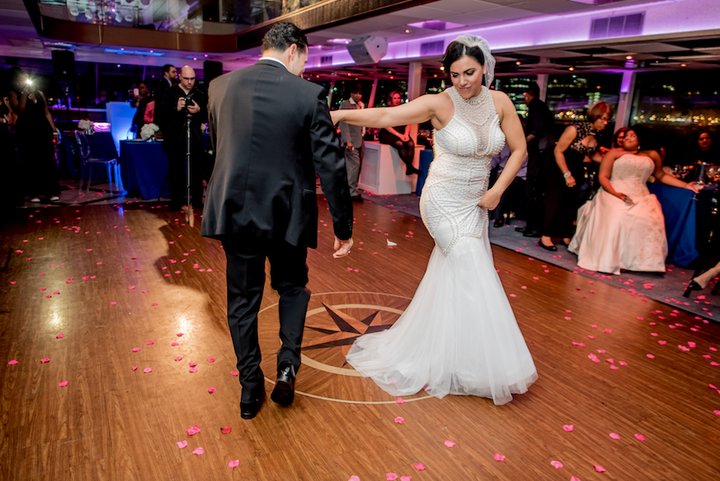 "When selecting the couples, our team makes sure we understand their specific needs and their love story. Then we use that information to create a personalized event for them from beginning to end," says Kristi.
Their package includes a glam squad of expert stylists to help them get ready for their big day, photography and videography, hotel accommodations, entertainment and transportation topped with luxury design and planning that'll create a once in a lifetime experience for each couple.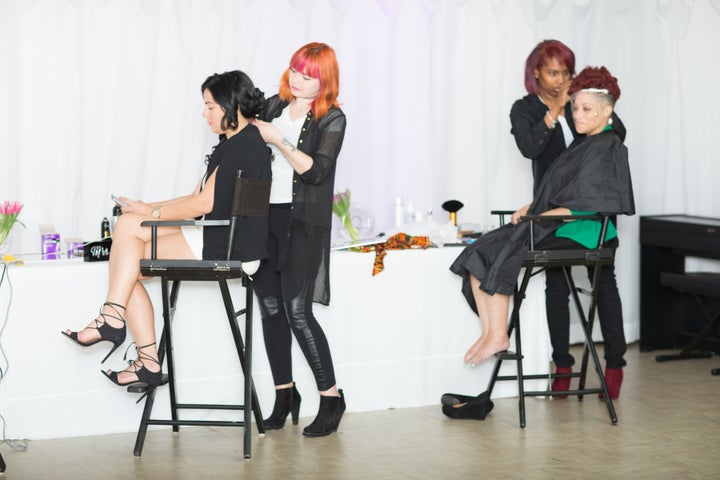 The three day event is packed with celebratory activities for the couples to enjoy with their guests. "The Couple's Evening" is an intimate bonding experience on the first night that allows the group to get to know each other better. It's followed by a "The Toast" which is a welcome party, similar to a rehearsal dinner, the next day to celebrate the unions. Special guests are invited to give a toast to the couples -- creating a moment that they will cherish forever. Before the wedding on the final day, the couples enjoy "The Bliss Brunch" and take wedding photos before being whisked away to secret location for the ceremony.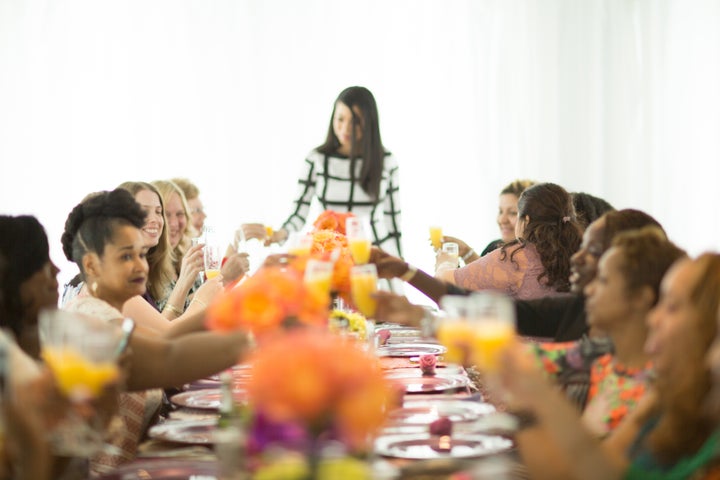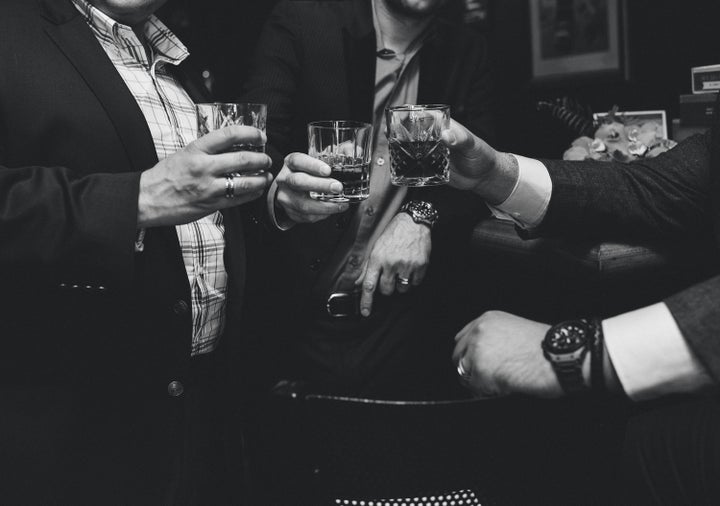 "PopBliss is about excitement, mystery, love and adventure," says Kristi. "Our couples are looking to expand their celebration rather than compromise themselves for just one day. It takes a very special couple to participate in PopBliss, if they wanted an average wedding then PopBliss will be to exciting for them."
Last March, six couples were the first to experience this unforgettable trip down the aisle in New York City. "We received amazing feedback from last year's couples. They loved the adventure and mystery, and not stressing out about the wedding details," says Kristi. "They were able to feel the journey going through the engagement and wedding, which helped strengthen their relationships."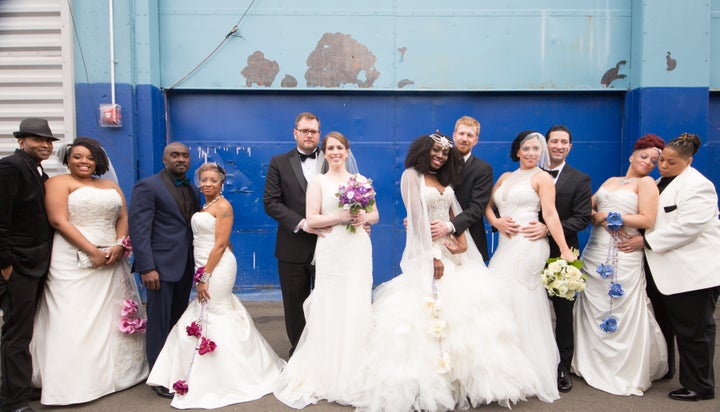 Kristi didn't expect last year's couples to become great friends afterwards, but going through the mysterious wedding weekend together helped them form a bond like no other.
"That was the most amazing part… They all made a natural connection that wasn't forced. I loved that they are so supportive of each other after PopBliss. They started as strangers, but became an extended family."
Some couples even asked to spend their anniversary with their PopBliss family. This encouraged Kristi to create another division of PopBliss called The #PopBlisser Couples' Club about life after their big day. The exclusive community gives PopBlissers a chance to stay in touch through conversation and activities. One of the main events that Kristi and her team is planning is a couples' retreat for all of the unions who've participated in the first few celebrations.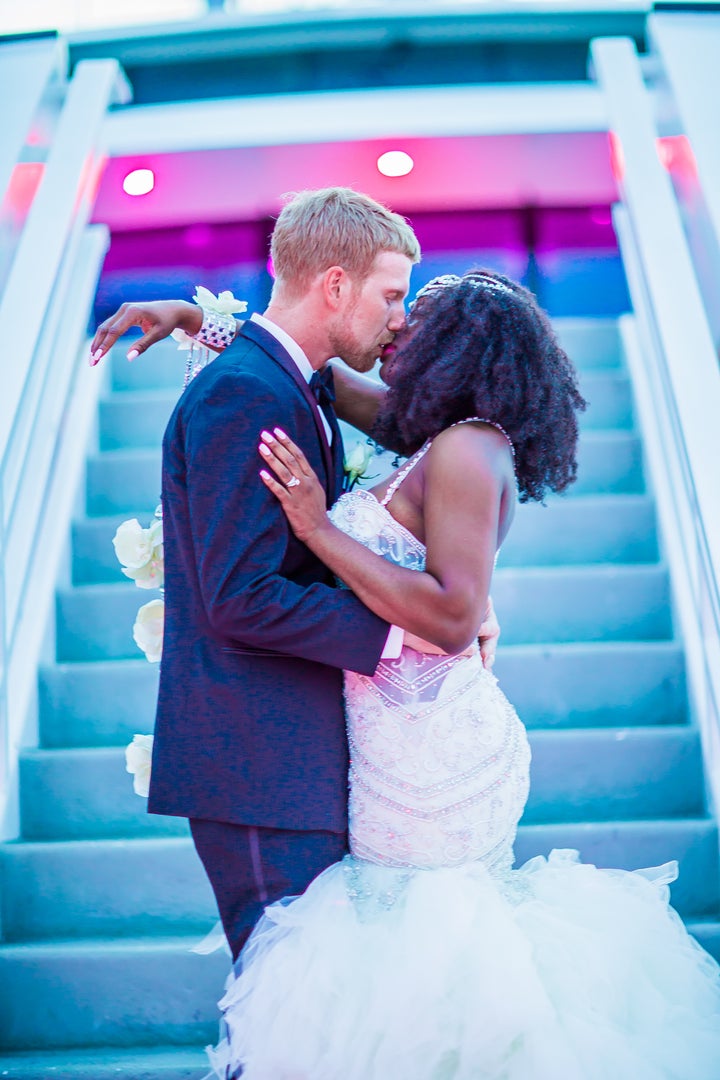 The next PopBliss ceremony will take place Oct 17-19, 2017 in Las Vegas, but it's far from the Vegas wedding that's depicted in movies. The fun element will be in full effect, but PopBliss 2017 will still be a luxurious experience.
*Couples who are interested in having Kristi and the PopBliss team coordinate their wedding, can register here and use offer code "luv17" to receive a special gift that'll jump start their journey to matrimony. Due to the amount of planning to personalize the event and select the best group, those who submit their information should be committed to the process and ready to move forward.
New elements for this year's celebration include the PopBliss Storybook, Kristi's spin on the program in traditional weddings. The whimsical video will share the best day of the couples' lives through PopBliss' eyes. There will also be a Wedding Registry Boutique that will elevate the party favors experience by allowing guests to select which items they want.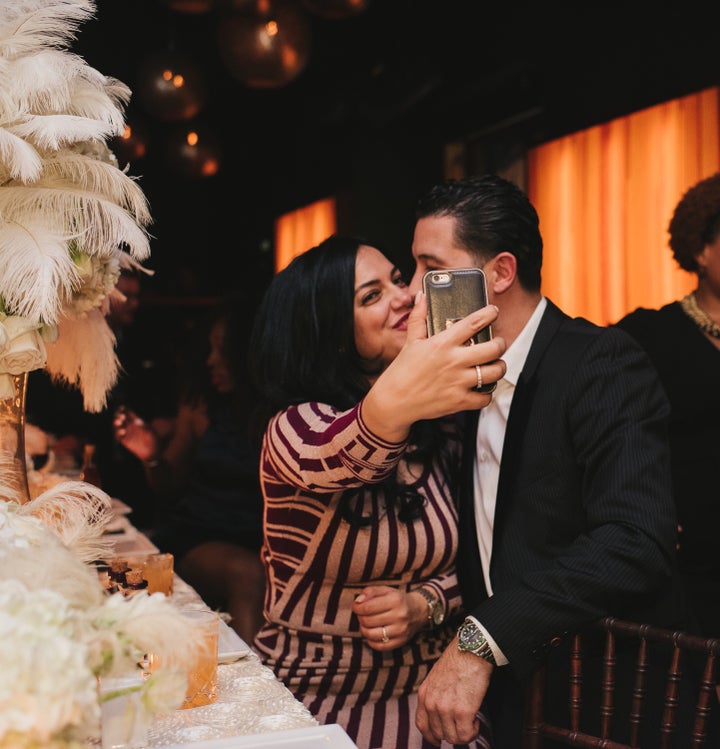 In true Millennial fashion, the PopBliss celebration is live-streamed for the world to experience with them. For budgetary purposes, there is a cap on the amount of guests each couple can invite, so the live-stream is great for those who can't attend.
Last year, over 2,000 people watched the PopBliss unions, and the past couples said that their loved ones who weren't at the wedding felt like they were there. Some of them even had viewing parties back home.
During this year's live-stream, viewers can join in on the planning by using the hashtag #WhereToPopBliss to tweet where they think PopBliss 2018 should take place. The location will be announced live after the ceremony.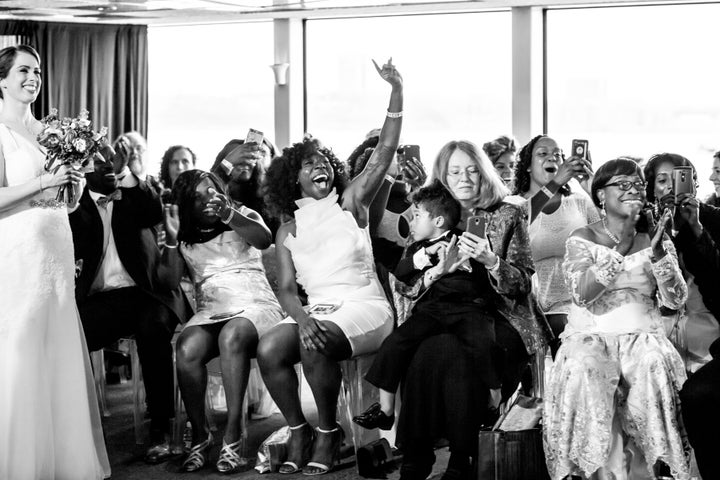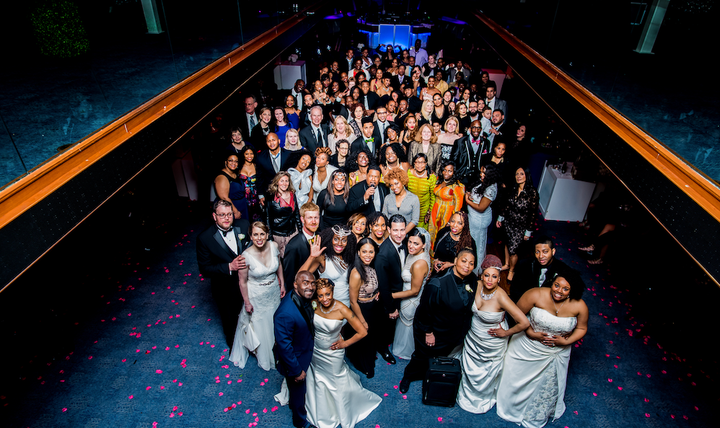 One of the core values of Millennials is giving back, and PopBliss includes a charitable component to meet this generation's desire to make a difference. The couples collectively select a charity and donate a special portion of the program to further their mission.
Although the first event was in 2016, PopBliss has been three years in the making. Kristi who founded her event planning company RKristi Modern Hospitality in 2009, is a veteran in the wedding business. A few years ago she was no longer fulfilled just being a wedding planner and she wanted more. Like some of her other ideas, PopBliss came to Kristi in a dream and she knew that was the piece that she'd been missing.
"As a wedding planner prior to PopBliss, I found that people became so stressed out about the wedding that they couldn't enjoy their engagement," says Kristi. "For some, finances became a strain and they felt that they had to compromise their wants. PopBliss is that middle ground -- it's possible to have a luxurious wedding without having to pay it off for the rest of your life. Plus why not see the world while you're at it!"
Kristi's dream turned reality has made a mark on the wedding industry. Luxury without the hefty price tag, community with adventure in its DNA, charitable initiatives, and social media worthy experiences are cherished by Millennials. PopBliss allows couples to have the wedding of their dreams without breaking the bank.
*Contributor may receive compensation for the usage of the unique registration code (luv17). All expressed opinions are her own words.
Lifestyle blogger and published author Teyonna Ridgeway is dedicated to helping people recognize their beauty and unleash their brilliance. By day the Atlanta native works in social media marketing, and by night she drops gems about career, travel, faith and life as a Millennial on BecomingBrilliance.com. She also makes homemade natural body butters and sugar scrubs through her Etsy shop, Gail's Goods. Follow her on Twitter or Instagram @TeyonnaLanez.
Support HuffPost
The Stakes Have Never Been Higher
Related
Popular in the Community