 MIAMI, Fla. -- Let the controversy begin. Pope Benedict XVI's three-day visit to Havana, Cuba this week is already drawing scathing criticism from Cuban-American hardliners.
"I'm exceedingly disappointed," Rep. Mario Diaz-Balart (R-Fla.), told The Huffington Post. "He refused to meet with any members of the opposition. He refused to speak out in any real way against forced abortions. He refused to speak out against the human trafficking that is sponsored by the regime. He refused to condemn the human rights violations in any meaningful way. And it cannot be said that he's not aware of those issues ... He is aware of it because a lot of us have made him aware of it."
Similarly, Sylvia Iriondo, the president of Mothers Against Repression (M.A.R. Por Cuba), said she took issue with the pope for finding time to meet with Fidel Castro, but not with dissidents.
"His agenda is flexible enough to accommodate a tyrant," she said, "but not enough to receive the Ladies (in White) for even one minute."
But others, like Miami Archbishop Thomas Wenski, who led a group of more than 300 pilgrims to Cuba this week to take part in the papal trip, defended the pope's visit and said that it will open more space for the Catholic Church on the island.
"It will bear fruit," he said during a press conference Thursday afternoon at Miami International Airport, minutes after returning from Havana. "What we are seeing is a springtime of faith, a reawakening of faith, a faith that will give the Cuban people a path to follow so that they will have a future of hope."
Indeed, the pope's visit was touted as a spiritual journey timed to coincide with the celebration of the 400th anniversary of the reported appearance of Cuba's patron saint, the Virgin of Charity of Cobre. But he stirred anticipation among exiles as he headed to the island at the beginning of the week -- and seemed to make his visit a political one even before he landed in Cuba.
Communism no longer works, he told reporters on a flight from Rome for a six-day trip to Mexico and Cuba, and the Catholic Church wants to help the island make a "peaceful transition," Reuters reported.
"Today it is evident that Marxist ideology in the way it was conceived no longer corresponds to reality," he said. "We want to help in a spirit of dialogue to avoid traumas and to help move forward a society which is fraternal and just, which is what we desire for the whole world."
He followed that with political statements before the gathered throngs during a mass on Monday in Santiago, and a mass Wednesday before an estimated 300,000 in Havana's Revolution Square.
"Cuba and the world need change, but this will occur only if each one is in a position to seek the truth and chooses the way of love, sowing reconciliation and fraternity," he said.
He also condemned the 50-year-old U.S. embargo against Cuba, and its "restrictive economic measures imposed from outside."
The vast majority of his public political statements, however, seemed to be aimed at Cuba's government. Standing in front of an image of Cuban revolutionary hero Ernesto "Che" Guevara during the Wednesday mass, he cited a biblical passage about an oppressive king and said that people find freedom seeking Christianity's truth.
"On the other hand, there are those who wrongly interpret this search for the truth, leading them to irrationality and fanaticism. They close themselves up in 'their truth' and try to impose it on others," he said.
Despite his political comments, it was not enough for those like Congressman Diaz-Balart. Observers in South Florida's exile community still offered pessimistic views of the pontiff's efforts, and criticized him for his failure to meet with Cuban dissidents.
"The Ladies in White have been beaten, dragged through the street and humiliated in state orchestrated acts," Giancarlo Sopo, a Coral Gables, Fla., marketing executive, told the Miami Herald. "They deserve nothing less than a few minutes to meet with the pope."
Conservative radio talk show host and exile activist Ninoska Perez echoed Sopo's complaints, saying that the pope's visit failed by not shining a light on repression of the island or the way Cuban police dragged away a man who cried out "Down with Communism!" during the Santiago mass.
"I believe that that complacent attitude that the Catholic hierarchy and the pope had towards a 53-year-old dictatorship was unnecessary," she told HuffPost. "To ignore, as they have, the repression, the arrests of the opposition, the persons who were beaten -- including right there at the mass -- is unacceptable."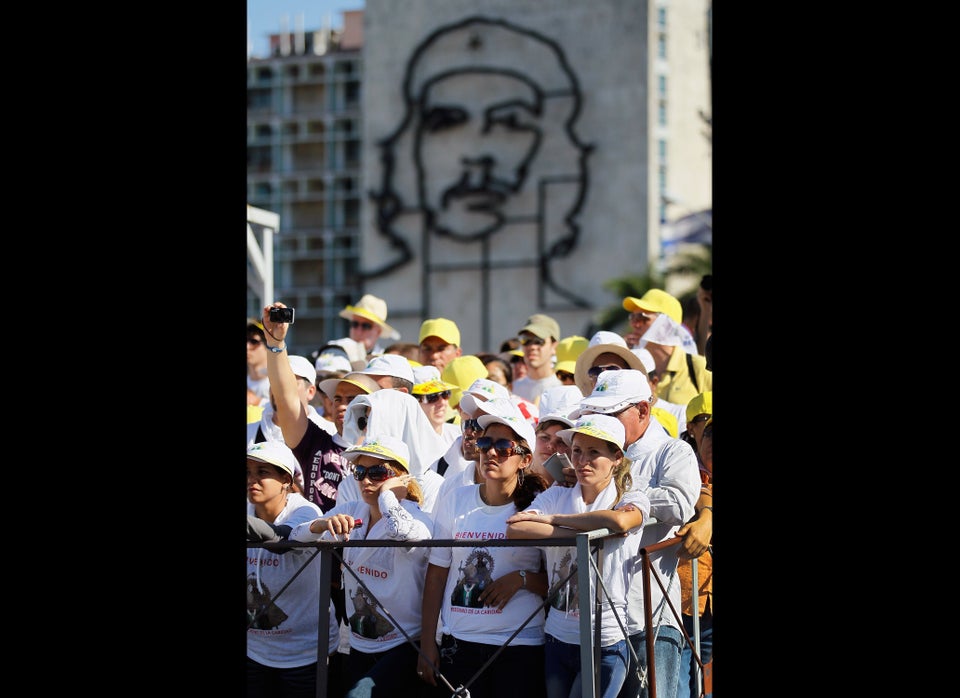 Pope in Havana
Popular in the Community