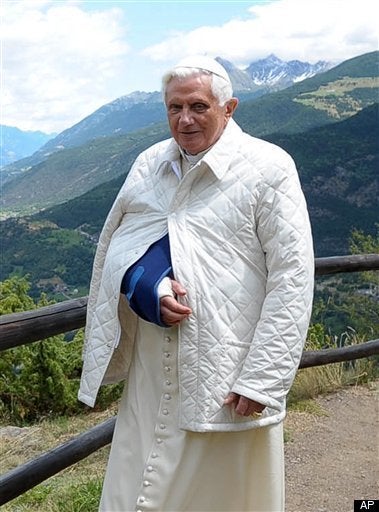 LES COMBES, Italy -- Pope Benedict XVI spent a calm night after breaking his wrist in his Alpine vacation chalet and is learning to cope with the cast on his right arm, the Vatican said Saturday.
Benedict, 82, will stick to his schedule of public appearances, including the traditional Angelus prayer on Sunday, Vatican spokesman the Rev. Federico Lombardi said in a statement.
Benedict had surgery at the hospital of the nearby town of Aosta on Friday to set his right wrist, fractured when he fell overnight in a chalet where he staying in the mountain hamlet of Les Combes, near the French border.
The right-handed pope will have to keep the cast for a month. Lombardi said the toughest part for Benedict was giving up writing by hand, which he intended to do often during his vacation.
The AFP also reported that the Pope couldn't pray with his hand in a cast:
"Pope Benedict XVI celebrated mass Saturday with his broken wrist in plaster but bemoaned an inability to clasp his hands together in prayer, his closest officials said."
"He is learning to live with a blocked wrist, this is not very easy," Lombardi told AP Television News. "The pope cannot write, do handwriting as he desired in these days. But for the other aspects, the day is normal."
Another pleasure that he is sure to be denied in the near term is playing the piano. The pope is a classical music lover and enjoys playing while on vacation.
The fracture was the first significant medical issue of Benedict's 4-year-old papacy, and doctors said Friday he would suffer no long-term effects and would be able to return to playing piano and writing once the wrist heals.
Benedict is scheduled to stay until July 29 in Les Combes. On Sunday he will go as planned to Romano Canavese, the hometown of his No. 2 official, Cardinal Tarcisio Bertone, to deliver the Angelus, Lombardi said.
He will celebrate Vespers in Aosta's cathedral on Friday and deliver the Sunday blessing in Les Combes on July 26.
Benedict has spent two summers at Les Combes in recent years. He said upon arrival that he expected to rest and work during his vacation.
His predecessor, Pope John Paul II, also spent several summers here. While John Paul liked to hike, Benedict spends most of his time inside the chalet, which looks out on Mont Blanc, the highest peak in the Alps.
Popular in the Community