Just weeks ahead of Pope Francis' visit to the United States for the World Meeting of Families, a major international Catholic festival that kicks off Sept. 21 in Philadelphia, a new survey shows that many Catholics are widely more accepting than church hierarchy of families led by parents who are gay, unmarried, single or divorced.
Nine in 10 Catholic Americans say that a family led by a mother and a father is an "ideal situation," according to the Pew Research Center's report, which was released Wednesday. At the same time, nearly half of Catholics say that children being raised by an unmarried couple is "acceptable and as good as any other arrangement," while more than 4 in 10 Catholics say the same of gay and lesbian couples who raise kids.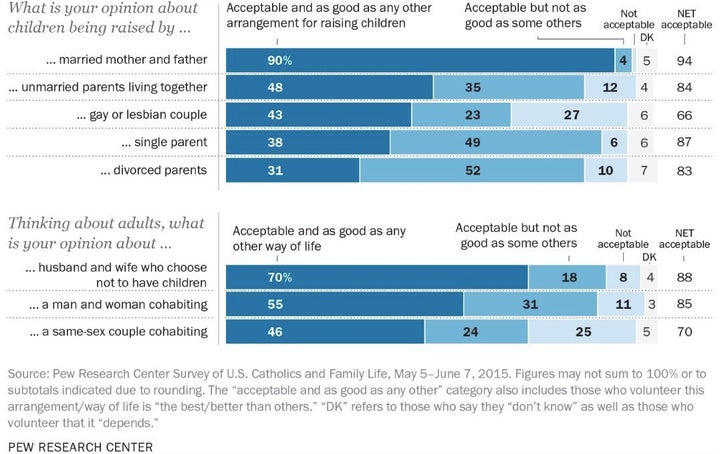 Francis, who will address an estimated 1.5 million people during a World Meeting of Families Mass in Philadelphia, is expected to speak frequently about Catholic views of the importance of the family during Masses, speeches and high-level meetings that also will take him to Washington, D.C., and New York.
While the pope has made several friendly gestures toward LGBT people, including his famous "who am I to judge" remarks on gay priests, he has also spoken out against efforts to "redefine the very institution of marriage" and has warned of "ideological colonization that tries to destroy the family." In October, Francis and high-level bishops will gather at the Vatican for the church's synod on the family, which will likely address divorce and LGBT Catholics.
Speaking at the annual conference of the Religion Newswriters Association in Philadelphia, where Pew revealed the survey results, Pew Associate Director of Research Greg Smith said Saturday that he was "struck by the high level of dissent" from church teachings by self-identified Catholics, who are "very accepting of nontraditional families."
"Catholic opinions look an awful lot like U.S. opinions as a whole" on issues such as sexuality and marriage, Smith said.
At the same time, he said, Catholics are "also quite loyal to the church despite any misgivings" about its positions on hot-button issues. Seven in 10 said they could never leave the church, "no matter what." Close to 6 in 10 also said abortion is a sin. Greater than half said that devotion to Mary and receiving sacraments, such as communion, are "essential" to being Catholic.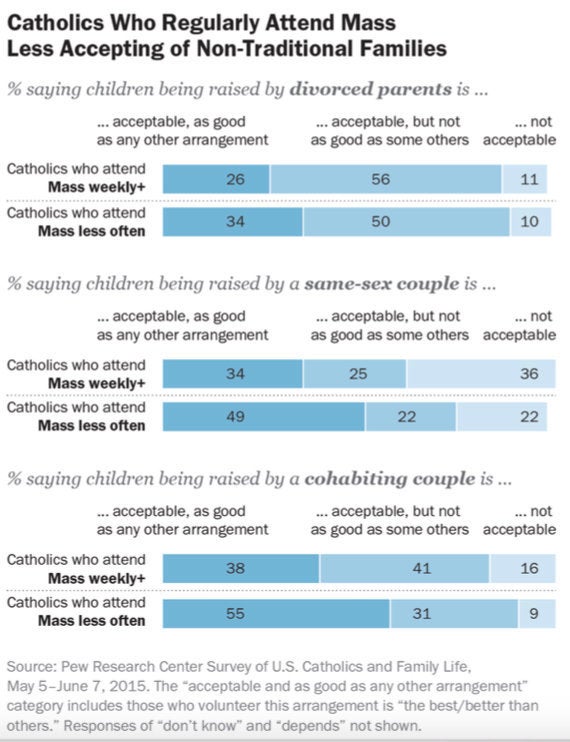 There are "major differences between Catholics who attend Mass regularly and those who do not," Smith said. Catholics who attend Mass at least once a week are much more likely to agree with church positions on sexuality, marriage and other controversial issues.
Pew's report on the survey noted that although it was conducted before the Vatican's June 18 release of the pope's encyclical on human ecology and climate change -- a topic he's expected to highlight during speeches to Congress and the United Nations -- "Pope Francis may have a difficult time persuading Catholics in the U.S. to adopt his philosophy about excess and his focus on the environment."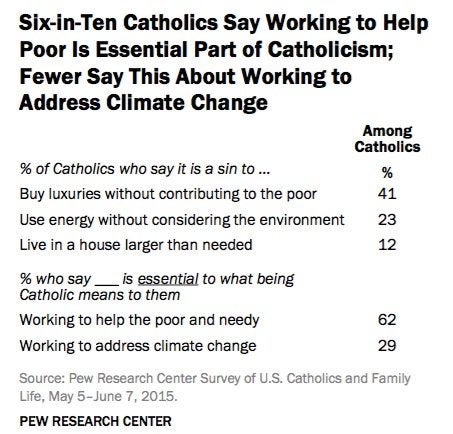 Six in 10 Catholics told the organization that helping the poor is essential to being Catholic, yet just half gave the same response regarding combating climate change.
"Catholics are divided on the question of whether it is sinful to spend money on luxuries without also giving to the poor, but large majorities say it is not a sin to live in a house larger than needed or to use energy without concern for the impact on the environment," the report said.
The survey, which asked questions of 5,122 adult Americans, including 1,016 Catholics, was conducted between May 5 and June 7 with a 3.5 percentage point margin of error among Catholics.
PHOTO GALLERY
50 Years Of Pope Visits To The U.S.
Calling all HuffPost superfans!
Sign up for membership to become a founding member and help shape HuffPost's next chapter