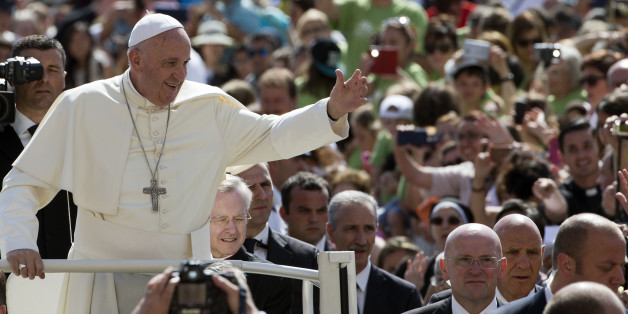 "Following Francis" is a monthly blog on the latest happenings of Pope Francis. It is prepared exclusively for The WorldPost by Sébastien Maillard, Vatican Correspondent for La Croix, Rome
ROME -- "Laudato Si'" ("Be praised"), the pope's much-awaited encyclical on "human ecology," is a wake-up call and a warning on the disastrous state of "our common home." The first of its six chapters gives a dramatic outlook, based upon available scientific studies, on waste, the loss of biodiversity, the scarcity of water and urban expansion. And, of course, on climate change, which Pope Francis affirms is mainly due to human activity, as he already claimed.
He is in no way a climate sceptic. But in order to solve the climate issue and other environmental problems that could otherwise lead to "new wars," he is rather skeptical on many of the proposed answers. International climate summits have not proved convincing yet, he argues, putting pressure on the upcoming conference in Paris at the end of this year.
Francis doesn't believe rules and norms offer an efficient solution, as they are too often not respected. He is cautious about "sporadic acts of philanthropy" and mocks corporate social responsibility. He witnesses a raised awareness towards environmental issues but without any significant changes in lifestyle attitudes.
A technology sceptic
Overall, he is a technology sceptic because this only offers a one-sided remedy to what is a global, complex and intertwined problem.
"The human environment and the natural environment deteriorate together," analyzes Pope Francis, whose encyclical insists on the interdependence between the ecological and social crises. A well-known example is how climate change creates migration and thus poverty.
He also rules out limiting world population growth, which would be a way not to face the real problem -- "excessive consumption of some countries and sectors." "Laudato Si'" is highly critical of what is described as a selfish and unsustainable way of life in developed countries. These have an "ecological debt" towards poor countries, states the first pope of the South. This also demonstrates why the fight against climate change and against poverty are so connected.
However, Francis does not map out a specific proposal. This is not the role of the Catholic Church, he reminds. But his encyclical letter, which is meant "for every person living on this planet," not just Christians, fosters interdisciplinary dialogue between all stakeholders at all levels.
Accepting limits imposed by reality
Overall, he wants to change the mindset towards an "integral ecology." This requires changing one's outlook on the reality of a world that is limited and has ends. Also, changing one's heart to rediscover how to belong to "one single human family" and making real encounters, not just virtual. And changing daily habits towards a more sober lifestyle. For instance, he celebrates the "person who could afford to spend and consume more but regularly uses less heating and wears warmer clothes."
"Integral ecology" is not just a personal choice but a collective one, requiring firms and politics to think in the long term, consumer awareness to be strengthened, small local producers to be supported and citizen pressure on decision-makers to be higher, along with honest debates. Pope Francis goes as far as to suggest allowing "decreased growth in some parts of the world."
This "ecological conversion" starts by education. It also has a spiritual dimension that the pope develops in his final chapter, based on Christian faith. This encourages "contemplating the Creator who lives among us and surrounds us," thus also feeling linked to all other creatures.
A document meant for all
Besides final prayers, the document is written in a language meant to be understandable to believers and non-believers alike. Signed by Pope Francis, who worked directly on it, the first draft was prepared by the Pontifical Council for Justice and Peace, headed by Cardinal Peter Turkson, whose staff collected much data.
Before COP21, Francis may have some opportunity to promote "Laudato Si,'" when traveling next month in Latin America (Equador, Bolivia and Paraguay) and when he will be visiting Cuba and the United States in September, delivering a speech in Congress and addressing the UN General Assembly.
More From Following Francis:

No Room for Decadent 'Princes' in Francis' Vatican
A 'Homebody' Out in the World Who Has Never Been to the United States
A Day in the Life of Pope Francis, Who Lives Behind This Gas Station
Moving the Church Forward on the Modern Family, One Step at a Time
Holy Ghostwriters: Behind the Pope's Tweets and Encyclicals
Is There Life After the Pontificate for Francis?
Why Pope Francis Is so Focused on Asia
In Francis' Vatican, the Homeless Get VIP Treatment
Pope Francis Wants Women to Be Sisters, Not Servants

PHOTO GALLERY
Pope Francis Quotes On The Environment
Calling all HuffPost superfans!
Sign up for membership to become a founding member and help shape HuffPost's next chapter