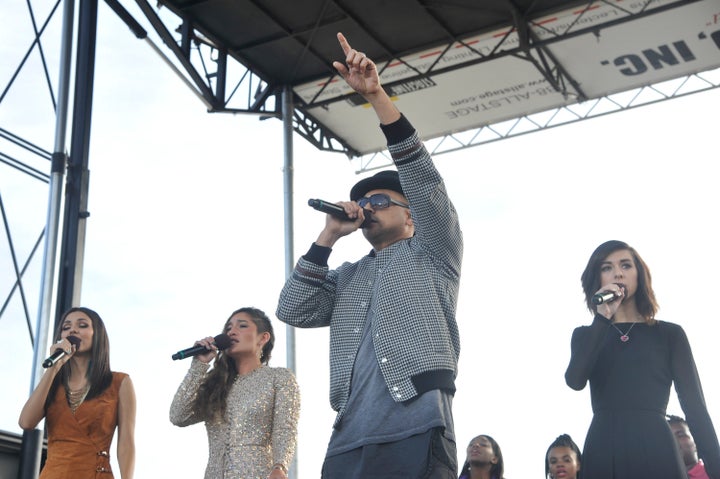 Environmental, progressive and religious groups organized the rally under the mantra "Follow Francis." Featured musicians included Moby, Victoria Justice, Natasha Bedingfield and Sean Paul, along with environmental and religious leaders.
The rally was intended to "call on America to honor its moral duty to urgently address the climate crisis," organizers said in a statement. They cited the pope's encyclical, which highlighted climate change's disproportionate impact on the poor, people of color and immigrants.
"We must choose community and care of the Earth over chaos and greed," Rev. William Barber II, president of the North Carolina chapter of the NAACP and leader of the Moral Mondays movement, told the crowd. "Not only must we push to protect the Earth's delicate climate balance, we must also challenge the social climate in which the poor live … God is using Pope Francis to prod our consciousness. He is showing us the way to revival, repentance and redemption."
"Our message here is to stand with the Pope as he encourages the U.S. Congress to make the transition from dirty fossil fuel-based energy to one that is driven by clean renewable energy,"  Greenpeace International Executive Director Kumi Naidoo told The Huffington Post. 
The "Follow Francis" coalition aims to push U.S. and world leaders to take stronger action against climate change at the upcoming United Nations negotiations in Paris this December. Paul, Justice and Bedingfield performed a live version of "Love Song to the Earth," a climate justice-themed song.
"Pope Francis has inspired us, millions of people around the world, to take action," said Sierra Club Executive Director Michael Brune. "It really is incumbent on all of us to turn the hope that he is providing into reality."
Calling all HuffPost superfans!
Sign up for membership to become a founding member and help shape HuffPost's next chapter