WASHINGTON -- Pope Francis delivered a speech to U.S. lawmakers on Thursday morning, calling on leaders to consider the plight of the poor and vulnerable in society.
"A political society endures when it seeks, as a vocation, to satisfy common needs by stimulating the growth of all its members, especially those in situations of greater vulnerability or risk," he said. "Legislative activity is always based on care for the people. To this you have been invited, called and convened by those who elected you."
His speech touches on issues including climate change, immigration and the refugee crisis, with a shared message of compassion. It was the first time a pope has addressed a joint meeting of Congress.
The pope was set to tackle Europe's refugee and migrant crisis, urging a humane approach to the thousands of individuals fleeing war and poverty.
"Our world is facing a refugee crisis of a magnitude not seen since the Second World War. This presents us with great challenges and many hard decisions," he said. "We must not be taken aback by their numbers, but rather view them as persons, seeing their faces and listening to their stories, trying to respond as best we can to their situation. To respond in a way which is always humane, just and fraternal. We need to avoid a common temptation nowadays: to discard whatever proves troublesome. Let us remember the Golden Rule: 'Do unto others as you would have them do unto you.'"
"In recent centuries, millions of people came to this land to pursue their dream of building a future in freedom. We, the people of this continent, are not fearful of foreigners, because most of us were once foreigners," he said, to resounding applause.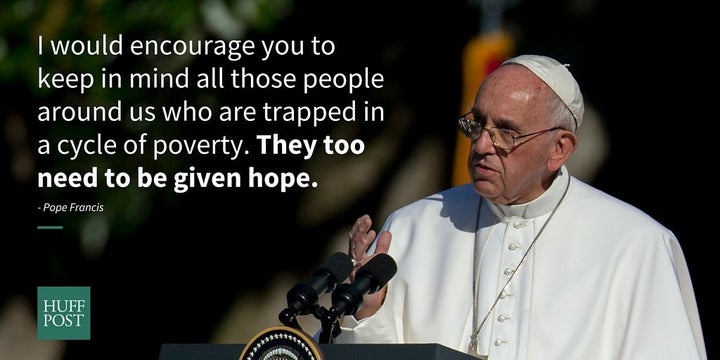 Alluding to the new dangers presented by the Islamic State, Francis addressed the topic of religious extremism, charging the world is "increasingly a place of violent conflict, hatred and brutal atrocities committed even in the name of God and of religion."
"We know that no religion is immune from forms of individual delusion or ideological extremism," Francis said. "This means we must be especially attentive to every type of fundamentalism, whether religious or of any other kind."
He added that the U.S. should not be tempted to look at the conflicts through the simple lens of good versus evil, warning that to "imitate the hatred and violence of tyrants and murders is the best way to take their place."
Rather than in engage in countless acts of aggression towards threats or potential enemies, Francis said, such challenges require a "renewal of that spirit of cooperation," promoting a similar approach the administration is taking on the Iran nuclear deal.
On climate change, the pope called for "courageous and responsible effort" to avert the most serious effects of the environmental deterioration caused by human activity. The United States and Congress, he said, "have an important role to play."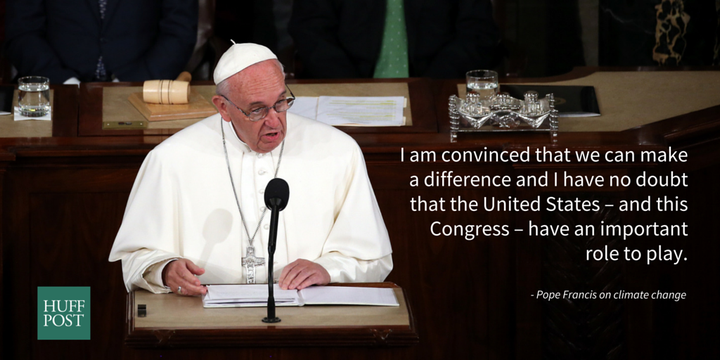 Citing the Golden Rule, and arguing for the need to defend life "at every stage," Francis unsurprisingly called for the "global abolition of the death penalty" -- his only reference to criminal justice reform.
"I am convinced that this way is the best, since every life is sacred, every human person is endowed with an inalienable dignity, and society can only benefit from the rehabilitation of those convicted of crimes."
Bishops in the U.S. recently called for abolishing the death penalty, a push Francis said he supports. "Not only do I support them, but I also offer encouragement to all those who are convinced that a just and necessary punishment must never exclude the dimension of hope and the goal of rehabilitation," he said.
The pope only briefly referenced abortion -- an issue on which he agrees with more conservative members of Congress -- but did not actually use the word. The Golden Rule, he said "also reminds us of our responsibility to protect and defend human life at every stage of its development." Republicans applauded the statement.
Capital punishment remains legal in 31 states, and as of July 2015, 3,002 inmates were awaiting execution across the country.
The pope also called for an end to the global arms trade, an industry he said is "drenched in blood."
"Why are deadly weapons being sold to those who plan to inflict untold suffering on individuals and society?" he asked. "Sadly, the answer, as we all know, is simply for money: money that is drenched in blood, often innocent blood. In the face of this shameful and culpable silence, it is our duty to confront the problem."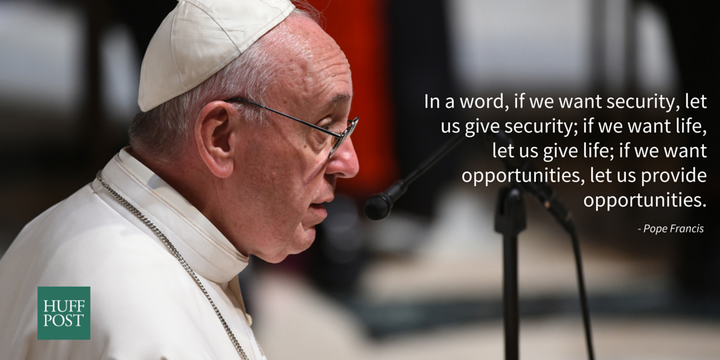 Francis' message is expected to resonate both inside and outside of the Capitol. The 76.7 million Catholics in the United States constitute 21 percent of the population, making them one of the largest religious groups in the country. The proportion is even larger in Congress, where 31 percent of members are Catholic.
This is Francis' first visit to the United States. He arrived in Washington on Tuesday afternoon and on Wednesday took part in a welcoming ceremony at the White House, a prayer at St. Matthew's Cathedral and a canonization service in Spanish at the Basilica of the National Shrine of the Immaculate Conception. He will continue his trip with stops in New York and Philadelphia.
The pope has focused attention on climate change in recent months, since the release of his encyclical on the environment in June. The encyclical called on Catholics to demonstrate a "greater concern for nature and the poor" and for world leaders to work proactively toward a strong global climate agreement.
Laura Barron-Lopez, Elise Foley, Ali Watkins and Jaweed Kaleem contributed reporting.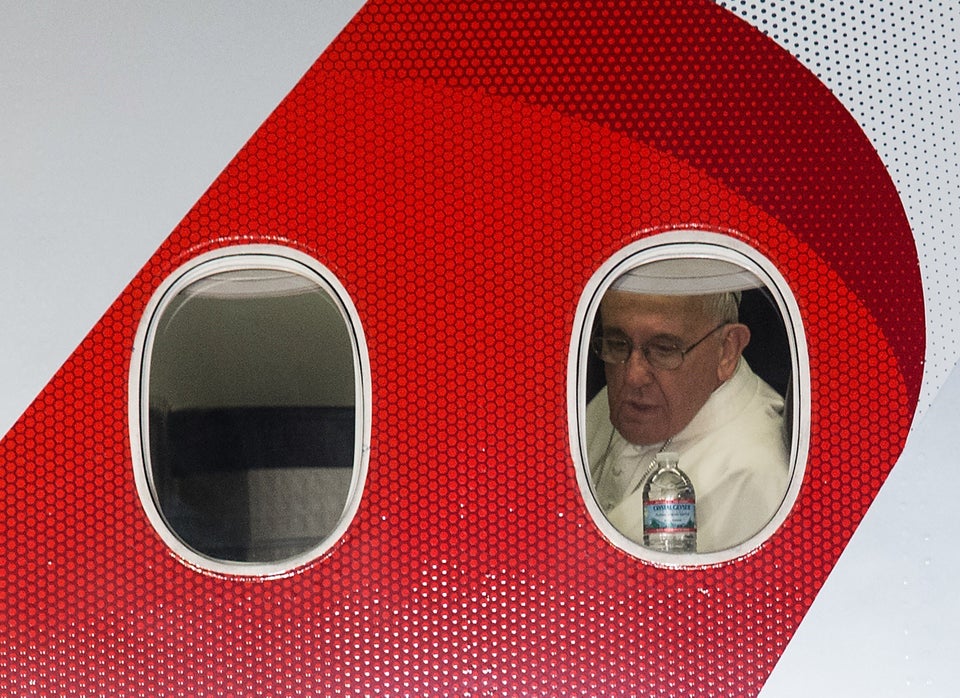 Pope Francis In The U.S.
Popular in the Community