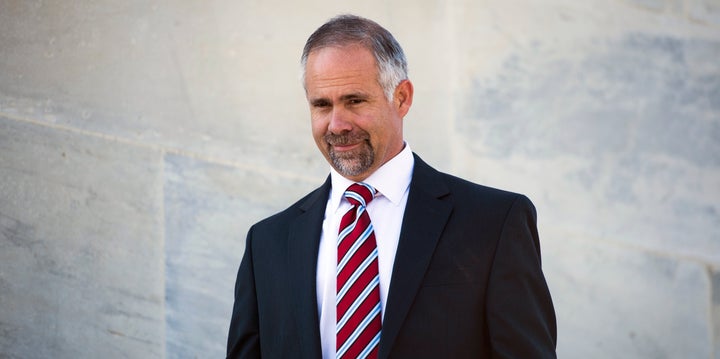 WASHINGTON -- Pope Francis implored Congress to act to combat climate change and to embrace immigrants in his Thursday address to lawmakers.
Some conservatives aren't feeling the spirit.
Shortly after the pope's speech, Rep. Tim Huelskamp (R-Kan.) told The Huffington Post that climate change is not "settled science," so he didn't feel the same sense of urgency as his church's top leader.
"I don't think there's a scientific consensus on that," Huelskamp said. "If you want to print that life begins at conception, that's settled science."
"No, that's global warming," he said.
If anything, he said, Congress should reduce regulations and let businesses take it upon themselves to protect the environment. He again came back to the idea of life beginning at conception -- an age-old debate without scientific consensus.
"Have you ever read a biology book? It's in there," said Huelskamp. "You believe in global climate change, but you don't believe life begins at conception?"
Rep. Steve King (R-Iowa) praised the pope for a "very inclusive speech," but said he didn't address a key issue in his remarks about welcoming immigrants to the U.S.: the "nation state," or the idea that countries need to have fixed borders.
"If you take those boundaries out, the rule of law gets mixed, it if exists at all, and it results in anarchy," King said. "We don't want anarchy. And I don't think people here want anarchy. And they're surely trying to get away from anarachy when they're migrating out of the Middle East."
Asked if he meant that letting immigrants into the U.S. was akin to causing anarchy, King said no. But he warned of a lawless, chaotic situation if the U.S. opens its borders to more people.
"If ... anybody who wants to come to America can come, because our heart is so full of compassion that we can't say no, then the result is the borders would be gone, and so would the rule of law," said the Iowa Republican. "That would be like 'Fort Apache The Bronx'* to the infinite power. And I don't want that."
Sen. Jeff Sessions (R-Ala.) took issue with the pope citing the Golden Rule -- "Do unto others as you would have them do unto you" -- in the context of having compassion for immigrants.
"I don't think the Golden Rule can be used to justify violating a nation's immigration laws," Sessions said. "I don't know that he meant that, but I don't think that's true."
*Fort Apache The Bronx is a 1981 movie about a cop torn between arresting everybody in sight in order to find a cop killer and giving a pass to an officer who kills an innocent man. Also, his girlfriend is a junkie and there's a shoot-out in a hospital with lots of casualties.
Elise Foley contributed reporting.
Popular in the Community