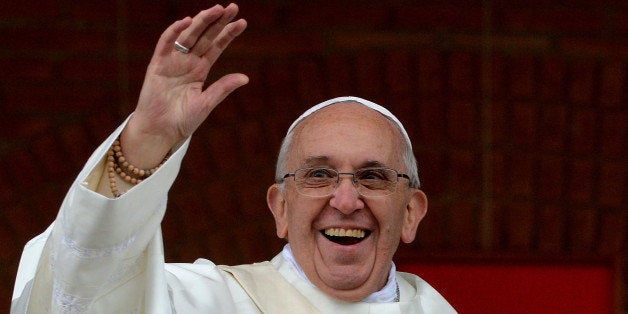 "Comfort the afflicted, and afflict the comfortable." -- Finley Peter Dunne (1867-1936)
Through the years it's not quite clear who originally stated the above quote. Some say it came from Finley Peter Dunne, an American humorist and journalist. Whereas some say the quote was by H.L. Mencken (1880-1956), an American journalist occasionally mentioned by Chris Matthews, a political pundit from MSNBC's Hardball.
Whoever said it is not that important at the moment. But what is important is what had happened last year on March 13, 2013 at St. Peter's Basilica in Rome. For on that date, a much needed breeze of fresh air was unleashed upon a beleaguered global populace, and welcomed in this still new era of the 21st Century.

Briefly a nightclub bouncer before entering seminary, according TIME magazine, Jorge Mario Bergoglio from Buenos Aires, Argentina, now Pope Francis, continues to amaze. That is, he captures worldwide attention of the masses of both Catholics as well as non-Catholics the very moment after his election to the papacy on March 13, 2013. Which is unlike his predecessor Pope Benedict XVI who resigned after almost eight years on February 11,2013, becoming the first Pope to resign in 600 years. Yet, Pope Francis has come under some fire after launching barely out of the gate by some detractors, unlike Pope Benedict XVI. Why is that?

Well let's begin on what Pope Francis has done just last year as we are now in this brand new year of 2014. Right from the start he refused to live in the Papal palace, but instead chose to live in a nearby Vatican guest house for lay people. His reasoning for preference of residence is well-written in a superlative article written by Nick Squires for The Telegraph on May 29, 2013.
He ditched the traditional red shoes, yet instead continues to wear the simple black dress shoes of a priest. He ditched the Papal limousine, and instead is driven around in a regular car. And on one outing, he instead hopped a bus filled with cardinals. He refused the traditional gold Papal cross, yet instead chooses a simple silver one. And there is more.

He washed the feet of a young Muslim woman. He kissed and washed the feet of prisoners at the Casal del Marmo Youth Detention Center in Rome during mass. He kissed the face of a disfigured man. Furthermore, there have been rumors of the Pope having ventured into the night dressed as a priest to minister to the homeless, though the Pope himself will not confirm it. This account of the Pope's rumored night outings dressed as a priest in Rome has also been featured on The Colbert Report with Stephen Colbert calling Pope Francis "The Batpope" after stating himself as a proud Catholic. Also, on December 17, the day of his 77th birthday, Pope Francis invited a group of homeless men to share in his birthday breakfast.

But in spite of all those accounts, this next one is where he's really gotten into some trouble. For Pope Francis has also been forthright in speaking about economic issues, such as none other than economic inequality. On this, he has gotten some flack from near and far because economic inequality, or income inequality, has finally gotten some long overdue traction as an issue, though still slowly measurable since its existence of 30 years of flat-lining U.S. middle-class growth.

In Eduardo Porter's excellent online article in the New York Timestitled, "Inequality in America: The Data Is Sobering," he wrote near closing, "You would think Americans must be tiring of their lack of progress."
And within the sobering article he documented how the U.S. has trailed poorly, well behind several leading Western industrialized countries.

Should Pope Francis, or anyone else for that matter, be labeled an anti-capitalist for even mentioning the extremities of economic inequality? Well, he certainly has not found disfavor from another gentleman who also happens to be a TV personality and another proud Catholic besides the satirical Stephen Colbert -- and that man is Piers Morgan on CNN. On an episode of Piers Morgan Live in December, he stated and backed by the transcripts, "He's quite something, Pope Francis, isn't he? He is making a hell of a noise out there and I would say as a Catholic, I like the caliber of his noise."
Morgan said this to visiting guest Pastor Rick Warren of the Saddleback Church, as Warren replied, "I am nothing, but impressed by this new Pope. Amazing, first place in my book. The three most important characteristics for leadership are humility, integrity and generosity."
Warren followed by stating that Pope Francis has shown all three in the first months of his leadership -- he paid his own hotel bill; is disinterested in the bling and accoutrements associated with Vatican power; and has spent a lifetime having worked with the poor.

According to the same TIME magazine article, "To Francis, poverty isn't simply about charity; it's also about justice. The church, by extension, should not reflect Rome; it should mirror the poor."
Also on that same page, it stated that Pope Francis had already begun an initiative to increase close monitoring of the Vatican finances, followed by disclosing its findings in an annual report -- the first time the Vatican had done so in 125 years. Perhaps Pope Francis has always taken to heart and mind one particular Psalm in the Bible.

"Defend the poor and fatherless; do justice to the afflicted and needy." -- Psalm 82:3

On Christmas day 2013, CNN aired a program called Pope Francis: A Man of Many Firsts. And he has appeared to be, undoubtedly, a man of many firsts. For in the same TIME magazine article, Father Guillermo Marco, a former spokesman to Archbishop Jorge Mario Bergoglio of Buenos Aires before his election, said, "It is the first time we have had a priest as Pope."

None of this should come as any surprise really to anyone for a man as both Cardinal and Archbishop of Buenos Aires who had shunned an opulent residence, cooked his own meals, took public transport instead of a limo, and went out of his way to visit people living in squalor.
Yes, March 13, 2013 was indeed an important date. But even more important is the date December 17, 1936, for without that date of his birth, March 13, 2013 would not exist. Long live Pope Francis.
Calling all HuffPost superfans!
Sign up for membership to become a founding member and help shape HuffPost's next chapter