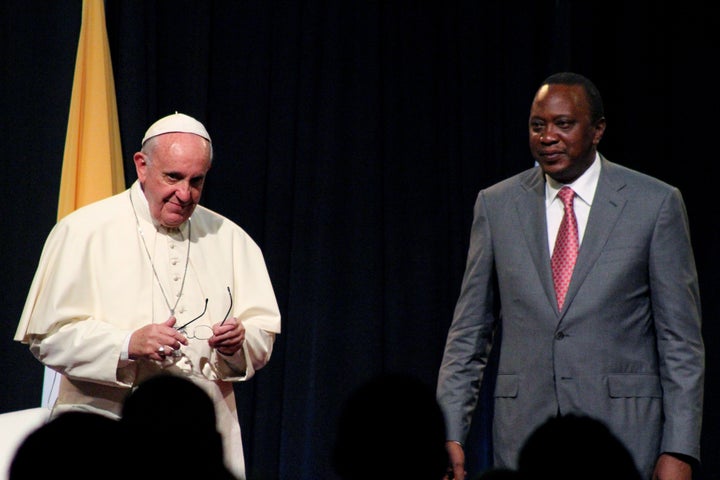 VATICAN CITY (RNS) Pope Francis embarked Wednesday (Nov. 25) on his first trip to Africa, visiting three countries in a papal tour overshadowed by security concerns.
The five-night tour has the pope traveling to Kenya first, then heading to Uganda on Friday and arriving in the Central African Republic on Sunday. It will be his first trip to the continent, which boasts the world's fastest-growing population of Catholics.
In each country, the pope will encourage Africa's youth.
But concerns over the pope's safety, especially in the CAR, where there has been ongoing violence since a 2013 coup, have taken center stage. Despite speculation that the country may be struck from the papalagenda, the Vatican said last week that the CAR would remain in the plans. The U.N. announced it would bolster its peacekeeping forces in the capital, Bangui.
In Kenya, Francis will say Mass at the University of Nairobi and meet young people at the Kasarani Stadium, while in Uganda he will meet youth at the Kololo airstrip in Kampala. The pope is expected to listen to confessions at Bangui cathedral, where a Mass is also scheduled.
The Vatican's chief spokesman, Federico Lombardi, stressed that changes would be made if necessary for security reasons.
There have also been worries in Kenya, which in recent years has suffered deadly attacks from militant group al-Shabab. Earlier this year, 148 people were killed when al-Shabab attacked a university in Garissa, while in 2013 militants at the Westgate shopping mall in Nairobi gunned down at least 67 people.
Fewer security fears have been raised regarding Uganda, although the country has not been spared from al-Shabab violence. In 2010 the group claimed responsibility for bomb attacks against World Cup fans in the capital, Kampala, that left at least 74 people dead.
The Vatican plans to allow the pope to use an open-top popemobile during events in all three countries.
"We hope that everything goes well," Lombardi said, after being quizzed by journalists on security arrangements.
Aside from safety concerns, the most prominent discussion ahead of the papal tour surrounds gay rights in Uganda. An anti-homosexuality law has been condemned internationally, and members of the country's gay community are hoping the pope will speak out for them.
Francis has not challenged the church's teaching of same-sex relationships as "intrinsically disordered," but he has pushed for a more pastoral approach to gay Catholics.
Human Rights Watch on Tuesday called on the pontiff to "speak out strongly" on issues, including "respect for sexual and gender minorities" during his Africa trip. There is no official indication as to whether the popewill address LGBT issues during his tour.
Francis has also chosen to visit a refugee camp in the CAR, which Lombardi said was aimed at showing his closeness to people who are suffering. The pope will conclude his tour on Monday by meeting with the Muslim community at the Koudoukou mosque in Bangui, before celebrating Mass at the Barthelemy Boganda Stadium.
PHOTO GALLERY
Pope Francis' Best Quotes From His Trip To America
Calling all HuffPost superfans!
Sign up for membership to become a founding member and help shape HuffPost's next chapter