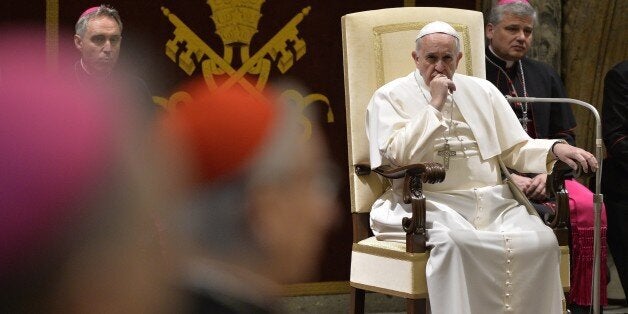 "Following Francis" is a monthly blog on the latest happenings of Pope Francis. It is prepared exclusively for The WorldPost by Sébastien Maillard, Vatican Correspondent for La Croix, Rome
ROME -- Last year, just before Christmas, Pope Francis paid a short visit to Benedict XVI. His predecessor is walking distance from the Santa Martha residence where Jorge Bergoglio currently resides.
The former German pope stays in a quiet former cloister, Mater Ecclesiae, uphill in the Vatican gardens. This ritual has now been going on for over a year and a half, yet it still looks strikingly odd, considering the Catholic Church's history, to see a pope greeting the so-called "Pope emeritus" and then inviting him to come for lunch.
It is unusual to have one acting pope and a former one living as neighbors within the premises of the tiny Vatican City State, while the apartment of the Apostolic Palace remains desperately empty.
It is an odd situation to have, on the same Sunday (Dec. 7) an interview of Pope Francis published in the Argentinian daily La Nacion and one of Benedict XVI in the German Frankfurter Allgemeine Zeitung. It is peculiar to have one encyclical drafted by both popes, as has occurred last year.
We are just going to have to get used to this. As Francis has repeated on several occasions, "the Pope emeritus is not a statue in a museum. It is an institution," which "participates in the life of the Church." This new "institution" is a consequence of Benedict's historical resignation on February 11, 2013. It has "opened the door," according to Jorge Bergoglio. Meaning, he could very well do the same. On Dec. 20, he named the French cardinal Jean-Loui Tauran, in case he resigned or died, as the new "chamberlain."
In the future, there could be several popes emeritus elsewhere. Francis, who just turned 78 on Dec. 17, once mentioned that there was a room kept for him in a house for retired priests in Buenos Aires where he could base himself to help around various local parishes. More recently, he showed support for the Rome bid to host the Olympic games in 2024, but warned he would not be there anymore. There is a now a life after a pontificate.
"Francis, who just turned 78 on Dec. 17, once mentioned that there was a room kept for him in a house for retired priests in Buenos Aires where he could base himself to help around various local parishes."
This fact contributes to making Francis' papacy different from any other. Both he and his predecessor know the present situation is a stunningly new and delicate one to manage. The way they work out their relationship is setting out the manner in which other similar situations will be handled in the future. In the Vatican, where everything is tightly codified and rooted in centuries-old practice, here is some room for improvisation.
Nothing looked obvious at the start. When Benedict XVI resigned, it seems he had no plans on who would succeed him. Cardinal Bergoglio, who was elected the month afterward, had been his challenger at the beginning of the previous conclave in 2005. At the following one last year, it is said Benedict remained silent for a while when he learned who had finally been picked. Whatever "Father Benedict" -- as he would prefer to be called -- thinks today of what his successor is doing, he has pledged obedience to him, to distance himself and keep silent.
The situation compares more with monasteries, where an old former abbey follows the ruling of the new abbey.
Joseph Ratzinger is back to the academic lifestyle he enjoyed before being elected on Peter's throne. The respected theologian has his books, his cat and his piano. He is 87 years old, and says he'll never go back to his native Bavaria. Selected visitors that he kindly welcomes are impressed by his gentleness but also how quick-witted he still is. They observe that he also seems more serene compared to when he was pope -- which he never really wanted to become.
The emeritus pope has broken his silence on a very few occasions. The Italian press once published a letter in which he was replying to an atheist philosopher. Later he answered questions to confirm there was no doubt whatsoever that his resignation was fully valid. And lately, he accepted to speak, on the record, to the the German paper FAZ to specify he was staying aside from the Synod on the family and had "excellent contacts" with Francis.
Pope Francis can confirm that, in the case of his next door predecessor, that he accords with the Gospel command to "Love thy neighbor." Not all cardinals and bishops in the Vatican actually appreciate their mate next door. But Bergoglio always talks with great caring respect of his predecessor.
"It's like having a grandfather at home: my own father," he told the press at the beginning of his pontificate. "If I have a difficulty, or something I don't understand, I can call him on the phone: 'Tell me, can I do this ?' When I went to talk with him about Vatileaks (a scandal of leaked documents which occurred at the end of Benedict's pontificate), he told me everything with great simplicity ... to be helpful."
Benedict is indeed "helpful" to Francis. While not hiding their nostalgia for what now stands for them as the good old Ratzinger days, conservative cardinals and others within the Roman curia criticize the style and the daring reforms of his successor, more or less openly.
Francis admits he faces resistance inside his Church, but his duty is to keep it united. At some very specific ceremonies in St. Peter's Basilica, he welcomes his predecessor, invited as a sort of surprise guest star. Benedict, who shows himself only on request of his successor, slowly walks towards Pope Francis and nods in a humble sign of full obedience. This sends a gentle but clear reminder to all the cardinals, watching both closely, of who is now the boss.
More From Following Francis: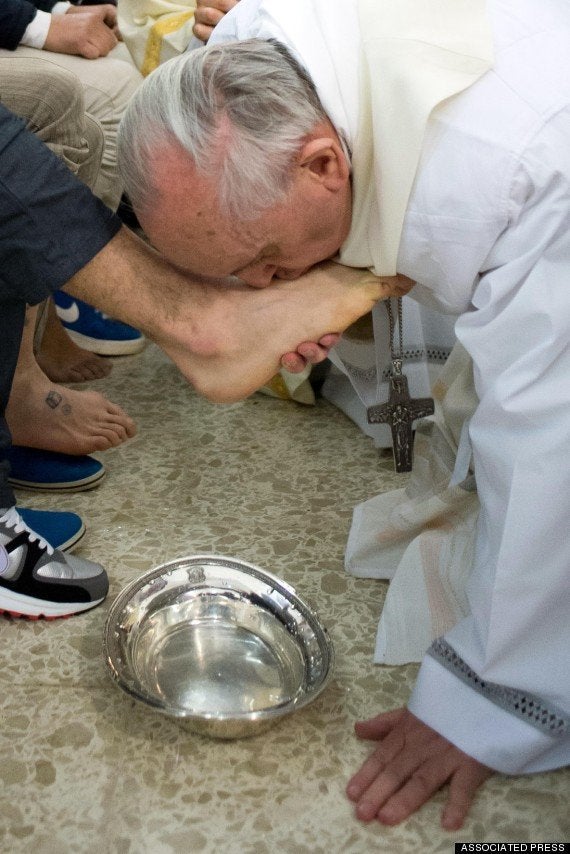 Pope Francis' Best Photos
Related
Popular in the Community