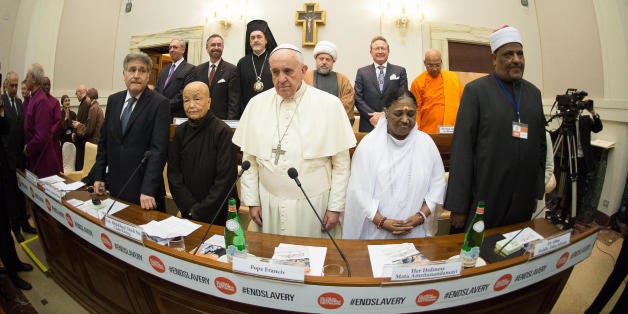 Empathy, love, respect, equality: these are the common denominators which caused the leaders of the world's major religions to sign a declaration committed to the elimination of slavery and human trafficking by the year 2020 today at the Vatican.
The catalyst behind this meeting, which included Pope Francis, the Grand Ayatollah Mohammad Taqi al-Modarresi, Mata Amritanandamayi (a Hindu spiritual leader), and the venerable Bhikkhuni Thich Nu Chan Khong (representing the Zen Master Zen Thich Nhat Hanh), is the Global Freedom Network, a global religion-based network created this year with the goal of destroying modern slavery in every form, from child labor, prostitution and organ trafficking to any act which violates the dignity or liberty of any single person.
"We consider any action which does not treat others as equals to be an abhorrent crime," Pope Francis said. "God is a love that is manifested in every human being; everyone is equal and ought to be afforded the same liberty and dignity." Ignoring this fact, the Pope added, "is an abhorrent crime" that manifests itself as "modern slavery…an offense against humanity with victims from every walk of life, but above all amongst the poor."
Francis spoke of the "atrocious scourge present on a large scale throughout the world, under the guise of tourism," referencing prostitution, human trafficking, forced labor, child labor and the sale of organs. A reality which, he added, "is getting worse every day." The Pope therefore urged both governments and the public to take responsibility, asking them to "elevate the spiritual standard of living and the vision of liberation" for mankind.
Pope Francis on Twitter: No more slavery. We are all brothers and sisters.
Pope Francis's speech was followed by statements from the major religious leaders, beginning with the Indian guru Mata Amritanandamayi, also known as Amma, which means "mother" in Hindi. "Destroying the life of another person is an act of abuse against the gifts of God," Amma stated, seated next to the Pope. "We need to develop empathy, allowing the divinity within each person to be realized […]. For the new generations and victims of human trafficking, we need to establish a practical education that will help them develop a greater awareness. We need to arouse their dormant courage and faith in themselves, to help them rise up again. They must realize that they are not weak and powerless lambs, but can be courageous lions […]. What we need is a culture of love."
As Andrew Forrest, president of Walk Free Foundation, pointed out, the signing of the declaration also represents a moment of great cooperation between Shiite and Sunni Muslim leaders. Mohamed Ahmed El-Tayeb, the Grant Imam of Al Azhar, recalled the words of the Prophet: "An Arab is not superior to a non-Arab, just as a non-Arab is not superior to an Arab."
Ayatollah Sheikh Basheer Hussain al Najafi (one of the five Grand Ayatollahs of Iraq) linked modern slavery to the plague of terrorism: "Modern slavery is a corrupt social phenomenon, a method of spreading terror throughout populations. Prostitution, like organ trafficking, is illegal and must be eliminated. Some existing systems are responsible for these social ills, because that have not succeeded in protecting the rights of the people and distance themselves from the institutions which are just in the eyes of God."
According to the 2014 Global Slavery Index published by the Walk Free Foundation, nearly 36 million people are currently victims of modern slavery. This statistic includes people who have lost their liberty and are being exploited for personal or commercial interests. According to the International Labor Organization, the total profits obtained by forced labor in the private economy throughout the world amounts to $150 billion every year.
Here is the text of the Declaration, followed by a list of signatories:
We, the undersigned, are gathered here today for a historic initiative to inspire spiritual and practical action by all global faiths and people of good will everywhere to eradicate modern slavery across the world by 2020 and for all time.I n the eyes of God*, each human being is a free person, whether girl, boy, woman or man, and is destined to exist for the good of all in equality and fraternity. Modern slavery, in terms of human trafficking, forced labour and prostitution, organ trafficking, and any relationship that fails to respect the fundamental conviction that all people are equal and have the same freedom and dignity, is a crime against humanity. We pledge ourselves here today to do all in our power, within our faith communities and beyond, to work together for the freedom of all those who are enslaved and trafficked so that their future may be restored. Today we have the opportunity, awareness, wisdom, innovation and technology to achieve this human and moral imperative.

*The Grand Imam of Al Azhar uses the word "religions".

Pope Francis

Her Holiness Mata Amritanandamayi (Amma)

Venerable Bhikkhuni Thich Nu Chan Khong (representing Zen Master Thích Nhất Hạnh)

The Most Ven. Datuk K Sri Dhammaratana, Chief High Priest of Malaysia

Rabbi Dr. Abraham Skorka

Rabbi Dr. David Rosen

Dr. Abbas Abdalla Abbas Soliman, Undersecretary of State of Al Azhar Alsharif (representing Mohamed Ahmed El-Tayeb, Grand Imam of Al-Azhar)

Grand Ayatollah Mohammad Taqi al-Modarresi

Sheikh Naziyah Razzaq Jaafar, Special advisor of Grand Ayatollah (representing Grand Ayatollah Sheikh Basheer Hussain al Najafi

Sheikh Omar Abboud

Most Revd and Right Hon Justin Welby, Archbishop of Canterbury

His Eminence Metropolitan Emmanuel of France (representing His All-Holiness Ecumenical Patriarch Bartholomew)
Calling all HuffPost superfans!
Sign up for membership to become a founding member and help shape HuffPost's next chapter