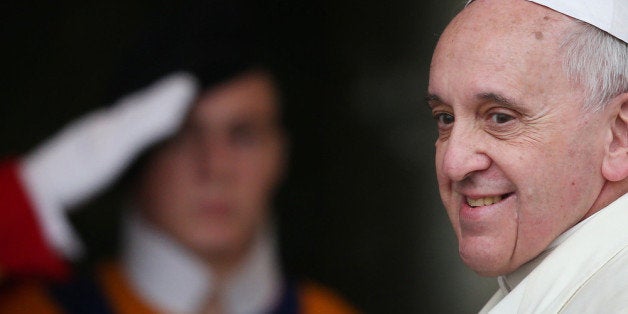 Perhaps more than any other pope in modern times, Pope Francis has done much to unify and reinvigorate the Catholic faith, but as he approaches the first anniversary of his ascendancy to the papacy, he still confronts a great divide. As confirmed by a recent international poll of 12,000 Catholics in 12 countries, many Catholics do not embrace the church's teachings on family planning. Many, in fact, hope that Pope Francis will relax, if not reverse, the church's longstanding opposition to the use of modern contraceptives.
The poll, which was conducted by Bendixen and Amandi International for Univision, found that support for family planning among Catholics is high, particularly in Europe and the Western Hemisphere. In five of the 12 countries that were surveyed, including the pope's homeland of Argentina, nine out of 10 Catholics support the use of contraceptives. (The other four countries were Columbia, Brazil, Spain, and France.) In America, the poll found that nearly eight out of 10 Catholics (79 percent) were in opposition to church teachings on contraception.
If nothing else, Pope Francis is prepared to listen to concerns about family planning. Last fall the Vatican announced plans to gather information in preparation for the October 2014 Extraordinary Synod of Bishops on "The Pastoral Challenges of the Family in the Context of Evangelization." The survey instrument, which was disseminated to dioceses around the world, asked Catholics to make known their views with respect to family planning, along with abortion, divorce, gay marriage and other issues affecting modern family life.
All of these issues are important to Catholic families, but what the Vatican ultimately decides to do on the question of contraception could also determine, to a considerable degree, whether the church makes significant progress on the concern that Pope Francis has made a centerpiece of his papacy: the fight against poverty.
While Catholic teachings on family planning have found very little resonance with Catholic laity in the developed world, they have served to reduce the use of contraceptives in some of the poorest countries in the world. The recent Bendixen and Amandi International poll found, for example, that only four out of 10 Catholics in the Democratic Republic of Congo (DRC) and Uganda support the use of contraceptives.
As long as women in the DRC and Uganda have six children on average, hopes are slim that any major progress will be made in reducing the stubbornly high prevalence of severe poverty in those two countries. In the DRC one out of seven children dies before the age of 5, school enrollment rates are actually declining, and less than half of the population has access to safe drinking water, but its population, currently at 71 million, is projected to reach 182 million by 2050. Uganda, with a per-capita income of less than $170 per year, is one of the poorest countries in the world, but its population, currently at 37 million, is projected to reach 113 million by 2050.
Many countries in the world have enjoyed an economic boom as their fertility rates have fallen. When women elect to have smaller families, child mortality declines, children receive a better education, and economic growth prospects enjoy a potential boost as the number of workers to dependents increases. But many of the world's least-developed countries may never collect their "demographic dividend," as it is often referred to. Unless fertility rates in those countries fall faster than currently expected, many countries will remain caught in a demographic trap.
In many of the world's poorest countries today, the single most important contribution that the church could make to poverty reduction is a reversal of its position on family planning. High fertility is not the only impediment to reducing severe poverty, but it's hard to imagine that much progress can be made absent a fall in birth rates. As recently noted by John May, a former World Bank demographer, there's no guarantee that some countries in sub-Saharan Africa will ever collect their demographic dividend; their fertility rates are not falling quickly enough.
In the past the Catholic Church has shown some willingness to reconsider its opposition to the use of contraceptives. At one point in the 1960s, a papal commission recommended approving the use of birth control, but that recommendation was short-lived. The upcoming Extraordinary Synod of Bishops could recommend giving Catholic couples the moral license to use a modern method of birth control. In many countries that might make little practical difference, but in countries like the Philippines, where Catholic teachings on contraception have severely undermined public access to contraception, it could do a world of good. That would be truly extraordinary.