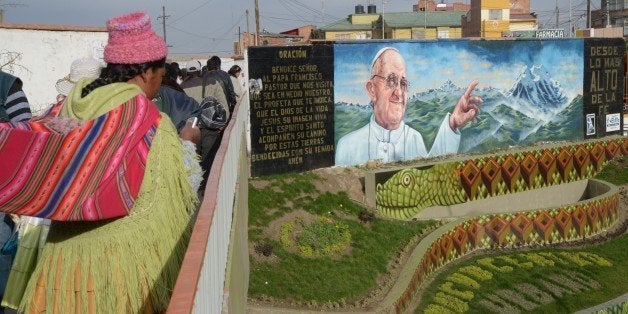 As Pope Francis arrives in Bolivia on Wednesday, he'll encounter a country where indigenous gods and religious beliefs are holding their ground.
But the country's centuries-old reverence for the spirits of nature may prove to be the fertile soil Francis needs to spread his message on climate change.
Although about 77 percent of Bolivians are Catholic, many blend the church's teachings with the nature-based beliefs of their ancestors. In some cases, Christian figures, like the Virgin Mary and Catholic saints, were simply incorporated into the native pantheon of gods. About 39 percent of Bolivians say they "make offerings of food, drinks, candles or flowers to spirits."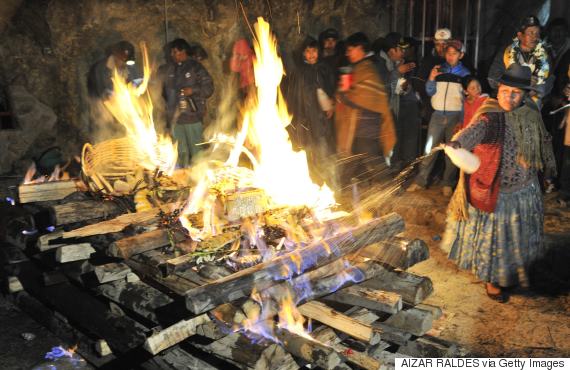 Bolivian miners take part in a ritual for Pachamama (Mother Earth) inside a shaft of the Hitos Nueva San Jose tin mine on the outskirts of Oruro, Bolivia, on February 8, 2013.
Local indigenous deities include the sun god Inti, who is considered to be the divine ancestor of the ancient Inca. Rituals celebrating Inti are now integrated into Corpus Christi festivals, which celebrate the Eucharist, or Holy Communion. Supay, the god of the underworld, is associated with the devil.
And then there's Pachamama, or Mother Earth -- the source of life. In 2010, Bolivia famously passed legislation that gave Pachamama certain rights -- the right "to life, to the diversity of life, to water, to clean air, to equilibrium, to restoration, and to pollution-free living."
The intention may have been noble, but the environmental work in Bolivia is far from over. Evo Morales, Bolivia's first indigenous president, has been hailed as a hero for demanding international action on climate change -- but conservationists in his home country are upset with his policies on oil and gas extraction.
Pope Francis' own commitment to Mother Earth, reflected in "Laudato Si," his recent encyclical on the environment, is shining through clearly during his tour of Ecuador, Bolivia and Paraguay. In the past, Francis has said that indigenous people are important caretakers of nature -- and at the same time, are most deeply affected by harmful environmental practices.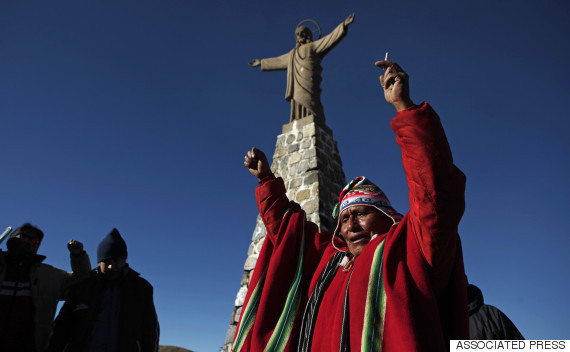 An Aymara priest leads a prayer after an offering ceremony to Pachamama on a mountain outside of La Paz, Bolivia, on Friday, Aug. 1, 2014. In the background is a statue of Jesus Christ.
On Tuesday, Francis renewed his call for action on the environment during a speech at the Pontifical Catholic University of Ecuador -- his first public talk on this issue since the publication of his encyclical. He pushed for protection of the Amazon, pointing out the region's importance to the Earth's ecosystem.
"One thing is certain: we can no longer turn our backs on reality, on our brothers and sisters, on Mother Earth," Francis said during the talk. "The goods of the Earth are meant for everyone, and however much someone may parade his property, it has a social mortgage."
Indigenous people from the Amazon were present during the speech.
The Catholic Church has had a long and troubled relationship with Latin American indigenous people. Spanish colonial conquerors brought Catholicism to the region in the 16th century. Native populations were wiped out, and many of those who survived were enslaved or marginalized by their new rulers and fell into poverty.
Morales is a fan of Pope Francis and identifies as Catholic, but he sees the church as a reminder of colonial rule. He's clashed with Bolivia's Catholic hierarchy in the past. When he became president in 2006, Morales removed the Bible and the cross from his presidential palace. In a 2009 constitutional referendum Morales supported, Bolivia removed Catholicism as the official state religion and cut off some funding to the Church.
Official ceremonies in Bolivia now begin with veneration of Pachamama -- even though the church says that calling her a divinity is "erroneous and a deviation."
Felix Cardenas, Bolivia's vice-minister for decolonization, said he hoped Pope Francis' environmental activism could help bridge the divide between the government and Bolivia's Catholic leaders.
"He seems like a Pope who wants to look after Mother Earth," Cardenas told Reuters.
REAL LIFE. REAL NEWS. REAL VOICES.
Help us tell more of the stories that matter from voices that too often remain unheard.
BEFORE YOU GO
PHOTO GALLERY
Ancient Rituals Celebrate Pachamama, The Earth Goddess Of Bolivia