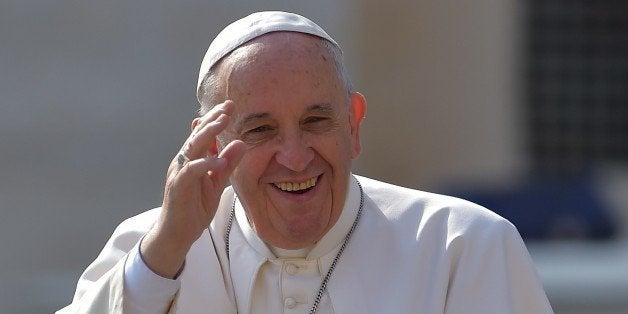 A journalist from Argentina is on cloud nine after Pope Francis reportedly responded to his open letter with a personal phone call.
Alfredo Leuco, a writer for the Buenos Aires-based newspaper Clarin, heard that Francis may have been planning to meet with Argentina's current president, Cristina de Fernandez Kirchner. Leuco was concerned Kirchner would use the meeting as a photo op to help build support for a third term -- even though Argentina's constitution limits presidents to two terms.
In the past, Francis has pledged not to hold any private meetings with Argentine politicians until after the country's heated upcoming elections in October. According to CNN, a meeting with Kirchner is not currently on the pope's agenda.
The journalist wasn't expecting much from Francis after penning the letter. But according to Leuco's blog, the Pope had read Leuco's words and wanted to chat.
Leuco claims he received a WhatsApp message from a Vatican official last Saturday, asking for his email. The journalist at first thought it was a prank, but then he noticed that the number seemed to have originated from the Vatican.
Francis reportedly then tried calling, but because of a bad signal had to leave a voicemail.
"Mister Alfredo Leuco, I am Father Bergoglio, the Pope Francisco. I will try to call you later to thank you for your letter," Francis said, according to a translation of the blog provided by CNN.
But Francis was persistent. He called a second time, and this time Leuco was able to connect.
"I felt an incredible serenity coming from the Pope. I didn't want to occupy too much of his time but he encouraged me to chat. I thanked him from my heart for his gesture. He spoke to me of the 'moral wholeness of my letter' and I almost fainted," Leuco writes on his blog.
Although Leuco doesn't reveal much about Francis' thoughts on Kirchner, he believes Francis took the time to respond to Leuco's letter to "send a signal of calm and peace for those who raised critical voices."
Argentina's economy has been struggling in recent years, with inflation increasing to 40 percent. Electricity shortages in the country sparked violent protests in Buenos Aires in 2013. In response to the tensions in his home country, Francis has urged politicians in Argentina to maintain stability.
But Francis' call to Leuco wasn't just about politics. The journalist claims Francis emailed him afterward, asking him to remember Jesus' teachings about the Beatitudes. He said he also challenged him to strive for a stronger spiritual life, and ended the email by asking for the journalist's prayers.
"I was ashamed, too shy to tell him I didn't know how to pray," Leuco wrote.
After reflecting on it, Leuco promised on his blog to ask a few of his friends to teach him how to pray.
"It's the least I can do in appreciation," he wrote.
Leuco is the latest in a growing line of faithful who have been lucky enough to get a call from Francis. Vatican officials regularly decline to comment on the pope's calls, saying they are personal matters between Francis and the recipient. But in the past, media reports have claimed Francis called a woman whose boyfriend pressured her to have an abortion, and a divorced and remarried Argentine woman.
REAL LIFE. REAL NEWS. REAL VOICES.
Help us tell more of the stories that matter from voices that too often remain unheard.
BEFORE YOU GO
PHOTO GALLERY
Pope Francis' Best Photos