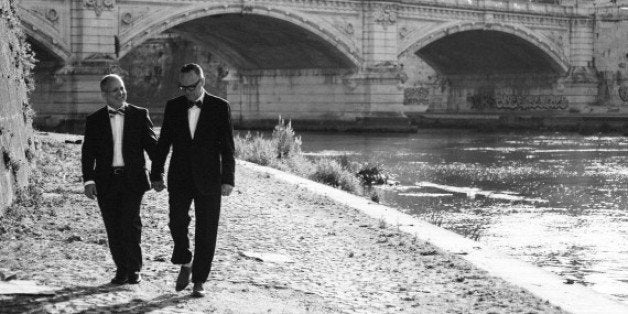 This blog is part of a series on LGBT Catholics who have held on to their faith, despite being publicly rejected from the church. For more stories, click here.
Hello, my name is Colin, and I am a Catholic. I wear this traditional, though modified, 12-step greeting as a badge of honor.
I grew up Catholic, in a large extended Catholic family. My maternal grandparents were from Hungary, and my mother is first-generation Canadian. The church my grandparents and my mother attended, long before I was born, had the tradition of "selling" their pews. Each family had to register with the parish and agree to pay its weekly contribution. If the family members fell behind in their contributions, when they showed up on Sunday for mass, their pew was locked, and they could not sit there.
To make matters worse, the church congregation was predominantly of white Anglo-Celt descent, and the parishioners from Central Europe were not permitted to purchase pews other than in the very back of the church. The front pews were reserved for the English, Irish, and Scottish. My grandparents, poor immigrants, continued to pay their pew fees. They also strove to instill in their children the importance of attending a Catholic church and receiving a Catholic education.
I grew up in this same church, and I remember seeing the locks on the pews and wondering why they were there. I also remember the pew, second from the back on the right, my grandparents' pew. I do not remember a time when I was not involved in this church, Holy Redeemer.
I was an altar server and worked my way up to being lead cross-bearer. I sang in the children's choir, and at the age of 12 I started playing the organ for the church, first for the children's choir and then for the adult traditional choir.
On Sunday mornings, before I was old enough to have a driver's license, I would go with the parish priest to all of the mission churches in the parish and play and cantor for their Sunday liturgies. In the afternoon, I would play and conduct the children's choir for another parish, and in the evening I would go to another parish and play and cantor. I was a team member for a diocesan teen retreat program, and I served on several diocesan committees.
I later attended a Catholic university, and after completing a Bachelor of Arts and a Diploma in Sacred Music, I -- as most expected -- applied to go to the seminary. It was also during my university days that I came to terms with my sexuality and came out as a gay man. I distinctly remember the psychologist who worked with me for my psychological review -- his advising me to tell the Bishop about my sexuality, claiming that the Bishop would understand, and declaring that the church needed more priests that were healthy and well-adjusted in their sexuality.
The bishop rejected my application. I was crushed, and my church community and many in the diocese were in shock. Suddenly, I understood what my grandparents must have felt when the church to which they were so dedicated and that they loved so much would allow them to sit only in the back pews.
As the famous song from the 1936 musical Swing Time suggests, I picked myself up, dusted myself off, and started all over again. I moved away from home and that diocese and started work as a Geriatric Social Worker. It was not long before I found a small parish that needed an organist and choir director, and off I went again doing what I loved!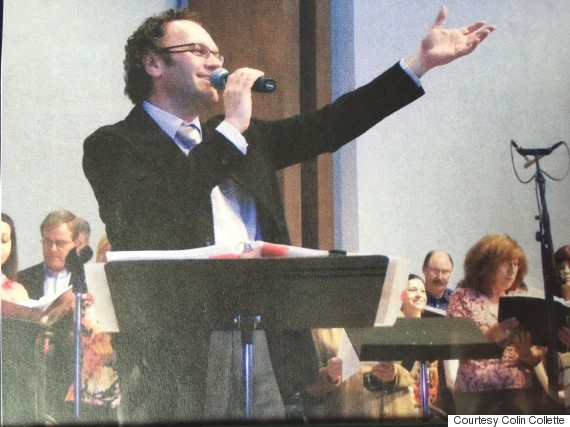 Longing to be more involved in the church and to continue my studies, I moved to Chicago to study Liturgy at Catholic Theological Union. While at CTU, I completed a Master of Divinity in Word and Worship. I am currently completing a Doctor of Ministry in Liturgy degree. While at CTU, I was Music Director for a small African-American community, St. James.
For six wonderful years, we prayed together and sang together, and I learned from the people what it meant to love Jesus in the face of great persecution and discrimination. I also learned to trust that, as the African-American Spiritual says, "All will be well as long as we are 'Leaning on the Everlasting Arms.'"
From my beloved St. James, I moved to Holy Family Catholic Community, a large, contemporary, progressive suburban parish, where I served for 17 years as Director of Music and Liturgy. Holy Family was an amazing community, given to servant leadership and the priesthood of the faithful.
I had never experienced such a level of dedication and community involvement in all of the ministries of the parish. We had hundreds of Liturgical Ministers, children, teens, and adults, and all felt called by their baptism and empowered to use their time, talents, and treasures to build the reign of God in our midst. I had found a home in this community.
It is clear that once again I must "pick myself up." I have been exploring other church communities and am impressed by communities that are so publicly open to the LGBTQ community. I am enjoying hearing the female voice in a presidential role and learning so much as women break open God's work and preach the good news.
When my husband and I returned to Rome this summer for our marriage -- just shy of a year after our engagement and my departure from Holy Family -- I could not rest until we had visited St. Peter's and once again I could spend some quiet time in prayer before my liturgical hero, St. John the XXIII. And yes, if possible, I would be with the thousands, if not millions, that will gather soon to be in the presence of our Holy Father, Pope Francis.
How I long for the opportunity to sit with the Holy Father and tell him about my life in the church, and ask him why I still sit in only the back pews of the church.
Related
Popular in the Community