WASHINGTON -- Pope Francis urged compassion on Thursday for refugees and unauthorized immigrants, speaking to a crowd that included lawmakers who have said the U.S. should keep out Syrians and others who fled their countries, and should deport more of the undocumented immigrants who are already here.
During an address to the House of Representatives and the Senate, the pope said the solution to the refugee crisis is for other countries to follow the Golden Rule: "Do unto others as you would have them do unto you." His mention of the Golden Rule earned a standing ovation.
"Our world is facing a refugee crisis of a magnitude not seen since the Second World War," he said. "This presents us with great challenges and many hard decisions. On this continent, too, thousands of persons are led to travel north in search of a better life for themselves and for their loved ones, in search of greater opportunities. Is this not what we want for our own children?"
He went on to call for people to see refugees and other immigrants as human beings in need of compassion, rather than focus on the resources it would take to help them.
"We must not be taken aback by their numbers, but rather view them as persons, seeing their faces and listening to their stories, trying to respond as best we can to their situation," Francis said. "To respond in a way which is always humane, just and fraternal. We need to avoid a common temptation nowadays: to discard whatever proves troublesome."
The stance isn't new for the pope; he recently called on Catholics in Europe to take in refugees as the continent faces a steady flow of people fleeing Syria and the Middle East. There are nearly 4 million Syrian refugees outside the country, and more than 7.6 million displaced inside, according to the United Nations refugee agency UNHCR.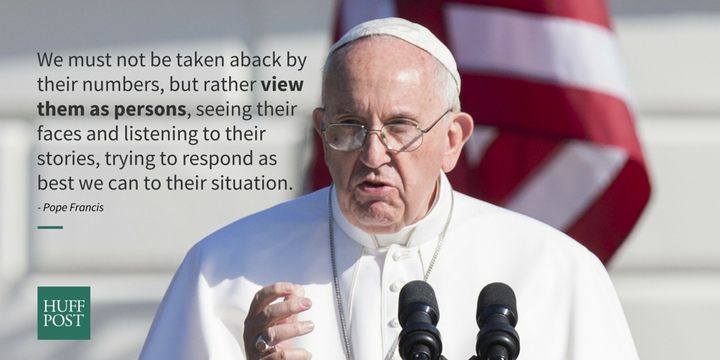 Some organizations and lawmakers -- including the U.S. Conference of Catholic Bishops -- are calling on President Barack Obama to allow more Syrians to resettle in the U.S., along with more refugees from other countries, of which 70,000 have been admitted in the past few years. The administration announced on Sunday that the refugee admission numbers will go up to 85,000 next fiscal year and 100,000 in the 2017 fiscal year.
But other members of Congress oppose that plan, either for national security reasons -- even though all refugees go through an extensive screening process -- or because they say the U.S. doesn't have the resources. The U.S. already gave more than $4 billion in humanitarian aid, and pledged this week to give $419 million more.
The pope isn't likely to change all of their minds. Sen. Jeff Sessions (R-Ala.), an ardent opponent of bringing in more refugees or immigrants, told Roll Call on Wednesday that he believes Francis isn't sufficiently steeped in immigration law.
"It's always dangerous for church leaders to start opining on complex matters of which they haven't had a chance to learn over the years," he said.
Along with refugees, Francis has in the past called for the U.S. to be compassionate to unauthorized immigrants, and in particular the unaccompanied children apprehended along the border in high numbers last year. He will meet with some of them during his trip.
The pope accepted a letter on Wednesday from a 5-year-old named Sofi Cruz, who asked him to help undocumented parents of U.S. citizens, like herself.
"The people of this continent are not fearful of foreigners, because most of us were once foreigners," Francis said on Thursday, adding that many people in the room are descended from immigrants. That line drew considerable applause as well.
"When the stranger in our midst appeals to us, we must not repeat the sins and the errors of the past," he said. "We must resolve now to live as nobly and as justly as possible, as we educate new generations not to turn their back on our neighbors and everything around us. Building a nation calls us to recognize that we must constantly relate to others, rejecting a mindset of hostility in order to adopt one of reciprocal subsidiarity, in a constant effort to do our best. I am confident that we can do this."
Popular in the Community