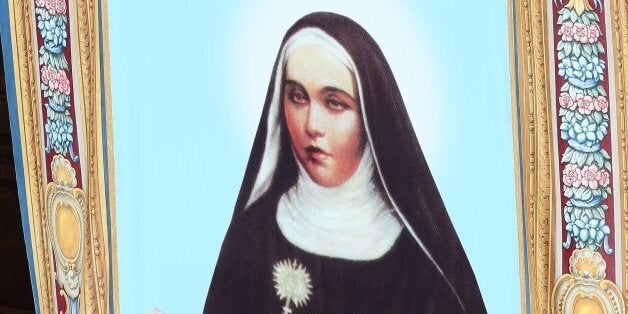 Pope Francis has created four new female saints, two of them nuns who promoted the education of Arab girls in the Ottoman Empire. Latin Patriarch Fouad Twal of Jerusalem said of them, "As the Holy Land, wrecked by violence and dissent, has for some time had a tarnished image, our two saints emerge to restore its sanctity, reminding us that sanctity is possible even in the most difficult circumstances."
Saint Marie-Alphonsine Danil Ghattas (Ottoman Empire)
Saint Marie-Alphonsine, born in Jerusalem, left for Bethlehem to become a teacher. She joined the Sisters of St. Joseph of the Apparition on Mount Golgotha. Known for her calm devotion and humility, she founded a school and dedicated herself to the education of Arab girls. She was said to have preferred to act in silence and remain in the shadows.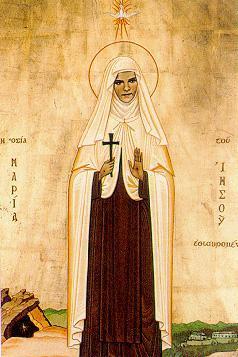 Blessed Mariam of Jesus Crucified (Mariam Bawardy, Mariam of Abellin, Mariam of Bethlehem CC).
St. Mariam Baouardy (Ottoman Empire)
After her parents buried 12 sons who died in infancy, Saint Mariam was their first child to survive, followed by a younger brother. Her parents died, days apart, when she was two. Her uncle took her to Alexandria. He betrothed her, at 13, to his wife's brother in Cairo, but she refused, saying she wished to become a nun. Furious, he beat her and made her a kitchen servant.
She wrote a letter to her brother, requesting to be rescued and gave it to another servant who was leaving for Galilee. Aware of her situation, the servant proposed marriage and conversion to Islam. When she declined, he slit her throat and left her body in an alley.
A nun she called "the Lady in Blue" dressed her wounds and fed her soup, nursing her back to health in a grotto. She was left in the Franciscan Church of St. Catherine. After going temporarily blind, she joined the Carmelites near the Pyrenees.
"The just man is satisfied with love," she wrote, "but the wicked man, with all his pleasures, honors, riches, is always hungry, always thirsty. He is never satisfied." She founded a convent in India and another in Bethlehem, which she died building. Her tomb is engraved, "a soul of singular graces."
Saint Maria Cristina of the Immaculate Conception (Kingdom of the Two Sicilies)
Saint Maria Cristina, born into a wealthy Neapolitan family, joined the Poor Clares along with her sister. She founded a congregation devoted to the education of young girls and lived in a little grotto modeled on the crèche of the Nativity.
Saint Emilie de Villeneuve (France)
The youngest daughter of an aristocratic family, Saint Emilie de Villeneuve was raised in a chateau, under the strict discipline of her ailing mother. Meals took place in silence. Fireplaces could not be lit, despite the cold. Emilie was careful to remain emotionless. After her mother's death, she became increasingly withdrawn and was sent to live with her blind grandmother.
She donated her allowance to the poor and founded a congregation with missions in Senegal, Gambia and Gabon, wherever people were most forsaken. Upon building a shelter for fallen women, she taught the nuns never to condescend to them, but only to see their holiness.
Nuns gathered around her, saying the prayers for the agonizing, as she succumbed to military fever in the South of France. "I prefer faith alone, the darkness," she wrote in her journal. "Abandonment and trust are everything."
PHOTO GALLERY
Pope Francis Canonizes Six New Saints
Calling all HuffPost superfans!
Sign up for membership to become a founding member and help shape HuffPost's next chapter