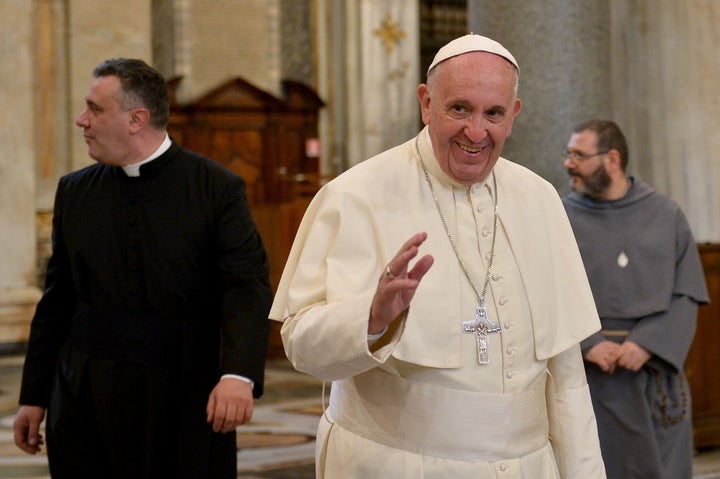 Pope Francis said on Thursday that Republican presidential candidate Donald Trump's plan to build a wall along the U.S.-Mexico border is "not Christian."
Speaking aboard his papal plane after visiting Mexico, the pope was asked specifically about Trump's proposal. "A person who only thinks about building walls, wherever they may be, and not building bridges, is not Christian," he said, according to reporters who were on the plane with the pontiff.
The pope stressed that he was not suggesting whom American voters should support in the election: "I am not going to get involved in that. I would only say that this man is not Christian if he has said things like that."
Francis, a native of Argentina, has prioritized ministering to the poor and vulnerable during his papacy.
Trump responded to the pope's comments quickly, putting out a campaign statement that "for a religious leader to question a person's faith is disgraceful."
Trump also accused Mexico of "using the pope as a pawn," saying at a press conference that Mexican leaders "should be ashamed of themselves."
Yet even as he decried the pope's comments, the billionaire real estate mogul conveniently forgot that he has questioned the Christianity of his Republican rival, Sen. Ted Cruz (Texas).
The GOP front-runner is not the only Republican candidate who has called for a wall to be built between the United States and Mexico. Cruz, along with Ohio Gov. John Kasich, former neurosurgeon Ben Carson and Sen. Marco Rubio (Florida), have all said they would build a barrier along the U.S. southern border.
A son of immigrants himself, the pope noted earlier that the U.S. was "largely built" by immigrant families.
As word of the pontiff's comments about Trump spread on social media, Trump's social media director, Dan Scavino, posted this tweet:
A spokesman for Carson also came to Trump's defense on Thursday, telling NBC News that "making sure our border is secure does not negate him from being a Christian."
Rubio told reporters that "Vatican City controls who comes in, when they come in and how they come in as a city state," and said the U.S. "has the right to do that as well."
Despite his strongly worded response to the pontiff, Trump has praised him in the past:
During an appearance on SiriusXM's "Breitbart News Daily" earlier on Thursday, Trump said, "I respect the pope and I love the pope in many ways. I love what he stands for and I like his attitude."
UPDATE: 10:25 p.m. -- During a CNN town hall, Trump suggested the pope's comments had been "misinterpreted" by the media.
"I don't like fighting with the pope," Trump said. "I think he said something much softer than was originally reported by the media. I think that he heard one side of the story, which is probably by the Mexican government."
Trump added that he likes the pope, and would welcome the opportunity to meet with him.
"I think he's got a lot of personality, he's very different ... and I think he's doing a very good job," Trump said. "I think he was very much misinterpreted. I also think he was given false information."
Pope Francis Visits Mexico
Popular in the Community