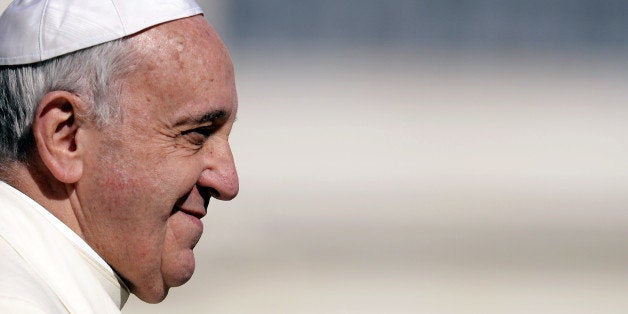 Despite widely reported anecdotes of lapsed Catholics returning to the pews, growth in Mass attendance and renewed interest in the Roman Catholic Church during Pope Francis' first year, a new report has found the "Pope Francis effect" may not exist after all.
In a survey released Thursday about Americans' views of the pope nearly a year into the papacy, the Pew Research Center found no change in the share of American adults who call themselves Catholic, or in self-reported rates of Mass attendance, when compared to pre-Francis numbers. Pew also reported no increase in the percentage of Catholics volunteering at their churches or going to confession.
While Catholics and non-Catholics alike gave Francis high ratings in the poll, and Pew found a "widespread perception that he is a change for the better," it said it was "less clear whether there has been a so-called 'Francis effect,' a discernible change in the way American Catholics approach their faith."
Today, 22 percent of Americans identify as Catholic, which is the same percentage as in the year before Francis' election. Forty percent of those Catholics said they attend Mass weekly, which is also unchanged since the months before Francis became pope.
About 13 percent of Catholics say they have been volunteering more in their church over the last year, but 23 percent said they have been volunteering less and 59 percent say their volunteering has not changed. Just 5 percent of Catholics have been going to confession more often over the past year, while 22 percent have been attending less often and 65 percent say they haven't changed how often they go to confession.
A quarter of Catholics said they have been more excited about their faith over the last year, and 40 percent said they have been praying more during that time. Pew said it could not conclusively link those increases to Francis because the questions on excitement over faith and frequency of prayer were not explicitly tied to the new pope and came elsewhere in its survey.
Even without connecting any major changes in Catholic practice to the pope, Pew found high approval of Francis. More than 80 percent of U.S. Catholics said they viewed Francis favorably, and the percentage who viewed him "very favorably," 51 percent, was comparable to the high approval ratings for Pope John Paul II in the 1980s and 1990s.
While large majorities of respondents praised the pope for spreading the Catholic faith, standing up for traditional moral values, addressing the needs of the poor and reforming the Vatican bureaucracy, Francis got lower marks for his handling of clergy sex abuse.
In the Pew survey, just over half of Catholics gave Francis a rating of "excellent" or "good" for how he has handled sex abuse. When Pew polled on the issue last March, 70 percent of Catholics said that addressing sex abuse should be a "top priority" for the pope -- more so than any other issue.
On Wednesday, in a separate interview with the Italian newspaper Corriere Della Sera, the pope defended the church's reaction to sex abuse, saying it was "probably the only public institution to have acted with such transparency and responsibility" and that "no other organization has done more." The statement brought a strong backlash from survivors' advocates.
The Pew survey also reported an increasing share of Catholics who believe that by the year 2050, the church will change its stances on birth control, ordaining women and allowing priests to marry.
Pew conducted the survey of 1,821 U.S. adults, including 351 Catholics, in mid-February. The study has a margin of error of 2.6 percentage points.
REAL LIFE. REAL NEWS. REAL VOICES.
Help us tell more of the stories that matter from voices that too often remain unheard.
BEFORE YOU GO
PHOTO GALLERY
Pope Francis' Magazine Covers