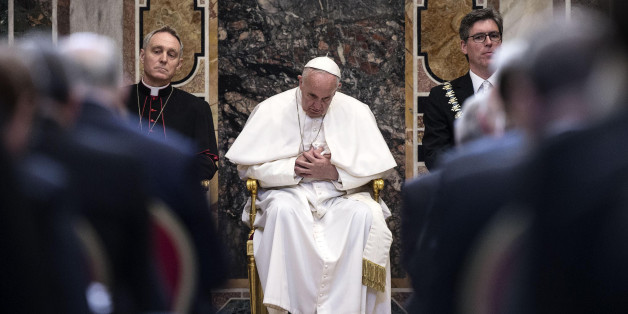 "Following Francis" is a monthly blog on the latest happenings of Pope Francis. It is prepared exclusively for The WorldPost by Sébastien Maillard, Vatican correspondent for La Croix, Rome.
ROME -- Whenever the issue of European unity was raised at the Vatican over the past few decades, the only answer was the need for the continent to rediscover its Christian roots. Pope Francis has never said these roots did not exist, a sentiment that was dear to his two predecessors. This was just not his point. In an important speech on Europe that he delivered on May 6, he defined European identity more widely.
Francis was addressing a gathering of European leaders inside the Vatican, which included the heads of the three main European Union institutions (Jean-Claude Juncker of the European Commission, Martin Schulz of the European Parliament and Donald Tusk of the European Council), along with German Chancellor Angela Merkel and Matteo Renzi, the prime minister of Italy. Francis was probably the only non-European present.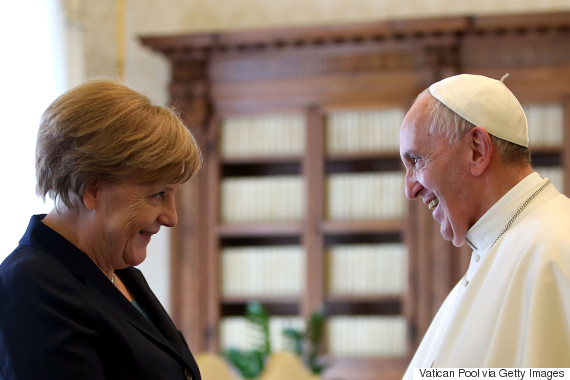 Francis meets Merkel at his private library on May 6. (Vatican Pool/Getty Images)
The Charlemagne Prize, which was granted to him, rewards an outstanding contribution to European unity each year. Pope Francis has not achieved much so far. But at a time when "Europe is going through turbulent times and faces what may be a decisive test of its unity," as Martin Schulz put it bluntly in his opening address, EU leaders thought turning themselves towards Francis could be helpful when facing reluctant -- if not Eurosceptic -- public opinions.
"New Europeans"
They proved to be right. The pope knew he was speaking to a union in a state of disrepair. He was careful not to craft a speech as tough as the one he delivered in Strasbourg on Nov. 25, 2014. This time, he addressed the issue at the heart of the ongoing refugee crisis that's dividing the 28 EU member states: European identity.
Foreign migration from the Mediterranean is regarded as a threat to this identity, traditionally based on Christian roots. But Francis took another view: "The identity of Europe is, and always has been, a dynamic and multicultural identity."
"The roots of Europe, were consolidated down the centuries by the constant need to integrate in new syntheses the most varied and discrete cultures," he went on. In other words, identity is never closed and settled once and for all. And it is based on more than just religious grounds. This stands true also on the so-called "Old Continent." This is why he once called the migrants seeking a better life in Europe the "new Europeans." In his speech on May 6, he called on Europe's "capacity to integrate" them, thanks to its ever-evolving and plural identity.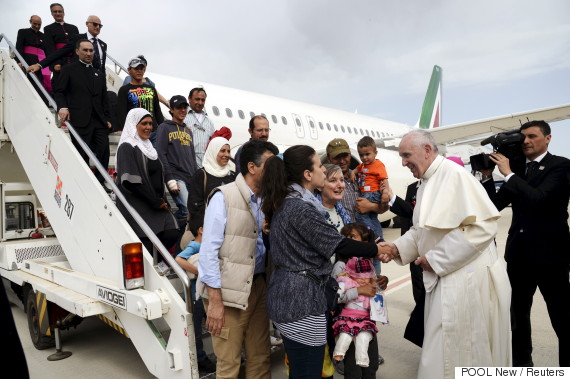 Francis welcomes a group of Syrian refugees at Ciampino airport in Rome following a visit to Lesbos, April 16. (REUTERS/ Filippo Monteforte/Pool)
For Francis, this integration capacity does not rely only on nations, but also on cities. "Many of our cities are remarkably beautiful precisely because they have managed to preserve over time traces of different ages, nations, styles and visions," he said. As former archbishop of Buenos Aires, his native city, Francis believes in urban identity and in the capacity of large cities to manage diversity through sound urban policies.
This was most relevantly illustrated the same day Francis delivered his speech, when Londoners elected the Muslim son of a Pakistani bus driver, Sadiq Khan, as their new mayor. It strongly echoes Francis' pledge for Europe to become once again a place that integrates diversity in a unique fashion, a place "where being a migrant is not a crime."
"The rebirth of a Europe weary"
So what is left for the Christians in Europe to do? The pope did not call on them to be nostalgic of some Christendom but to go out there and live the Gospel. "Only a Church rich in witnesses will be able to bring back the pure water of the Gospel to the roots of Europe," he declared in his Charlemagne speech.
The refugee crisis challenges Catholics in Europe directly in this regard. Last September, Francis asked for each parish or monastery throughout the continent to welcome at least one family of refugees, from whatever faith. In April, he himself brought back three Muslim families who had fled from Syria to Lesbos.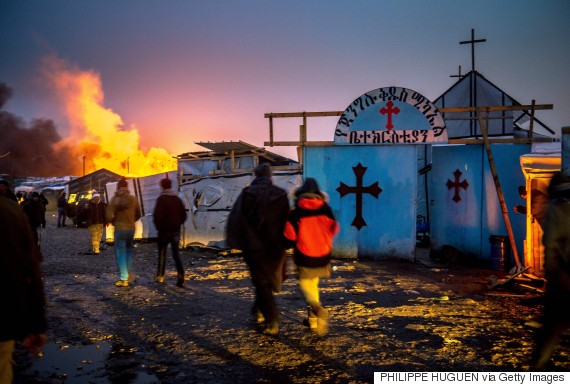 Migrants walk past a church in the so-called 'Jungle' migrant camp in Calais on March 1. (PHILIPPE HUGUEN/AFP/Getty Images)
The other challenge put forward by the pope in his Charlemagne speech, which he hopes "witnesses" from his church will act upon, is the fight against youth unemployment and the shift towards a more social market economy. "To the rebirth of a Europe weary, yet still rich in energies and possibilities, the Church can and must play her part," he declared to the political leaders gathered in the Vatican, even though a clear separation between religious activities and political ones stands as a core principle in Europe.
Not referring to the Christian roots of the continent therefore does not mean Francis asks his Church to shy away. On the contrary, he wants it to be at the forefront of a fresh new energy.
More From Following Francis:
Pope Francis Exhorts Church to Be Less Uniform and More Universal
The Pope Looks East Toward Russia and China
Here's What to Expect From Pope Francis in 2016
Pope Francis Fights ISIS by Fostering Interreligious Dialogue
How the World Looks Through the Pope's Glasses
No Room for Decadent 'Princes' in Francis' Vatican
A Day in the Life of Pope Francis, Who Lives Behind This Gas Station
Earlier on WorldPost:
PHOTO GALLERY
Pope Francis' Best Photos
Calling all HuffPost superfans!
Sign up for membership to become a founding member and help shape HuffPost's next chapter