In what's been characterized as the most progressive remarks ever uttered by a modern pontiff about homosexuality, Pope Francis reportedly told a gay man during a recent conversation at the Vatican that "God made you like that and he loves you like that."
Juan Carlos Cruz, a survivor of clerical sexual abuse, said Francis made the comments to him when they met for a private discussion last month to discuss the sex abuse and cover-up scandal involving Catholic priests in Cruz's native Chile.
Cruz, who was abused as a child by the Rev. Fernando Karadima, Chile's most notorious pedophile priest, told the paper that his sexual orientation came up during the discussion because he has been targeted for being gay after speaking out about his abuse.
"They had told [Francis] that I was practically a pervert. I explained that I'm not the reincarnation of San Luis Gonzaga, but I am not a bad person, I try to not harm anyone," Cruz told El Pais.
Francis responded, Cruz said, by telling him, "The pope loves you [as you are], you have to be happy with who you are."
A representative at the Vatican declined to confirm or deny the pontiff's remarks, telling The Los Angeles Times, "We don't normally comment on the pope's private conversations."
"If someone is gay and is searching for the Lord and has good will, then who am I to judge him?" Francis famously said in 2013. Later that year, he suggested in an interview that God does not "reject and condemn" gay people.
"This is a big deal, I cannot remember the pope making a comment about gay people being born that way," the Rev. James Martin, an American priest who has advocated for bridging the divide between the church and the LGBTQ community, told the Times this week.
"Pope Francis has repeated what all reputable biologists and psychologists say — you don't choose your sexual orientation. And that is a great comfort to many gay and lesbian Catholics who have been told by priests that they have chosen their orientation and are therefore guilty," Martin continued.
Observers have warned against hyping the pontiff's comments, however, as they were uttered in private and don't represent a shift in church teaching.
The Catholic Church's catechism, which summarizes the church's doctrinal positions, states that homosexuality's "psychological genesis remains largely unexplained." Homosexual acts are described as depraved and "contrary to natural law."
"Under no circumstances can they be approved," the catechism reads.
Still, experts said Francis' reported comments suggested that church attitudes toward the LGBTQ community are shifting.
"It goes beyond 'who am I to judge?' to 'you are loved by God,'" Christopher Lamb, the Vatican correspondent for the Catholic newspaper Tablet, told The Guardian. "I don't think he has changed church teaching but he's demonstrating an affirmation of gay Catholics, something that has been missing over the years in Rome."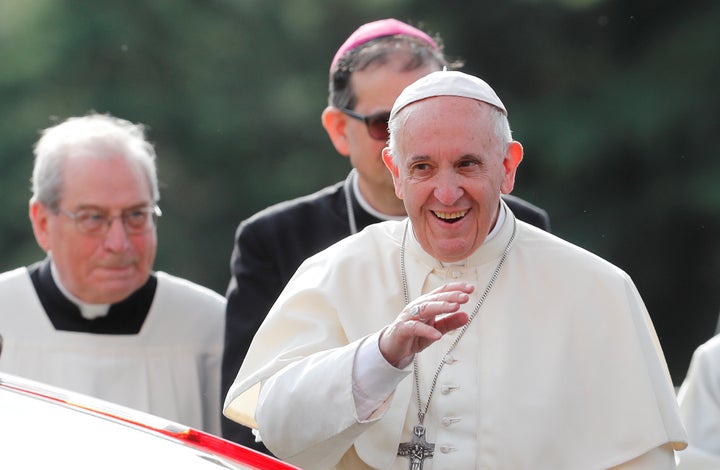 Support HuffPost
The Stakes Have Never Been Higher
Related
Popular in the Community