Pope Francis faulted the Roman Catholic church for focusing too much on gays, abortion and contraception, saying the church has become "obsessed" with those issues to the detriment of its larger mission to be "home for all," according to an extensive new interview published Thursday.
The church can share its views on homosexuality, abortion and other issues, but should not "interfere spiritually" with the lives of gays and lesbians, the pope added in the interview, which was published in La Civilta Cattolica, a Rome-based Jesuit journal.
"We have to find a new balance, otherwise even the moral edifice of the church is likely to fall like a house of cards, losing the freshness and fragrance of the Gospel," Francis said in the interview.
"The church has sometimes locked itself up in small things, in small-minded rules,' Francis said. "The people of God want pastors, not clergy acting like bureaucrats or government officials."
The 12,000-word interview ranges widely, touching upon the pope's personal faith, the role of women and nuns in the church, Latin Mass and even the pope's favorite artists.
"He's very open honest and candid like we have not seen in a pope before. He critiques people who focus too much on tradition, who want to go to time in the past that does not exist anymore," said Fr. James Martin of America Magazine, which published an English translation of the interview. "He reminds people that thinking with the church, in obedience, does not just mean thinking with the hierarchy, that church is a lot bigger than its hierarchy."
In the interview, Francis does not come out in support of gay marriage, abortion rights or contraception, saying that church positions on those issues are "clear," but he added that the "the proclamation of the saving love of God comes before moral and religious imperatives."
"A person once asked me, in a provocative manner, if I approved of homosexuality," he said to Jesuit priest Fr. Antonio Spadaro, who conducted the interview for La Civilta Cattolica. "I replied with another question: 'Tell me: when God looks at a gay person, does he endorse the existence of this person with love, or reject and condemn this person?' We must always consider the person."
The comments on gays and lesbians follow up on remarks Francis made aboard the papal airplane in July when asked about gay priests. "Who am I to judge?" the pope then said, in a quote that made international front-page headlines. In Thursday's interview, Francis clarified that those comments were about all gay people and not only priests.
Francis, 76, also touched upon where he falls within the political and theological spectrum of Catholics. Because of what he said was a purposeful avoidance of talking about sexuality and reproductive issues during the first six months of his papacy, some critics have said the pope has shifted from being more outspoken on conservative issues when he was a Jesuit province superior in Argentina and later was the Archbishop of Buenos Aires. The pope, who was appointed to the jesuit leadership position when he was 36, said his youthful lack of experience made him too authoritarian of a leader.
"But I have never been a right-winger," he said.
More from the Associated Press:
VATICAN CITY — Pope Francis, the first Jesuit pope, reflected on his style, influences and priorities as pope in an interview with La Civilta Cattolica, the Jesuit journal in Rome, which published the remarks Thursday. Here are some highlights:
___

ON FINDING GOD IN EVERYONE

_"God is in everyone's life. Even if the life of a person has been a disaster, even if it is destroyed by vices, drugs or anything else_God is in this person's life."
___

ON FAITH AND DOUBT:

_"If one has the answers to all the questions_that is the proof that God is not with him. It means that he is a false prophet using religion for himself. The great leaders of the people of God, like Moses, have always left room for doubt. You must leave room for the Lord, not for our certainties; we must be humble."
___

WHAT ABOUT THE ROLE OF WOMEN?

Pope Francis has previously called for greater study of the role of women in the church, although he has ruled out women's ordination. He went further in this interview, saying women must be involved in top decision-making matters.

_"The feminine genius is needed wherever we make important decisions. The challenge today is this: to think about the specific place of women also in those places where the authority of the church is exercised."
___

ON BEING ARGENTINA'S JESUIT LEADER

_"I found myself provincial (the Jesuit leader) when I was still very young. I was only 36 years old. That was crazy. ... It was my authoritarian way of making decisions that created problems."
___

HOW DO YOU LIKE TO PRAY?

_ "What I really prefer is adoration in the evening, even when I get distracted and think of other things, or even fall asleep praying. In the evening then, between seven and eight o'clock, I stay in front of the Blessed Sacrament for an hour in adoration. But I pray mentally even when I am waiting at the dentist or at other times of the day."
__

WHAT ABOUT THE OLD LATIN MASS?

Pope Benedict XVI opened up the Latin Mass for wider use among traditionalists who were opposed to the modern liturgy:

_ "I think the decision of Pope Benedict was prudent and motivated by the desire to help people who have this sensitivity. What is worrying, though, is the risk of the ideologization of the (Old Mass), its exploitation."
___

HOW GREAT ARE THOSE NUNS?

Nuns working in hospitals took care of Francis when he lost most of one lung to an infection in his early 20s.

_ "I am alive because of one of them. When I went through my lung disease at the hospital, the doctor gave me penicillin and streptomycin in certain doses. The sister who was on duty tripled my doses because she was daringly astute; she knew what to do because she was with ill people all day. The doctor, who really was a good one, lived in his laboratory; the sister lived on the frontier and was in dialogue with it every day."
__

AND WHO ARE HIS FAVORITE ARTISTS?

_"`La Strada,' by Fellini, is the movie that perhaps I loved the most. I identify with this movie, in which there is an implicit reference to St. Francis."

_"I have read The Betrothed, by Alessandro Manzoni, three times, and I have it now on my table because I want to read it again. Manzoni gave me so much. When I was a child, my grandmother taught me by heart the beginning of The Betrothed: `That branch of Lake Como that turns off to the south between two unbroken chains of mountains...'"

_"Among the great painters, I admire Caravaggio; his paintings speak to me. But also Chagall, with his `White Crucifixion.' Among musicians I love Mozart, of course. The `Et incarnatus est' from his Mass in C minor is matchless; it lifts you to God!"
___

Source: English translation by America magazine.
Related
Before You Go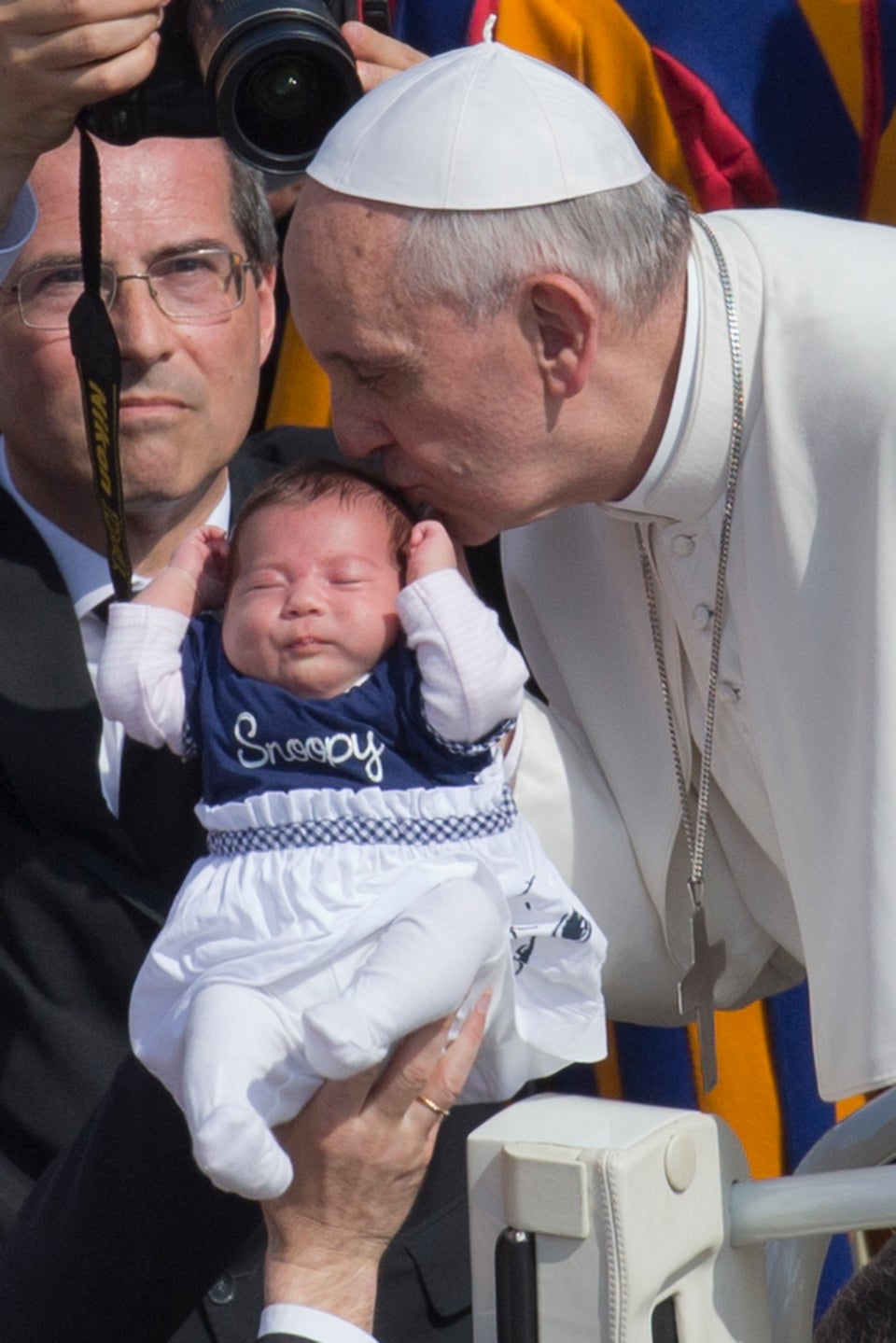 Pope Francis Quotes On The Poor
Popular in the Community