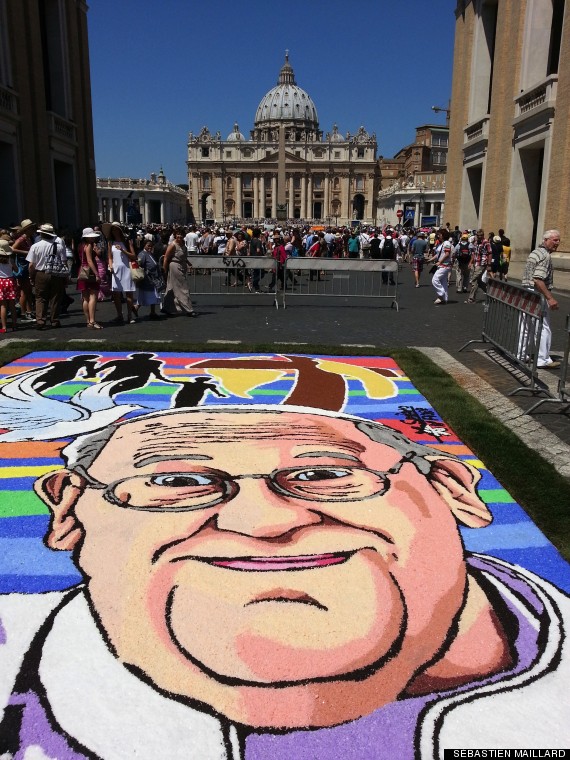 "Following Francis" is a monthly blog on the latest happenings of Pope Francis. It is prepared exclusively for The WorldPost by Sébastien Maillard, Vatican Correspondent for La Croix, Rome
Pope Francis is back in Rome after a five-day trip to Korea. He'll be traveling to Albania on September 21st and will be heading back to Asia in mid-January to visit Sri Lanka and the Philippines. In his recent press conference on the return flight from Seoul, he declared he was "willing" to go to Iraq to show personal support for the persecuted Christians and other minorities there. He also stands ready to visit the People's Republic of China "tomorrow," should Beijing feel ready to welcome him. But what looks now certain is that he'll be visiting the United States -- including the UN in New York -- in September 2015, from which he may move on to Mexico.
Jorge Bergoglio is 77 years old and has never traveled as much in his life as he has since he became the new Roman pontiff. Before, he didn't travel out of his native Argentina. He's never been to the U.S. in his life.
Besides Italian, he speaks only Spanish (although he understands some other languages).
"I'm too much of a homebody," he acknowledged in front of reporters. When he was archbishop of Buenos Aires, he spent most of his time working in his diocese, as he says he wishes all bishops would do.
He despises what he once called "airport bishops," shepherds always gone away leaving their flock. Likewise, he doesn't plan to become a new "airport pope," as John Paul II was. Benedict also did much traveling, mostly throughout Europe. As the bishop of Rome, Francis believes his first duty is to remain close to all the Romans, especially the ones on the outskirts of the city whom he visits on a monthly basis. Groups of Roman parishioners are also allowed to his daily morning mass.
KEEPING AN EYE ON THE CURIA

The other reason why Bergoglio sticks to Rome is because of the needed reforms within the Vatican. He knows he was elected in March 2013 to clean up the mess there. That's what his "mandate" is about first and foremost.
He's launched a reform of the economic and financial organization of the Holy See, now under the leadership of Australian cardinal Pell. He's named a new president of the so-called Vatican bank, formally called the Institute of Religious Works. Other reforms are being undertaken regarding communications and pensions. Mergers among Pontifical Councils inside the Roman Curia are also much expected.
His other great task is renewing the Church's pastoral approach to the family, a highly sensitive issue on which he is organizing a great gathering of bishops in Rome next October.
In order to get all this fully done and to show determination against all kinds of internal resistance, Francis cannot go far away too often for too long. His visits abroad are limited and always extremely intense, with a jam-packed schedule from dawn to dusk. During his journey to the Holy Land last May, he visited three countries in less than three days.
URBI AND ORBI

His challenge is to be urbi and orbi : to balance his focus on internal Church issues with the required attention on major problems on the global agenda, namely the Middle East, migration, climate change and economic imbalances, among others. His task is to reform the Roman Catholic Church while also trying to improve the state of the world, as much as a Pope may nowadays.
"He told reporters he gave himself 'two or three years' before death. He does not rule out retirement before then."

Pope Francis' best asset is his lasting popularity outside his own Church. His limits are his own physical capacity. He told reporters he gave himself "two or three years" before death. He does not rule out retirement before then.


15 MILLION TWITTER FOLLOWERS



The best way he's found to be present both in Rome while also reaching out to the rest of the world is by making a wide use of all available forms of worldwide communications to spread his word. His daily homilies are broadcasted. His Twitter account enjoys a growing number of 15 million followers. He has given several interviews, although he used to not give any before he became Pope. Press conferences covering any topic have now become a much awaited tradition aboard his plane. Francis may not be a great traveler, but he's probably the most talkative Pope ever.


His other way to address world issues while staying in Rome is to set up events in the Eternal City itself. Last September, he conveyed a prayer for peace in Syria on St. Peter's Square -- an initiative never taken by his predecessors. In June, he welcomed the then president of Israel, Shimon Peres, and President of Palestine, Mahmoud Abbas, to each pray for peace beside him in the Vatican gardens. He's invited several soccer stars (Zinedine Zidane, Gianluigi Buffon, Javier Zanetti, Diego Maradona, Lionel Messi) to come to the Vatican to promote peace in September.


Nowadays, you can be Pope and a "homebody" and still achieve a lot.
Support HuffPost
The Stakes Have Never Been Higher
Related
Before You Go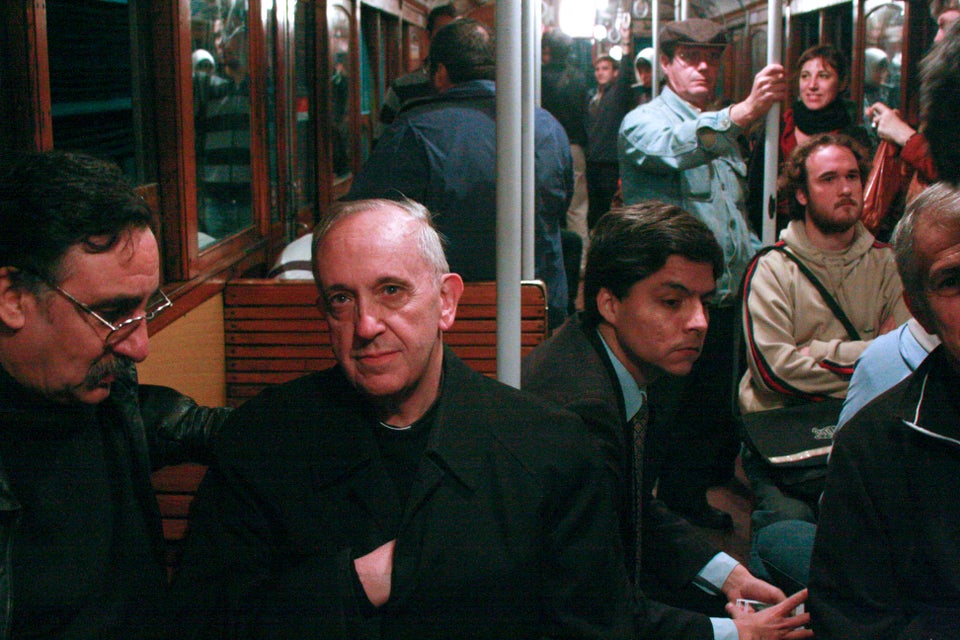 Before He Was Pope: Jorge Mario Bergoglio
Popular in the Community