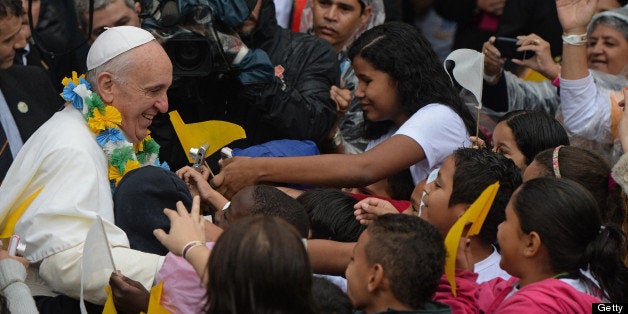 Last week was one of the most exciting weeks in my life--not a small admission from someone who has been on this earth for 52 years.
For the last few days, I could hardly tear myself away from the television, the computer screen and the newspapers. (Yes, I still read actual newspapers.) Why? Because a 76-year-old man visited Rio de Janeiro. Pretty funny when you think about it.
Let me confess a near-complete lack of objectivity when it comes to Pope Francis's astonishing visit to Rio for World Youth Day, which attracted millions of youth from around the world for what was clearly one of the major religious events of our time.
First of all, I'm a member of the Jesuit order, like the pope, so that makes me predisposed to liking the still relatively new Vicar of Christ. I can easily hear echoes of his Jesuit spirituality in his talks and homilies, all of which endears him to me all the more.
Second, I'm a priest, so I was happy to see millions of young Catholics in Rio who were participating in the sacraments--in particular, going to confession (some confessed to Pope Francis himself) and enjoying Masses that must have been rather different than the ones they know from home. After all, it's not every Sunday that the headcount for your Mass is 3 million, as it was on the final days on Copacabana Beach
Third, I'm a Catholic, so I was overjoyed to see so many young Catholics on fire with their faith--many of them on fire enough to make the pilgrimage from far-off countries.
Finally, and most important of all, I'm a Christian, so I was deeply consoled to see so many people talking about Jesus Christ, and praying and thinking about what it means to follow him. The photos of the millions of people gathered on what was inevitably dubbed "Popacabana Beach" in the last few days were an incredible testimony to the relevance of faith in an era when faith is supposed to be largely passé.
All that delighted me. So, like I said, I have zero objectivity.
The week was also filled with utterly remarkable moments, quotes, and images. Every day, almost every hour, I was astonished. Now, of course many popes before Francis have spoken out about the poor and the marginalized, but for some reason Francis's visit to the favela and his strong, clear words about the poor, and about economic justice, resonated with me in a deep way. "No one can remain insensitive to the inequalities that persist in the world!"
In his visit to the favela, speaking to the poor, the pope also used some words dear to me--"social justice," "solidarity," "inequalities"--that I believe are at the heart of what we need to be thinking about as Christians in the modern world.
Sometimes I couldn't believe that Francis said what he said. When I told a Jesuit friend that the Pope declared, off the cuff, that he wanted to shake things up in the church, to make a "mess," my friend's eyes widened.
My friend said, "He didn't say that!" And then..."Did he?"
The Jesuit pope seemed, in a word, free. Francis seems about the freest, most relaxed, and least self-conscious person on the public stage today. Free enough to carry his bags aboard the plane. (More than one bishop said that the Pope's famously austere style of life--moving into a little apartment, keeping his old clothes, preferring a little car to a big limo--prompted him to think about his own way of living.) Free enough to be untroubled when his motorcade took an unexpected turn onto a busy Rio street, attracting masses (sorry for the pun) of pilgrims. One headline made me smile: "Brazilian Crowds Delight Pope, Frustrate Security." And free enough to change his schedule numerous times, to the apparent consternation of the Vatican officials accompanying him.
He is that rarity: a truly free person.
But beyond that, something else delights me. And it's this: Pope Francis shows that nothing is impossible with God.
The Catholic Church, it should not surprise anyone to learn, has been through some awful times in the last few years. For one thing, the sexual abuse crisis. That alone would be enough to make things terrible for the church--and I mean all of us Catholics, not just the hierarchy. For another, the financial scandals at the Vatican. Finally, the exodus of Catholics from their church, especially in the West.
None of these problems are completely solved, and the church has a lot of work to do, especially in eradicating sex abuse. But the scandals and problems led many Catholics to the brink of despair. Since the sex abuse scandals broke in 2002, I have seen many people--Catholics and otherwise--lapse into despair. It is a despair that says nothing is possible. Nothing can change. Things will never and can never improve.
We are doomed. Or so they said. And it seemed to many a reasonable conclusion.
Even before the papal conclave that elected the former Cardinal Jorge Mario Bergoglio, SJ, there were many voices--smart, savvy, faithful Catholic voices--who predicted that the conclave would change nothing. Why?
The thinking went as follows: Pope John Paul II and Pope Benedict XVI had between themselves appointed almost all the cardinals who were members of the conclave, and charged to elect the new pope. Thus, there was no possibility that anyone who was in any way different from the two previous popes, who had any kind of different outlook or any manner of different style, could ever, ever, possibly be elected. Out of the question. The successor to Benedict would be either a carbon copy of him, or of Pope John Paul.
But these voices were forgetting something. Something that is at the heart of our faith. It is what the angel is reported to have said to Mary at the Annunciation.
Namely: "Nothing is impossible with God."
In other words, you cannot set limits on the Holy Spirit. You cannot box God in. You cannot say that God cannot do something.
Because, as we have seen, God has already done it.
None of this is meant as a critique of Francis's predecessors. Praising Francis does not mean denigrating John Paul or Benedict. Each pope brings unique gifts to the office. But Francis's election as pope has definitely brought change to the church.
The essentials have not changed: each pope preaches the Gospel and proclaims the Risen Christ. But as we saw last week in Rio, Francis speaks in a different way: plainly, simply, with unadorned prose. Francis has a different style: more relaxed, less formal, more familiar. Francis's appeal is different and, judging from the crowds, effective. The Pope does the same thing--preaches the Gospel and proclaims the Risen Christ--in a new way. Francis is a different person for a different time.
What Pope Francis did and said in Rio de Janeiro, how he did it and said it, and how the crowds reacted to what he did and said, show that things can change. And that God can change them.
All this is an answer to despair. It is a reminder that nothing is impossible with God. So every time I see Francis, hear him speak or read one of his homilies I'm reminded of this great truth.
Because of this I love the guy. Because of this I love God even more.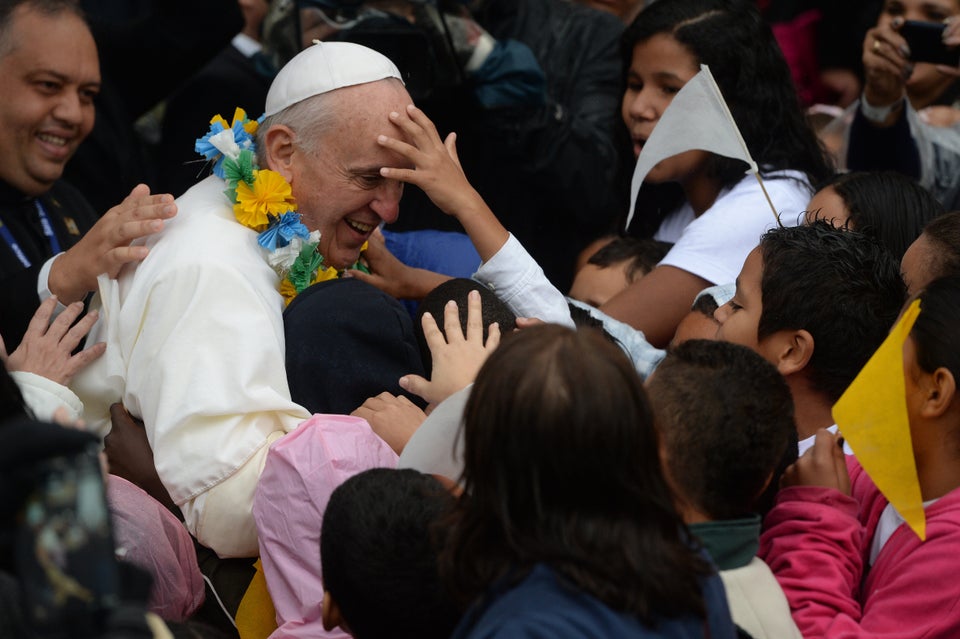 Pope Francis With The People
Support HuffPost
The Stakes Have Never Been Higher
Related
Popular in the Community