PHILADELPHIA -- Pope Francis addressed thousands of people gathered at Philadelphia's historic Independence Mall on Saturday afternoon, just feet away from the building where the U.S. Declaration of Independence and Constitution were adopted. In his speech, the pope tied America's founding to the cause of religious freedom, championing diversity and "compassion for those in need."
But while American Catholic bishops and conservative evangelical Christians have rallied around religious freedom in recent years -- filing lawsuits against Obamacare's contraception mandate and citing religious beliefs to avoid serving gay couples or allowing them to obtain marriage licenses -- Francis notably avoided hot-button political issues.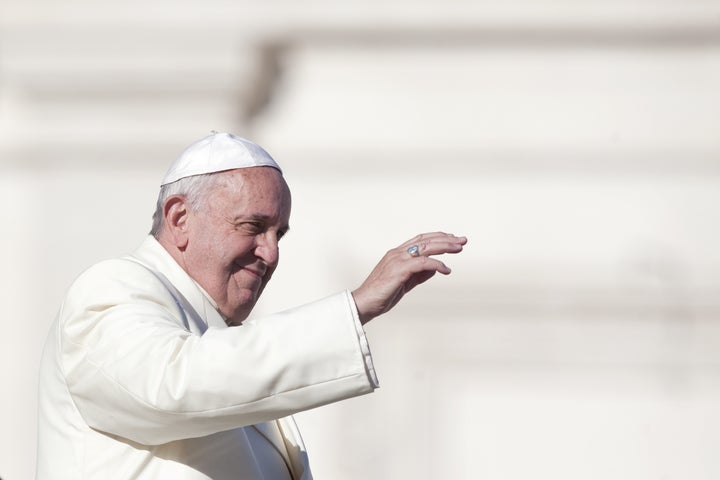 Instead, at the same lectern that President Abraham Lincoln used to deliver his Gettysburg Address, the Argentine-born pope offered a broader view of freedom of religion, saying that faithful communities' power goes beyond private worship to how they serve society "by the message they proclaim."
Like in most of his previous U.S. addresses, the pope did not mention abortion, instead referencing "God's gift of life in all its stages." He didn't talk about gay marriage, but instead spoke more broadly of "a modern tyranny" that tries to reduce religion to "a subculture without right to a voice in the public square" -- a common cry of conservative activists reacting to the successes of the LGBT rights movement.
But soon after, Francis said religion is also abused to stir hatred and brutality, and urged followers of all faiths to advocate for "peace, tolerance and respect for the dignity and rights of others."
Religion calls communities to seek the "transcendent dimension of human existence and our irreducible freedom in the face of every claim to absolute power," the pope said.
In a nod to the Quakers who helped establish Philadelphia and were "inspired by a profound evangelical sense of the dignity of each individual," Francis praised what he called the American spirit of "concern for the dignity of all, especially the weak and the vulnerable."
The pope's address followed a nearly four-hour, multicultural program on the mall in front of a crowd of thousands that grew by the hour as his appearance approached. The event featured a Mexican mariachi band, Vietnamese fan dancers, Argentine tango performers, hip-hop artists and remarks by Archbishop of Los Angeles Jose Gomez, who oversees the largest Catholic diocese in the U.S., and one that is majority Hispanic. Catholic families from Texas and California held signs in Spanish thanking the pope for his visit, while others held flags from the Dominican Republic and Argentina.
The day also included remarks on global religious repression by Robert George, the chairman of the United States Commission on International Religious Freedom, and a testimony by Mariam Ibrahim, a Sudanese woman who famously escaped a death sentence for being Christian. Two dozen other speakers and performers hit upon topics ranging from the importance of national parks like Independence National Historical Park to the power of immigrants. Philadelphia Mayor Michael Nutter, for example, spoke of Philadelphia as a "welcoming city, no matter your ethnicity, income or sexual orientation."
Francis -- who has used his U.S. visit to rally for protecting the environment, aiding the poor, abolishing the death penalty and encouraging Catholics and non-Catholics alike to foster what he calls the "common good" -- made a plea to the diverse crowd, which included thousands of Hispanics, not to forget their heritage.
"Many of you have immigrated to this country at great personal cost, but in the hope of building a new life," the pope said, addressing Hispanics in particular. "Do not be discouraged by whatever challenges and hardships you face. I ask you not to forget that, like those who came here before you, you bring many gifts to your new nation. You should never be ashamed of your traditions."
"Do not forget the lessons you learned from your elders, which are something you can bring to enrich the life of this American land. I repeat, do not be ashamed of what is part of you, your life blood," Francis added.
"You are also called to be responsible citizens, and to contribute fruitfully to the life of the communities in which you live. I think in particular of the vibrant faith which so many of you possess, the deep sense of family life and all those other values which you have inherited. By contributing your gifts, you will not only find your place here, you will help to renew society from within." 
PHOTO GALLERY
Pope Francis In The U.S.
Calling all HuffPost superfans!
Sign up for membership to become a founding member and help shape HuffPost's next chapter