Pope Francis expressed the delight of a starry-eyed philosophy professor during a call to astronauts on the International Space Station on Thursday.
Dialing in from the Vatican, the pontiff spoke to Italian astronaut Paolo Nespoli, who helped translate for the five others onboard during a 23-minute conversation that was livestreamed on NASA TV and on the Vatican's YouTube page. 
Francis wasted no time in getting down to the really big questions about the meaning of life and  love. 
"As you're contemplating the undoubted limits of the universe, it makes us think about where we come from and where we're going," he said. "In light of your experiences in space, what are your thoughts regarding the place of man in the universe?"
Nespoli, who has been at the space station since July, told Francis that he's  largely a technical person familiar with experiments, machinery and equipment. He said he's hoping that in the future, theologians, philosophers, poets and other creative minds will be able to visit space to contemplate these big ideas.
"When we speak of these much more internal questions of where we come from, I remain rather perplexed ... I think that our objective here is that of knowing our being and to fill our knowledge to understand what's around us," Nespoli said. "But on the other hand, an interesting thing is that the more we know, the more we realize how little we know."
"I'd like to see you here to explore what it means to have a human being in space."
"What you're saying is true," Francis replied.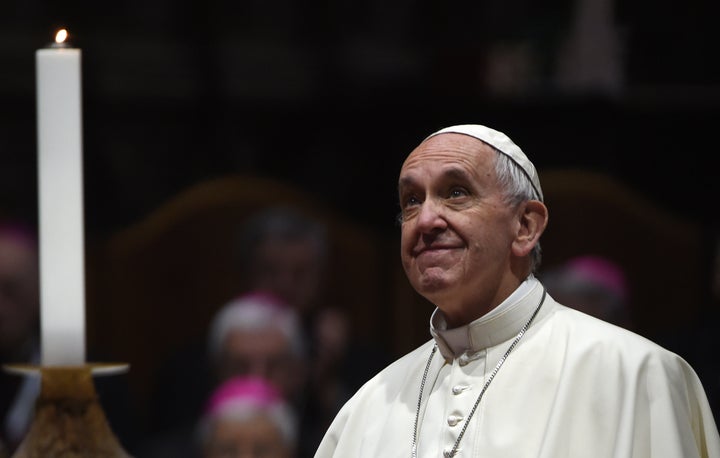 The pope then asked the astronauts to muse about the nature of love, quoting the poet Dante Alighieri who referred in the "Divine Comedy" to love as the force that moves the sun and the stars. 
He also asked what part of the astronauts' jobs bring them the greatest joy. 
NASA astronaut Randy Bresnik said that the greatest joy for him is to be able to see creation from God's perspective. 
"People cannot come up here and see the indescribable beauty of the Earth and not be touched in their souls," Bresnik said.
Bresnik also said he hopes the international teamwork happening on the space station will inspire peace on earth, as well.
Looking out from the station, Bresnik said, "There's no borders, there's no conflict — it's just peaceful. You see the thinness of the atmosphere and it makes you realize how fragile our existence here is."
"We hope that that example of what we can achieve together [in space] is an example for the world and all of humanity."
"You have succeeded in understanding that Earth is too fragile. It is a moment that passes," Francis replied. "It is so capable of destroying itself or doing bad things."
Following in his predecessor's footsteps, Francis has also focused on raising awareness about the need to care for the earth. In 2015, he released "Laudato Si," an encyclical that called on people around the world to work together to address climate change.
REAL LIFE. REAL NEWS. REAL VOICES.
Help us tell more of the stories that matter from voices that too often remain unheard.
BEFORE YOU GO
PHOTO GALLERY
NASA Releases Millions Of ASTER Images