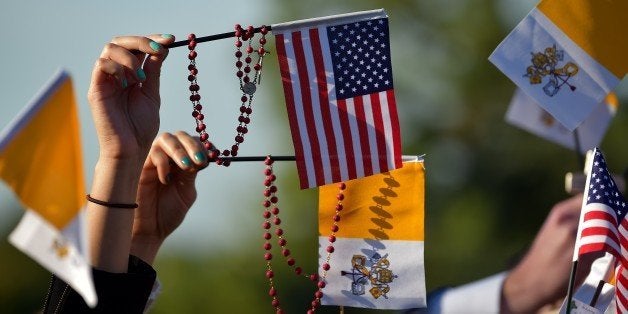 This week the Pope, the world's most influential religious leader, is speaking to the world's most powerful legislature. The Pope's message of helping the poor, healing the planet, and balancing the scales of justice is a timely call to action. People everywhere will hear the Pope speak their truth to the most powerful interests in the world.
With her four-year-old daughter, Berenice fled economic deprivation and violence in Honduras in pursuit of a better life in the U.S. Berenice and her daughter traveled 1,600 miles seeking safety and freedom in America, but instead, were forced to live in prison like conditions in an Immigration and Customs Enforcement Center in Texas. When Berenice begged Department of Homeland Security officials to release her until her hearing, she was told she could not leave unless she paid her $5,000 bond. Berenice used her last dollars to pay the drug cartels to allow her to pass through the Rio Grande.
Pope Francis is here for Berenice, as America should be.
The Pope's call for the wealthiest nations in the world to accept those fleeing poverty and violence directly contradicts the majority party's view, but gives spiritual power to the quest for immigration reform that lives up to our values.
The Pope and President Obama have both said that economic inequality is the most important challenge of our time. Their focus on poverty gives voice to the daily lives of people throughout the world. Few understand the crushing burden of economic inequality better than Bertrand Olotara.
Bertrand is a 44-year-old cook in the United States Senate cafeteria. Five days a week, Bertrand wakes up 4:30 a.m. to head to the Capitol where he prepares food for America's most powerful lawmakers. On the weekends, Bertrand works at Whole Foods. Despite working 70 hours a week, Bertrand does not make a livable wage and relies on food stamps so his children don't go to sleep hungry.
Pope Francis is here for Bertrand, as America should be.
Too many Americans know what it is like to work hard, often in two jobs, but still not be able to make ends meet. The Pope's message of inclusiveness and shared prosperity contradicts the majority party's economic principles, but echoes the majority of Americans working hard for a fair wage and those of us advocating for an economy that works for everyone.
At a time when the voices of Americans are increasingly drowned out by corporate interests and Super PACs, the Pope's message reinforces peoples' movements that are working for different priorities. Like the Pope, I believe that no issue poses a greater danger to our survival than climate change. The Pope's call for an awakening on the impact of climate change forces deniers to confront this truth: we have a moral obligation to leave a clean and safe planet for our children. Those unconvinced by science need only look to our communities to see the evidence of climate change.
Boise Jones, a father from Minneapolis, has endured multiple hospital stays with his son who has been repeatedly treated for asthma and respiratory problems. Boise is not alone. Every year, 3,500 people in North Minneapolis are hospitalized because of high levels of air pollution. This is the highest rate of asthma hospitalization in the state. The community sits next to a major highway, and the carbon pollution from the cars and trucks leads to high rates of asthma. Climate change exacerbates all existing inequalities. Boise and his son are at the forefront of that injustice.
Pope Francis is here for Boise, as America should be.
The Pope is stirring people throughout the world because he speaks for millions whose voices are not being heard. He is the voice for those who are poor, sick, homeless and abused. Telling their stories brings hope. In the world economy the rich get wealthier every year while billions of people can't survive. The Pope says this is wrong and urges us to correct these inequalities.
The Pope's message is timely, moral and powerful. His message reinforces the organizing efforts of folks throughout our country like the Dreamers working for immigration reform; the Fight for $15 working for a fair wage; Black Lives Matter organizing for civil rights; and environmental groups working for climate justice.
The Pope is calling on the Congress, corporate heads, and all of us to choose fair wages over profits, to welcome immigrants rather than leave them homeless, to stop polluting rather than leave people sick. People throughout America and the world are already organizing on these issues. Pope Francis is calling all of us to live more justly.
The Pope will speak to the powerful about the Berenice, Bertrands and Boises of the world. The call is urgent. Let's act now.
REAL LIFE. REAL NEWS. REAL VOICES.
Help us tell more of the stories that matter from voices that too often remain unheard.