Pope Francis has expressed concerns about a traditional translation of the Lord's Prayer, an ancient prayer that Jesus Christ taught his disciples and is repeated by Christians around the world today.
But Francis suggested that this common translation may be misleading.
In an interview with the Italian Catholic channel TV2000, published on YouTube Wednesday, the pontiff pointed out that God isn't the one who leads humans to sin. That's Satan's job, Francis said.
"It is not a good translation because it speaks of a God who induces temptation," the pope said, according to a translation provided by The Guardian.
"I am the one who falls; it's not him pushing me into temptation to then see how I have fallen. A father doesn't do that, a father helps you to get up immediately. It's Satan who leads us into temptation, that's his department."
The pope then referred to the French Catholic church, which has started using the phrase "do not let us fall into temptation."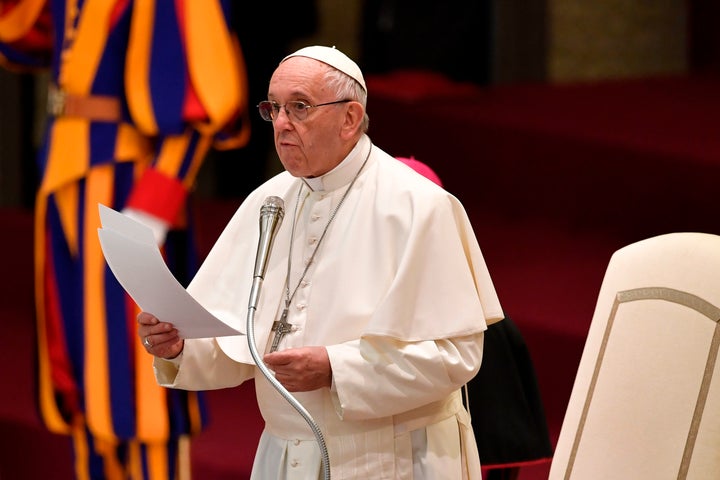 The Lord's Prayer appears in two books of the Christian New Testament. It is a foundational prayer in Christianity, and is used as a form of worship and supplication by Christians in many denominations.
Catholics say the prayer during Mass and while praying the rosary. 
Children memorize the prayer as part of their religious education. It is also common practice for Christians to analyze every line of the prayer, using it to glean insights about how Jesus wanted his followers to live and pray. 
Austen Ivereigh, a British Catholic journalist who wrote the definitive biography on Francis, told The Guardian that he wasn't aware of plans to officially change the Lord's Prayer translation in the English world. 
"But you can certainly see the logic of doing so," Ivereigh said. "It is not God who tempts us into sin but the enemy of human nature. But tradition and familiarity are also important factors in weighing up any decision to modify a translation." 
BEFORE YOU GO
PHOTO GALLERY
Pope Francis' Best Quotes