As National Journal editor Amy Sullivan once wisely said, "Ain't no party like a Jesuit party." In this picture taken Thursday,July 31, 2014, Pope Francis share a laugh with Rev. Adolfo Nicolas, left, Father Jaquin Barrero, right, and Father Attilio Sciortino during their meeting at the Jesuit Curia, in Rome.
The Pope slipped out of the Vatican on Thursday for yet another spontaneous lunch, this time meeting up with his Jesuit brothers on the occasion of St. Ignatius Loyola's feast day. The saint founded the Jesuit order, also called the Society of Jesus, in 1534. They are known for their commitment to social justice and emphasis on education.
It seems that Pope Francis actually crashed the party, as the Associated Press reported that he "told the Jesuit superior, the Rev. Adolfo Nicolas, only at the last minute that he wanted to join, and was driven down the block to the Jesuit headquarters in his blue Ford Focus for the visit." Sometimes, you just need some time with your boys.
Not sure what they were talking about, but it certainly looks like Pope Francis is having the best time!!
Related
Before You Go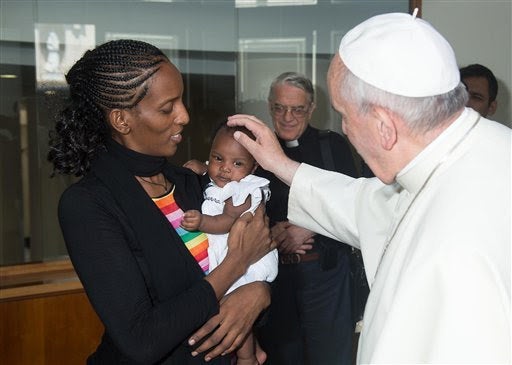 Best Of Pope Francis
Popular in the Community