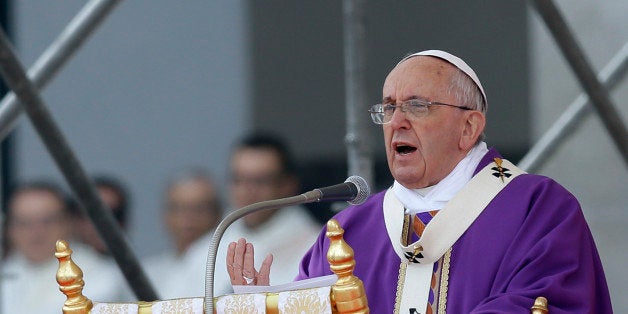 Pope Francis urged members of organized crime to turn away from violence and exploitation and stop the "tears of the mothers of Naples" after visiting one of the city's most violent and drug-infested neighborhoods on Saturday.
Francis, on a day-long trip, also spoke out against political corruption in an address to a crowd in the notorious Scampia neighborhood, a stronghold of clans of the Camorra, the Naples version of the Sicilian mafia.
He was speaking in the shadow of a dilapidated sailboat-shaped housing estate known as Le Vele, so dangerous that even police are sometimes afraid to enter, residents say.
He urged residents of the area, which has often been the battleground of Camorra clans fighting for control of drug trafficking and extortion rackets, not to let criminals rob them of their hope.
At a Mass in the city center, Francis urged Neapolitans to "react firmly to organizations that exploit and corrupt young people, that exploit the poor and the weak with cynical drug trafficking and other crimes."
"To the criminals and all their accomplices, I, today, humbly and as a brother, repeat: convert yourselves to love and justice. It is possible to return to honesty. The tears of the mothers of Naples are asking this of you," he said.
Since his election two years ago, Francis - who renounced the spacious papal apartments used by his predecessors and lives in a small apartment in a Vatican guest house - has made the defense of the poor and weakest members of society a key plank of his papacy.
He has also said members of organized crime excommunicate themselves from the Church, and that it would welcome them back if they repent.
After the Mass, the pope shared a meal with about 120 male and female inmates in a city jail, among them several transsexuals and AIDS sufferers chosen to represent those sectors of the local prison population, a Church official said.
Earlier, in Scampia, where drugs are sold openly and youth unemployment is more than 40 percent, Francis listened to a Filipino immigrant woman and an unemployed Italian man tell of their difficulties and a magistrate speak of "juvenile delinquency, desperation and death" in Naples.
The pope defended immigrants, saying they could not be considered "second-class human beings." He called for just wages for workers, and railed against corruption in public life.
"How much corruption there is in the world! I hope you have the courage ... to clean up the city and clean up society so that there is no longer that stink of corruption," he said. (Editing by Pravin Char and Kevin Liffey)
Calling all HuffPost superfans!
Sign up for membership to become a founding member and help shape HuffPost's next chapter