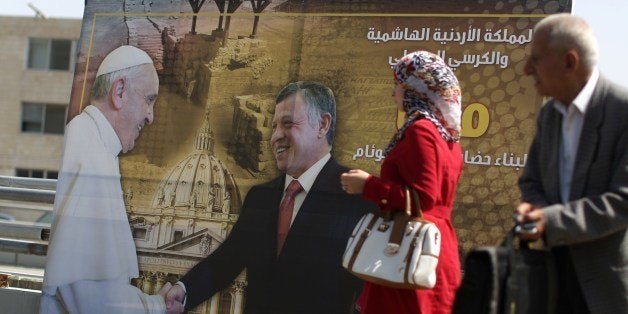 For the past week, it's all that Khaldoun Barghouti, a resident of Ramallah in the West Bank, has seen on TV, heard on the radio and read when he logs onto Facebook: Pope Francis is coming to town.
He's looked closely for details. Who will the pope meet? Where will he pray? In a region that lies at the nexus of the Christian, Jewish and Muslim faiths, what can we expect from the leader of the world's largest church?

Barghouti, 40, isn't Christian, doesn't live in any of the cities on the pope's itinerary and has no plans to be among the crowds expected to wait hours to see the pontiff during his upcoming Middle Eastern visit.
Yet as a Muslim living in the West Bank, Barghouti is paying close attention to what the world's most prominent Christian leader will have to say about the cause for Palestinian statehood, and what he'll say about Islam, the region's largest religion.
"How does he respect our faith? How does he engage it?" asked Barghouti, a foreign news editor at the newspaper Alhayat Aljadeeda. "His words will be heard all over the world."
When the pope begins his three-day pilgrimage to Amman, Bethlehem and Jerusalem this Saturday, he'll have a full schedule of events, each imbued with spiritual and political significance. In Jordan, he'll meet the king and queen, as well as Iraqi and Syrian refugees, and visit the river where Christians believe Jesus was baptized. The Palestinian Authority will confer with Francis in Bethlehem before he celebrates Mass in Manger Square. In Jerusalem, Francis will pray with Ecumenical Patriarch Bartholomew I of Constantinople -- a leader for more than 250 million Orthodox Christians -- and sign a joint declaration of Catholic-Orthodox unity. He'll also go to Jerusalem's Western Wall and greet the city's grand mufti by the Al-Aqsa mosque, one of Islam's holiest sites. Afterwards, the pope will separately meet the city's chief rabbis, followed by a discussion with the Israeli president.
Vatican experts say the pope's prayers at holy Christian sites, as well as his overtures to Orthodox Christians and Jews, are not unexpected for his first pontifical visit to the Holy Land. But the question remains of how -- and to what extent -- he'll engage Islam and the region's Muslims.
"The church's relationship to Muslims took a blow under Pope Benedict XVI," said John Esposito, director of the Prince Alwaleed bin Talal Center for Muslim-Christian Understanding at Georgetown University. "It's time to see what Francis can pull off."
Esposito, who is traveling to Amman to be in the pope's Saturday audience, pointed to Pope Benedict's infamous 2006 speech in which he quoted Emperor Manual II Paleologos, a 14th-century Christian ruler who characterized the Prophet Muhammad's work as "evil and inhuman." Widespread protests against the Vatican ensued in Islamic countries. Even after Benedict apologized, prayed at an Istanbul mosque and convened a summit with Muslim leaders, tensions continued to simmer. In 2008, when Benedict prominently baptized a Muslim journalist, Muslims involved in a high-profile papal dialogue expressed dismay at what some saw as a deliberate insult.
"Some people are still injured from Benedict's remarks today. Francis has taken a more popular approach so far," Esposito said. "He's tried reaching out first, instead of doing it as damage control."
One of Francis' first newsmaking moves, a little more than a month after his election, was to include women and Muslims when he performed a pre-Easter ritual Maundy Thursday foot-washing at a Roman juvenile detention center last year. The unusual move left Catholic traditionalists befuddled. In the same ceremony this year, the pope washed the foot of a disabled 75-year-old Muslim man. And last summer, the pope released a personal Ramadan greeting to the world's Muslims, calling it an "an expression of esteem and friendship for all Muslims."
"It was a significant move for a message that is typically carried out by the Pontifical Council for Interreligious Dialogue. Pope John Paul II did something similar in 1991," said Scott Alexander, director of the Catholic-Muslim studies program at Catholic Theological Union in Chicago.
Alexander suggested that Francis is "following in the footsteps" of John Paul II, who became the first pope to visit a mosque during a May 2001 trip to Damascus. Earlier, in a 1999 audience with Muslim leaders and the patriarch of Babylon, John Paul II famously kissed a Quran. The picture made the front pages of newspapers in Islamic countries.
"In the Catholic tradition, dialogue is not just talking, but engaging in deep and mutually enriching friendships with people of other faiths," said Alexander. "This is the hope of what could possibly come between Pope Francis and Muslims he meets."
In September, Francis sent a letter to the grand imam of Al-Azhar, a prominent Islamic university in Cairo, calling for a "mutual understanding between the world's Christians and Muslims in order to build peace and justice." An official dialogue between the Vatican and the top Islamic seminary had been cut short in 2011 after Al-Azhar officials complained of Benedict's "repeated negative references to Islam." (Francis, then a Buenos Aires cardinal, had harshly criticized Benedict's statement).
"This is a very important moment for [Pope Francis]," said the Rev. Manuel Dorantes, a Chicago-based Vatican spokesman. "To be part of ecumenism and interreligious relations in a world that has shown so much fragmentation of Christianity and hostility due to religious extremism on all sides -- Christians, Jews and Muslims -- he is emphasizing a need for a conversation."
That doesn't mean the pope's tour will be without difficulties. In a region with deep tensions, from discrimination against Christians and religious minorities to the Israeli-Palestinian conflict and the Syrian civil war, experts say Francis could easily get caught in the crossfire of competing parties. His plans to meet with top representatives from most major religious and political groups, many of which have sordid histories with each other, creates a daunting balancing act. Both John Paul II and Benedict XVI held an interfaith gathering of chief rabbis and Jerusalem's grand mufti while they were in the Holy Land, but Francis will not hold such a meeting.
"People will be looking very closely at what [Francis] says and does, and the words and actions will be chosen carefully," said Esposito. Past occasions have highlighted the importance of such an approach. When Benedict visited the Holy Land in 2009, for example, some Jewish leaders were offended that he said there were "millions" of deaths in the Holocaust instead of giving a more precise number. Benedict also called the Holocaust a "tragedy," while many Jews preferred a stronger word: crime.
In a first for a papal pilgrimage to the region, Francis' delegation will include an Argentine rabbi and an Islamic scholar. The rabbi, Abraham Skorka, will join the pope in the Palestinian territories and for his meeting with Jerusalem's grand mufti. Omar Abboud, who directs the Institute for Religious Dialogue in Buenos Aires, will accompany Francis at the Western Wall and the Yad Vashem Holocaust memorial.
"Imagine what could be the power if you saw the pope and a rabbi go into a place where Jews traditionally cannot or do not go, or a Muslim doing the same," said Dorantes.
He said the pope's first apostolic exhortation, released in November, may give clues to his approach during the pilgrimage, especially the importance the pontiff is placing on Christian-Muslim relations in a time of increasing religious strife and a growing exodus of Christians from the Middle East.
"Our relationship with the followers of Islam has taken on great importance, since they are now significantly present in many traditionally Christian countries, where they can freely worship and become fully a part of society," Francis wrote in the exhortation, titled "Joy of the Gospel." The pope went on to remind Christians of similarities between the two faiths, including Muslims' belief in Jesus and his virgin birth to Mary.
"An attitude of openness in truth and in love must characterize the dialogue with the followers of non-Christian religions, in spite of various obstacles and difficulties, especially forms of fundamentalism on both sides," the pope wrote.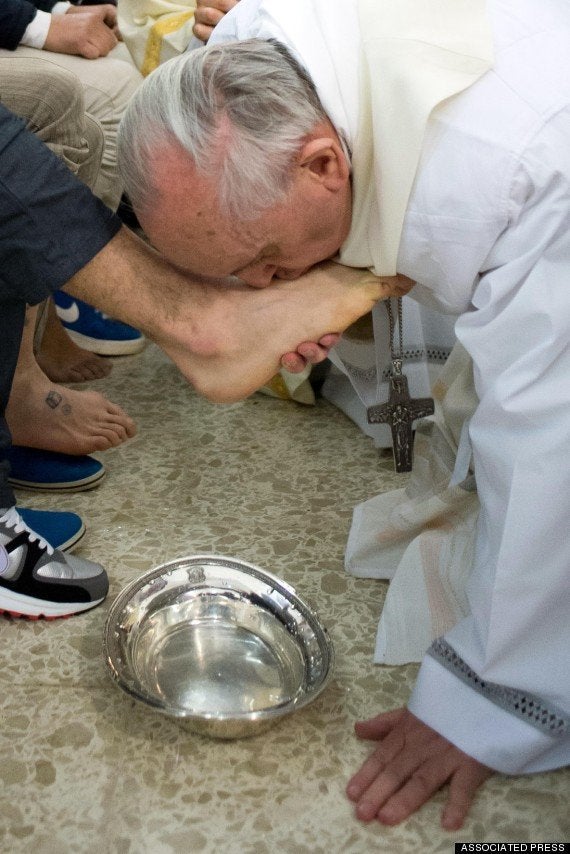 Pope Francis' Best Photos
Popular in the Community