Pope Francis, who has been facing the greatest crisis of his papacy over the global church's handling of clerical sexual abuse, appears now to be losing fans in America.
A new Gallup poll has found that the Argentine pontiff's favorability has dropped sharply among Americans in recent weeks.
The survey, published Tuesday, found that 53 percent of Americans had a favorable view of Francis in September, down from 66 percent in August.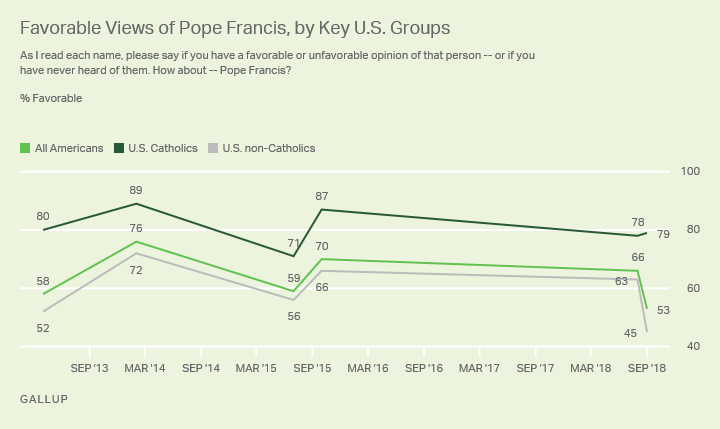 The Vatican has not yet responded to Vigano's accusation that Francis rehabilitated McCarrick from sanctions supposedly imposed by Pope Benedict XVI, positioning him once again as a "trusted counselor."
The allegations have caused a rift in the U.S Catholic hierarchy, with some bishops rallying to defend the pope and others pushing for him to respond. Catholics in the pews have also been demanding answers. Over 46,000 Catholic women have signed a public letter pressing Francis to explain exactly when and how he found out about McCarrick's alleged sexual abuse and misconduct.
The Gallup survey was also conducted weeks after a Pennsylvania grand jury published a bombshell report documenting how six of the state's eight dioceses covered up sexual abuse by 301 "predator priests" over seven decades. The two-year probe in Pennsylvania has inspired attorneys general in New York, New Jersey, and in several other states to announce their own investigations into the Catholic sex abuse scandal.
According to Gallup, Americans' opinions about former Pope John Paul II also took a hit after news about clerical abuse emerged during his papacy in 2002. Eighty-six percent of Americans viewed John Paul favorably in 1998, compared to 61 percent in 2002.
And although Francis' popularity has dipped, he hasn't grown quite as unpopular as Pope Benedict XVI. In 2010, Gallup found that only 40 percent of Americans viewed Francis' immediate predecessor favorably.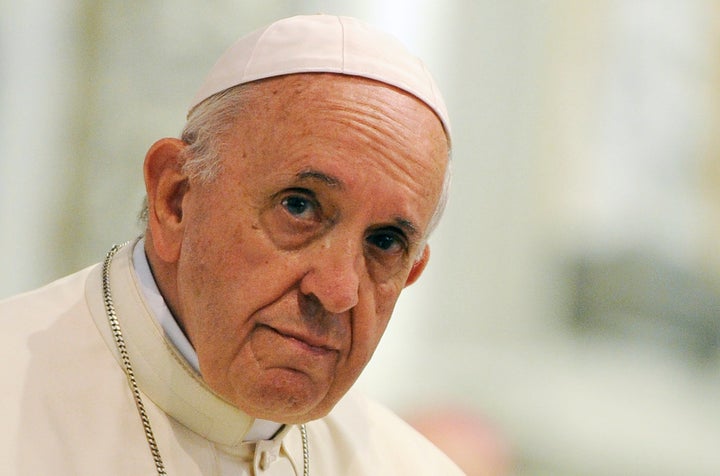 Despite the turmoil in the Roman Catholic Church, it appears that American Catholics' opinion of Francis has remained essentially unchanged. Seventy-nine percent of U.S. Catholics had a favorable opinion of Francis in September, compared to about 78 percent in August.
Jason Berry, a journalist who has covered the Catholic clerical scandal since the 1990s, told HuffPost that he thinks Vigano's letter did some damage to Francis' standing among non-Catholics.
"I think most Catholics, liberal or conservative, recognize that Francis, as a champion of the poor and migrants, is dealing with a complex crisis that built up for many years before he became pope," said Berry, author of the 1992 book on the issue, Lead Us Not Into Temptation. "He has taken strong steps against certain bishops, though he has yet to forge an effective policy."
For all adults surveyed, this Gallup poll had a margin of error of +/- 4 percentage points at the 95 percent confidence level. For the 221 Catholic Americans surveyed, the poll had a margin of error of +/- 7 percentage points at the 95 percent confidence level.
Popular in the Community