PHILADELPHIA -- "Is he letting them out?"
Elise, 20, was at the Curran-Fromhold Correctional Facility in Philadelphia on Thursday to visit her boyfriend. Their 1-year-old son E'len was with her, and she kept a watchful eye as he wandered around the prison's waiting room. Her boyfriend has been in for a year and is supposed to be coming home next month.
Elise, who said her son's dad is the only person she knows who has been behind bars, said the biggest effect of his situation is he isn't able to help raise their son. "He's not here," she said.
Elise knew Pope Francis was visiting Philadelphia this weekend. With much of the city completely shut down to traffic and public transit was limited, that news was hard to miss. But she didn't know until Thursday that the pope would actually be stopping by the place where her boyfriend is incarcerated. She doesn't think Pope Francis' visit to the prison and the attention it draws to incarceration will have much of an impact on her family's life or change how the facility operates, but she figures it can't hurt.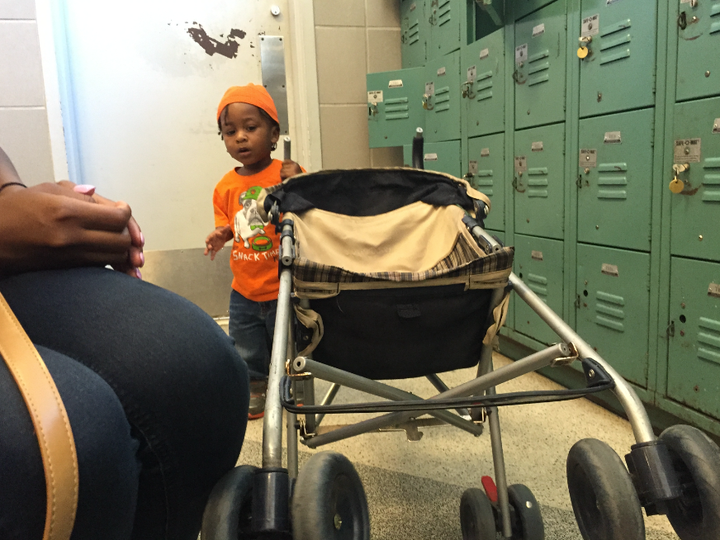 Seated a few feet away in the waiting room was Sheena, who was at the prison to visit her fiance, Kareem, who is awaiting trial on a firearms charge. The 30-year-old from the Strawberry Mansion neighborhood in North Philadelphia, was with her 28-year-old Kareem when he was arrested. They met in the neighborhood in 2011 and have been together ever since. Sheena is going to school to become a nurse; Kareem wants to become an electrician. Kareem had been working in construction, but with a bail set at $150,000, he couldn't get out. 
"Too much money," Sheena said. She said it is "frustrating" that she only got to spend a half-hour with Jones on her visits.
"It's not comfortable," Sheena said of her fiance being behind bars. "It's very uncomfortable to deal with this every day, hearing his voice, being in this place."
Sheena said it will be more difficult for Kareem to get a job once he gets out.
"It's so hard because of their records," Sheena said. "I think it's not fair to not give nobody a chance. People want to better themselves when they come out of here, and it's so hard to get that. People get back in here because they do things that they were trying to do when they get out just to take care of their families and their loved ones or themselves."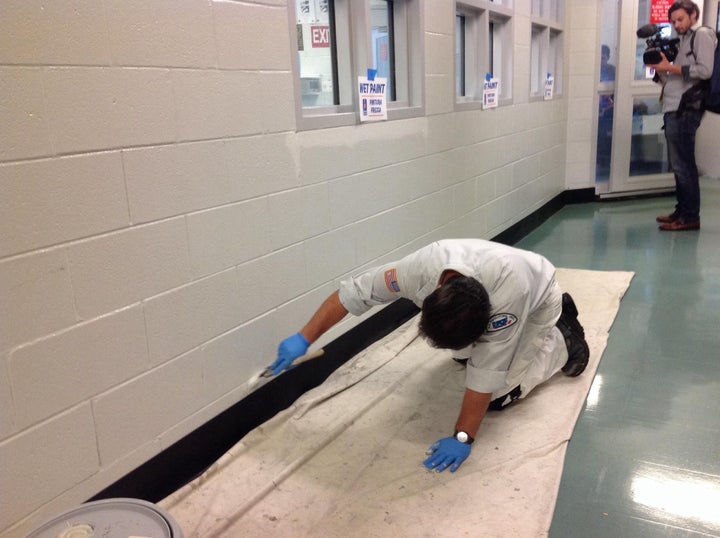 Before Pope Francis says mass in downtown Philadelphia, the first Jesuit pontiff will draw attention to the plight of prisoners and their families. As he wraps up his trip to the United States -- which has the largest number of individuals behind bars as well as the highest rate of incarceration in the world -- Pope Francis will be visiting the overcrowded prison facility in northeast Philadelphia. 
Philadelphia is the birthplace of modern-day prison practices in the United States, including the use of solitary confinement. In the late 18th century, Benjamin Franklin and a group of prison reformers argued that isolating prisoners would lead them to repent, an idea that inspired the creation of solitary cells at Walnut Street Jail.
English writer Charles Dickens was not impressed with the Philly system. After visiting Eastern Penitentiary, he wrote, "I am persuaded that those who devised this system of prison discipline, and those benevolent gentleman who carry it into execution, do not know what it is that they are doing."
The Curran-Fromhold Correctional Facility is a place where nearly 80 percent of inmates have not yet gone to trial for the crime they were charged with, and are detained only for being unable to make bail. The jail has come under fire in the past for overcrowding and guard abuse. Cells are designed to hold two inmates, but three are routinely placed together, requiring the extra inmate to sleep with his head next to the toilet, said David Rudovsky, a civil rights lawyer who is currently challenging the practice in a class action lawsuit filed in federal court.
"I am so close to the toilet, I can smell it," one inmate wrote in a complaint filed in 2010. "[There] are mice running around and roaches that bite." (That case was settled under undisclosed terms.) Overcrowding can increase violence between inmates, as well as between inmates and correctional officers, who must control the oversized population. 
In May, the Philadelphia Inquirer reported that a correctional officer was arrested for attacking an inmate and charged with "possessing an instrument of crime, obstruction, and official oppression." A district attorney told the paper the officer attacked the inmate after he asked if he could wait outside while his cellmate used the toilet. 
A number of correctional officers at Curran-Fromhold have been accused of excessive force. Surveillance video captured in January of last year clearly shows an officer at the jail decking an inmate in the face and a second officer joining in on the beating. But the inmate was the one charged with assault, according to the Philadelphia City Paper.
"There is a cultural thing and that's very hard to change," Rudovsky said, speaking of recent videos that have surfaced showing officer wrongdoing. He added, "Whether the pope will be able to do anything about it, you know, I'm glad he's visiting … but that's not going to solve the problem."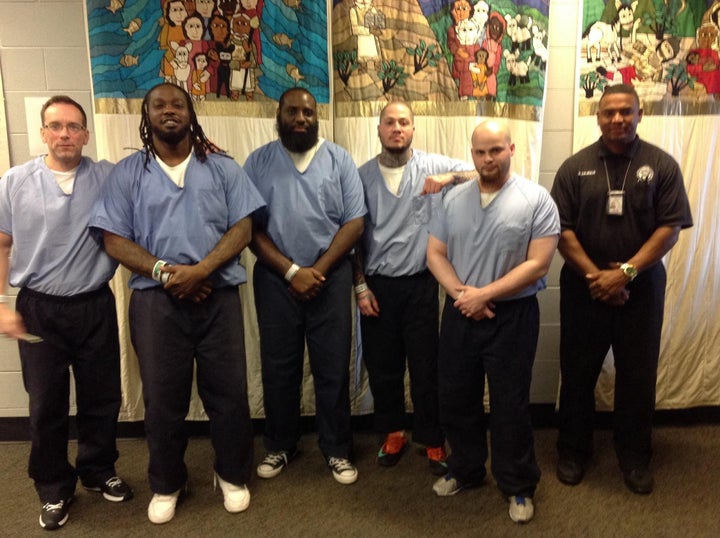 Around 100 inmates from the facility will be meeting with Pope Francis on Sunday morning, hours before he says mass before thousands of people by the Philadelphia Art Museum. The inmates Francis will meet have been charged with a wide variety of offenses and come from a number of different religious traditions.
Dino, 29, is from South Philadelphia and has been behind bars for 14 months. He hasn't been convicted of anything, but his bail is set at $250,000, so he's stuck behind bars until his trial. He told The Huffington Post that he's seen stabbings and other inmates getting jumped, often "over something stupid" like a basketball game, time on the phone, or what is playing on the television. The father of six -- the youngest of whom was born while he was incarcerated -- said Pope Francis "makes us realize that someone hasn't forgotten" about inmates.
Financially, he said, his family has "basically been losing everything," and he's anxious to get out so he can help his wife provide for his children. He said he knows it is going to be hard to "start all over," but said he's hoping to live a positive life and go back to school.
"It's hard because coming into this environment you're basically stripped of everything that you once had before," Dino said. "Since the first day that you get locked up to 14 months, I've been thinking about the day I got locked up. It replays and replays."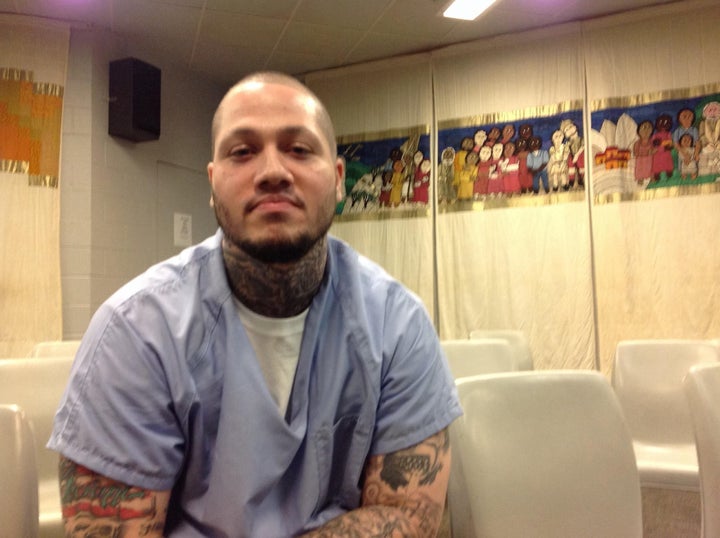 Albert Tillson, 41, is part of the smaller population of prisoners who actually has been convicted of a crime, and the practicing Muslim will be getting out of the facility just days after he meets Pope Francis. 
"When the pope leaves, I leave," said Tillson, who has served 23 months on a probation violation. He said his family members called it a "blessing in disguise" that he ended up staying in prison for as long as he did to have the opportunity to meet the pope.
Louis Serrano has been behind bars for 19 months and will be leaving in January. He said the thing that needs to be fixed about the system is how bail is used.
"Bails are outrageous," Serrano said. "People lose their jobs because they give a dirty urine. You give a dirty urine, they make you do 23 months instead of just trying to work with you. At the end of the day you just need help."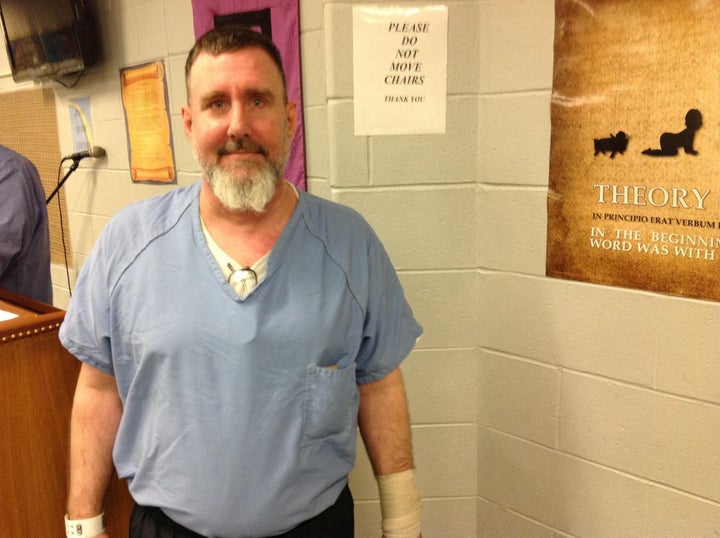 Steven is a 47-year-old man and a military veteran who was originally from San Diego. He has lived in the Philadelphia region for about 20 years. He said he's had relatively minor run-ins with the law before for "little stupid things" -- writing a bad check, public intoxication -- but this is the first time he's been incarcerated.
It's considered rude to ask somewhat what they're in for, and like many prisoners, Steven declined to discuss what he had been charged with, other than to say he was in "for being dumb, not paying attention, being around the wrong people." But Steven's charges are obviously serious: He said his bail is set at $500,000, that he could be sentenced to 60 to 120 years in prison, and he said he could be targeted by other prisoners because of the allegations against him. A check of court records showed that he is facing a litany of charges -- including forcible rape, unlawful sexual contact with a minor, false imprisonment and assault of a child -- stemming from an incident that took place in May 2014.
Steven claims he's "100 percent" innocent, says he took a lie detector test, and referred to a woman he knew as "the reason why I'm here." Until he was arrested, he hadn't heard from the detectives investigating his case for several months, and believed the issue was behind him.
He said the experience has shook up his notion of how the criminal justice system works. Steven, who worked as a chef on the outside, can't afford to hire a lawyer -- "I don't have that kind of money," he said -- so he was assigned a public defender. He has met with his public defender "once, for 37 minutes." He declined the plea deal the district attorney had on the table, which he said would have put him behind bars for 10 to 20 years. His trial is in November.
"I don't feel that we are innocent until proven guilty, I feel that we're guilty from Jump Street," Steven said, talking about what he described as a "messed up" system. "I don't have one stitch of legal paperwork in my cell. I've given everything to God."
Steven said he's "lost pretty much everything," as his eyes welled up. He hasn't seen his young son -- "I don't want him to see me in here," he said -- but he writes and talks to him on the phone every week. New Jersey is just across the Delaware River, but it is considered an out-of-state call, meaning Steven can't use his 10 free minutes of phone time to chat with his son. His phone bills eat up nearly half of what he makes from his job in a month.
Steven found out only last week that he had been selected to meet with Pope Francis. He's become very religious behind bars, and even said he wants to go to the seminary when he gets out. He believes Pope Francis is visiting the prison "to let us know that this isn't the end" for the inmates.
"Jeremiah 29:11 says that [God] already knows what our future is and he has something special for each and every one of us, and I don't believe this is it for me," Steven said. This could all be part of a higher plan, Steven said.
"I had to come to prison to meet the pope," he said. "I mean that's … that's breathtaking."
Ryan J. Reilly reported from Philadelphia. Dana Liebelson reported from Washington. 
Calling all HuffPost superfans!
Sign up for membership to become a founding member and help shape HuffPost's next chapter