PHILADELPHIA -- When Pope Francis visited an overcrowded prison on Sunday, he talked to inmates about the need for "rehabilitation" and for inmates to get "back on the right road." What he may not have realized is that most of the inmates being held in Philadelphia's Curran-Fromhold Correctional Facility have not yet been convicted of a crime.
Some of the inmates who met Pope Francis have been charged with serious crimes, such as murder, rape or robbery, which judges may decide require them to be locked up in the interest of public safety until their case is resolved in court. But others have been charged with much less serious offenses and are being held only because they cannot afford to purchase their freedom as they wait for the justice system to resolve their case. The vast majority of the people at the facility are there because they have not made bail. They have not yet been convicted, meaning they are supposedly presumed innocent. 
One inmate HuffPost spoke with has been there for more than two years, and his case is just being resolved. Another inmate who is being sentenced now has already been behind bars for 23 months. Yet another has been in for 19 months and still not been sentenced.
Watch them talk about the situation:
Poor inmates often end up spending more time behind bars than they would have if they had just been immediately convicted of the crime they were charged with. One inmate interviewed by The Huffington Post called bail "outrageous" and noted that being locked up for months can have devastating effects on people's lives. 
Two inmates who met Pope Francis and were interviewed by The Huffington Post back-to-back following the visit were charged with DUIs. Both were being represented by a public defender. One had his bail set at $75,000 and would have to pay $7,500 in cash to get out. He's spent nearly five months behind bars and is awaiting his formal arraignment.
The other had his bail set at $5,000 and would need $500 to get out. Unable to produce that amount, he's been behind bars since June.
"Even if I get found guilty, it's a 48-hour sentence. I'm going to be here for four and a half months before I even get to trial," Michael M. told The Huffington Post. "It just doesn't make any sense." He said he's spent "about two minutes" with his public defender since he got locked up.
Another inmate, Steven, said in an interview ahead of the pope's visit that he has only spent a short time with his public defender.
"I don't feel that we are innocent until proven guilty, I feel that we're guilty from Jump Street," he said.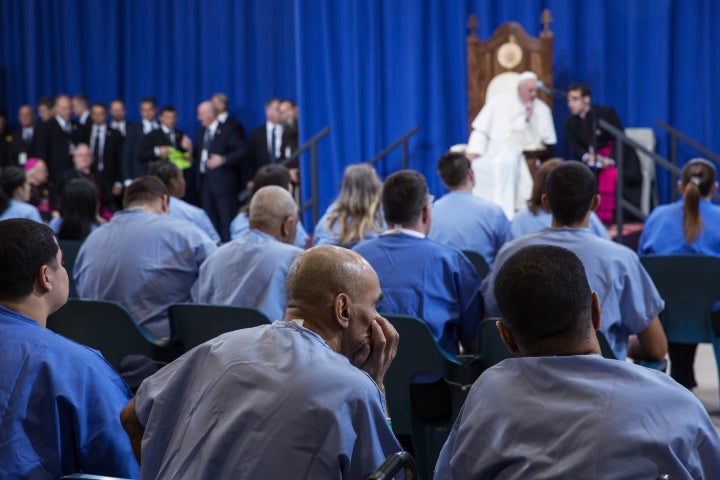 The need for changes to the bail system in Philadelphia has been discussed for years. The chief justice of the Pennsylvania Supreme Court said in 2012 that the system should be modernized and "perhaps has not served the court system and the community well." The man who will almost certainly be the next mayor of Philadelphia, Democratic candidate Jim Kenney, is reportedly planning an overhaul of the bail system.
In his speech to inmates, Pope Francis talked about hope, saying it is "painful when we see prison systems which are not concerned to care for wounds, to soothe pain, to offer new possibilities. It is painful when we see people who think that only others need to be cleansed, purified, and do not recognize that their weariness, pain and wounds are also the weariness, pain and wounds of society."
Video edited by Amber Ferguson.
PHOTO GALLERY
Pope Francis In The U.S.
REAL LIFE. REAL NEWS. REAL VOICES.
Help us tell more of the stories that matter from voices that too often remain unheard.