WASHINGTON -- As Pope Francis prepares to visit the United States later this month, the chairman of the House Homeland Security Committee said Sunday that federal authorities are highly concerned about possible security threats against the pope and have already "disrupted one particular case."
"The pope is a very … passionate man. He likes to get out with the people and with that comes a large security risk. We are monitoring very closely threats against the pope as he comes into the United States," Rep. Michael McCaul (R-Texas) said on ABC's "This Week." "We have disrupted one particular case in particular, but as that date approaches, I think we're all very, being very vigilant to protect him as he comes into the United States."
McCaul could not offer any details about the threat but said the Secret Service had briefed him about the Pope's security. The Secret Service, which is leading the security efforts surrounding the pontiff's visit, declined to elaborate on the case because the briefing was classified, ABC News reported.
Francis is set to arrive in the U.S. on Sept. 22, making stops in Washington, New York and Philadelphia during his six-day visit. Each city should expect to see heightened security measures, including airport-style screenings at his events. In addition, New York City law enforcement officials will impose a no-fly zone and a ban on drones.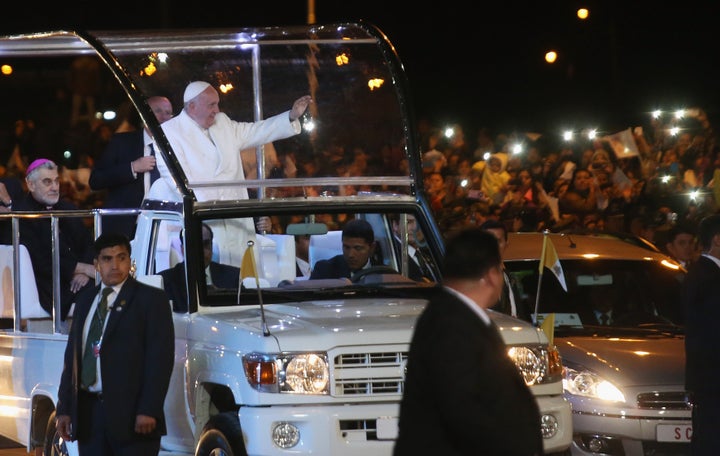 Of particular concern is the popemobile, which the Pope uses for motorcades, waving to spectators and onlookers along the way. The popemobile, a Jeep Wrangler, is already in Secret Service possession and will not be used until Francis' visit, according to the Vatican.
In addition to meeting with worshippers, the Pope is also scheduled to meet with President Barack Obama and address a joint session of Congress. In New York, he will address a session of the U.N. General Assembly and hold a Mass at Madison Square Garden.
Popular in the Community